News
Tour pros give Miguel Angel Jimenez a fantastic 18th-green salute for breaking the European Tour's appearance record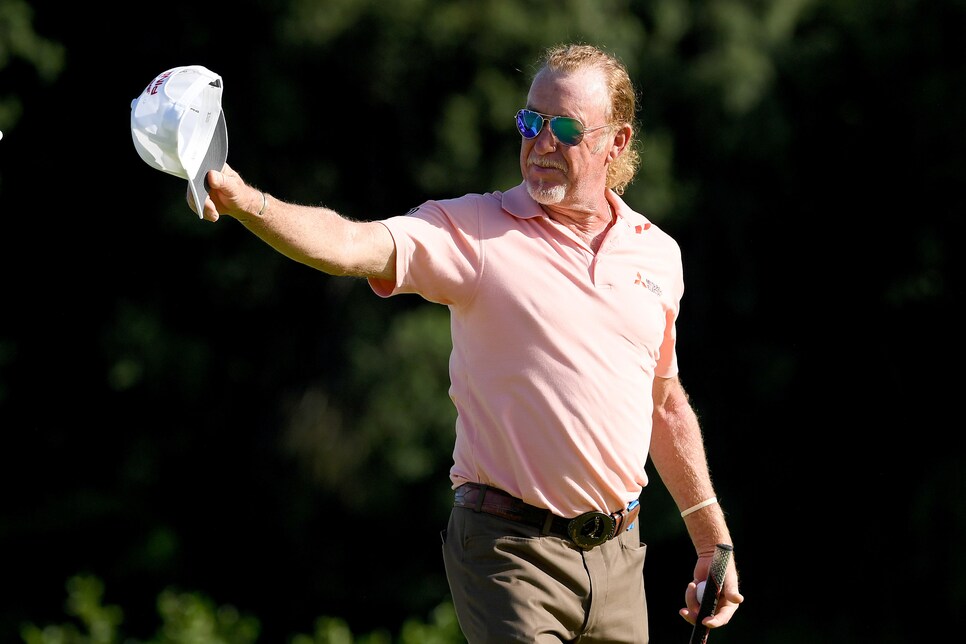 Just about the only thing missing from the appropriately sun-kissed scene was a celebratory cigar in the mouth of the man center-stage. But walking towards the 18th green at First of Arden, Miguel Angel Jimenez was all smiles. And why not? He was already eight under par for the first round of the Hero Open, which is doubling as his record-breaking 707th European Tour event. But that score surely didn't really matter to the maybe 30-strong group of his fellow players gathered to the right of the putting surface on the 211-yard par 3. The popular figure they came to salute could have been eight over for all they cared.
Indeed, it was clearly a touching moment for the man himself. Jimenez was openly moved by the gesture from what was a telling mix of young and old by the green. Speaking of which, immediately after two-putting for a closing par that left him with an opening-round 64, two shots off the lead held by his compatriot, Sebastian Rodriguez Garcia, the 56-year-old Spaniard was greeted by the face and voice of Sam Torrance via FaceTime. It was the 66-year-old former Ryder Cup captain's record for most appearances on the European Tour that Jimenez was breaking. Long-standing pals, the pair shared a jovial and mutually appreciative few minutes over a socially distant glass of red.
"It's been a wonderful day, eight under par," said Jimenez, whose most recent win on the European Tour came at the 2014 Spanish Open. "A beautiful summer day, and especially on the 18th green with all my colleagues. It's made me feel a little bit emotional inside. I appreciate that very much. Some of them are new players. Others I have known for many years. It was really nice."
There was time, too, for a more philosophical analysis that went beyond a round in which Jimenez made eight birdies and 10 pars. The more than three decades spent accumulating so many appearances on the Old World circuit—what European Tour chief executive Keith Pelley called a "monumental achievement" thanks to Jimenez's "enduring passion for our game"—was also occupying his thoughts.
"I felt very emotional," continued Jimenez, who has sprinkled 21 victories and 162 top-10 finishes among his 707 starts. "I cannot describe my day, you have to be inside my skin. I enjoy everything about my life here. It's not the first time I've said it, this is a way of living. Golf is my life, you never remember any bad moments. You can understand that you're not going to be in a perfect mood and not make a perfect score every time. You can have a bad game, but not a bad day, that's the difference."
You are using an unsupported version of Internet Explorer. Please upgrade to Internet Explorer 11 or use a different web browser.