College golf
Amateur Sam Bennett adds to his growing legend by carrying Texas A&M to NCAA Championship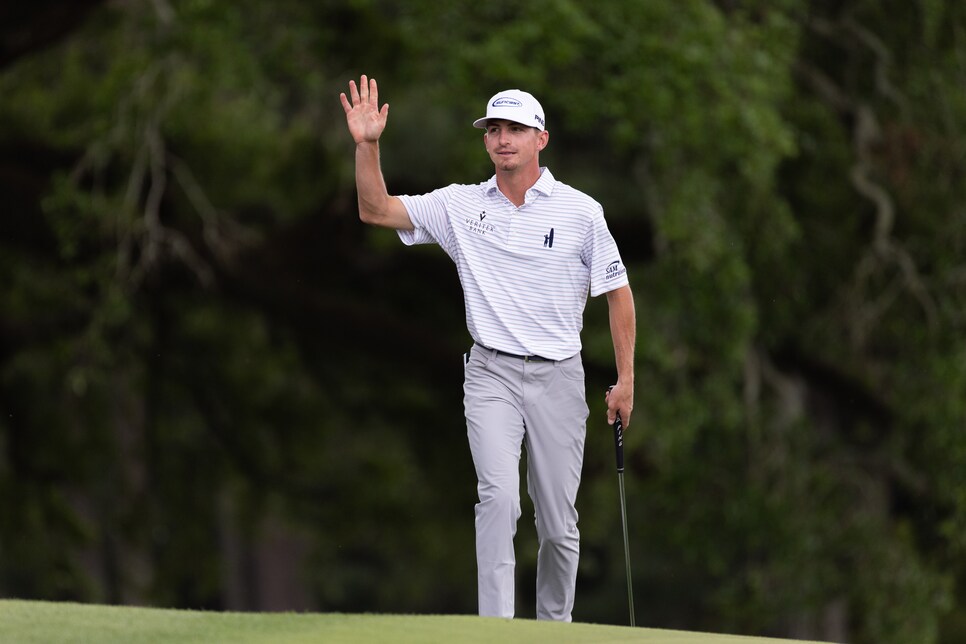 Sam Bennett impressed at the Masters with a T-16 finish after being on the leaderboard all week.
Ben Walton
Another major week, another impressive performance from amateur sensation Sam Bennett. No, the fifth-year senior at Texas A&M is not competing at the PGA Championship, but as the pros prepare to play at Oak Hill, this soon-to-be pro added to his pre-pro legend on Wednesday at the NCAA Salem Regional.
Bennett, who became a household name to golf fans by being on the leaderboard over the weekend at the Masters, was competing with his Aggie teammates at The Cliffs at Kiowee Falls in South Carolina. The top five teams after 54 holes earned spots into the NCAA Championship in two weeks at Grayhawk Golf Club in Scottsdale, Ariz., but the Aggies were in eighth place entering the final round. And as the team was playing the final nine holes, it appeared Bennett and Co. would see their 2022-23 college seasons end earlier than they had hoped, trailing the fifth-place team by as much as 14 strokes at one point.
But that's when Bennett, the reigning U.S. Amateur champion known to play with a bit of a chip on his shoulder, took things into his own hands, making five birdies for a back-nine 31 that gave him a final-round 65. Four of those birdies came on the final four holes.

It wasn't just Bennett, however, as the other four Aggies made seven birdies on the last seven holes, the team going 11 under in that span.
Bennett's birdie on the last hole meant that Aggies had caught Clemson for the fifth and final spot, resulting in a playoff to see who would advance to nationals. The way the playoff worked was all five players on each team played one hole, with the team that had the low aggregate score to par moving on. An eagle from Phichaksn Maichon and pars from the rest of the squad, including Bennett, were enough to hae Texas A&M win by one.
"I'm speechless," said Texas A&M men's coach Brian Kortan (who you might remember worked as Bennett's caddie at the Masters.) "I can't explain it except for the guys never gave in. It was not looking good there for quite a while. Even with three or four holes left it looked improbable. Holy cow. The guys never gave in. The guys sort of new what we needed. They showed grit and determination. They didn't want it to end."
Bennett's closing 65 left him tied for eighth overall in the regional. The 23-year-old from Madisonville, Texas, ranks third the PGA Tour University rankings. As long as he doesn't fall out of the top five after the national championship (which is an almost mathematical certainty), he will immediately earn a Korn Ferry Tour card that can be used for the rest of this season and for 2024. And given the notoriety he gained with his Amateur win and Masters performance, he's likely to squeeze out some sponsor's exemptions in PGA Tour events this summer. He's also got spots in the U.S. Open and Open Championship thanks coming this summer.
But before doing that, he's hoping he might be able to add an NCAA title to his resume.