The Loop
Saints fan crying at Drew Brees's passing record really needs to put things in perspective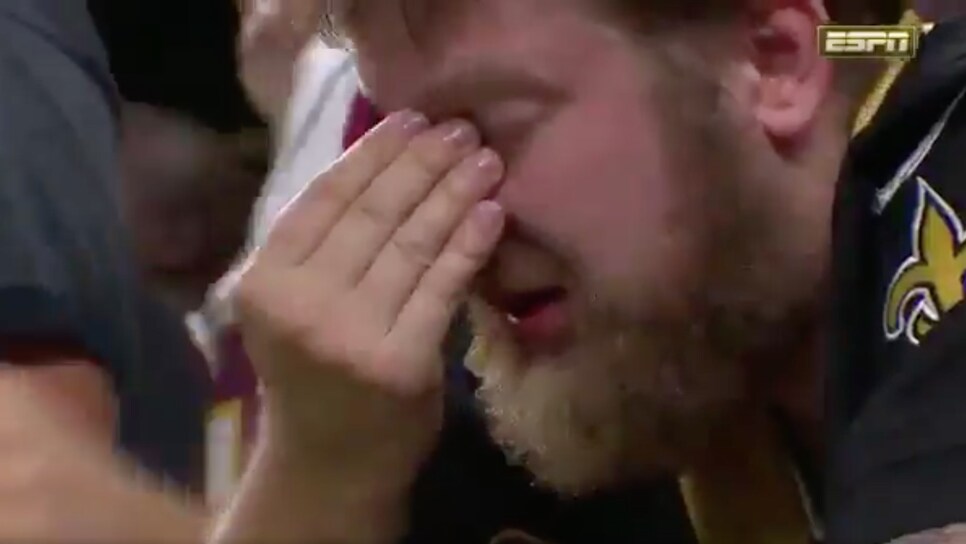 On Monday night, Drew Brees did something pretty remarkable. With less than three minutes remaining in the second quarter of a hiding of the Washington REDACTED, Brees dropped back, fired a ball to a wide-open Tre'Quan Smith streaking up the sideline, who then broke a "tackle" and waltzed into the end zone for a 62-yard score. It was mostly YAC, but it all count the same, which is important, because it was that bomb that propelled Drew Brees past Peyton Manning as the NFL's all-time leader in passing yards. The Saints celebrated jubilantly as a team at midfield. All was right in the world.
That is until the camera panned to this guy, who was clearly going through some shit, live on national TV...because of a quarterback...breaking a yardage record...in week five...of a football game.
Now listen, I'm willing to bet this wasn't really about the football. Maybe he's going through a breakup. Maybe Spot had to be put down. Maybe he just watched The Shape of Water. Brees wasn't the reason, only the cause. Maybe. I hope. That said, there is a very real chance this guy is sobbing in public because of 71,941 career passing yards, and if that's the case please, someone, ANYONE, give this man your therapist's number. The world is going to be a giant salt flat by 2040. Save the tears. We may need to drink them.