KAPALUA, Hawaii — Sahith Theegala appreciates the attention but is not sure he is worthy of it.
Of course, he's saying this while standing just outside the scoring area at the Sentry Tournament of Champions at Kapalua Resort, the $15 million limited-field event reserved for PGA Tour winners and those who finished among the top 30 in the FedEx Cup standings the previous year. He qualified by the latter criteria but almost achieved the former. Regardless, he's on Maui, so a certain amount of attention is inevitable.
"I guess it's nice," he finally said, "that some people think I'm going to have some success in this game. But I have a long way to go and a lot to learn."
After a stellar All-American career at Pepperdine University that included becoming just the fifth player to sweep the top awards in 2020—the Haskins Award, the Jack Nicklaus Award and the Ben Hogan Award—Theegala has proven a fast learner by qualifying in his rookie year for the Tour Championship, where he finished 28th. Appearing in a hefty 32 events, the California native led the tour in birdies and rounds in the 60s and nearly won his first title at the Travelers Championship.
Actually, he should have won the Travelers, ending up second behind Xander Schauffele after making a double bogey at the 72nd hole. Remember, still a lot to learn. He recorded another runner-up finish in November at the RSM Classic, the final event of the fall portion of the current season and then ended 2022 by teaming with Tom Hoge to claim in unofficial win in the QBE Shootout.
Theegala had to make an 18-footer on the final hole to eke out a one-stroke victory.
"It was nice to come through like that because you always want to make a putt for a win, especially when you're feeling those nerves and you have a teammate counting on you, too," Theegala, 25, said. "Yeah, it wasn't an official win or an individual title, but it still felt good. It gave me a little taste of what that feels like and then it just makes you hunger to do it again."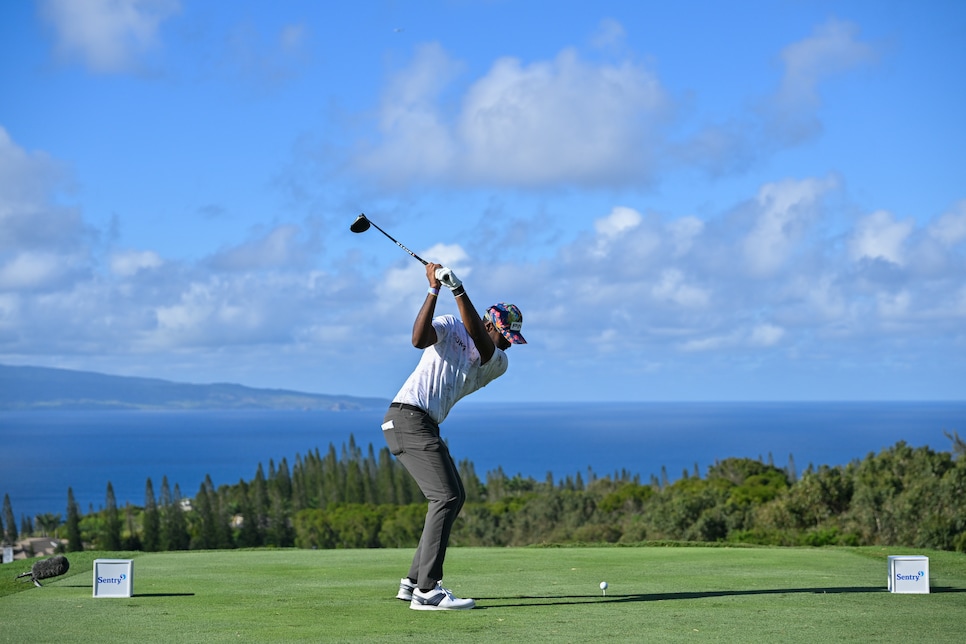 Sahith Theegala swings on the 17th tee box during the second round of the Sentry Tournament of Champions.
Ben Jared
"It was a pretty relaxed week to start off with and then we started playing well and it was like, shoot, better grind a little bit here all of a sudden," Hoge said. "It's fun to have some heat on you down the stretch and have something that matters and pull off a few shots if you need to. That's what we did and then he came up big on the last hole."
The winner last year at the AT&T Pebble Beach Pro-Am, Hoge came away impressed by the quality of game his teammate possesses.
"Hey, he made my job pretty easy. Pretty much every aspect of his game's impressive," Hoge said. "I think, especially, to see the creativity he has around the greens, he has some pretty cool shots and certainly not just your standard technique, just one kind of shot. He mixes it up a little bit, so he's got that creativity that's fun to watch and is going to serve him pretty well."
Theegala took nearly three weeks off coming into this event to clear his mind and refresh, so he wasn't bothered by a sputtering second-round two-under 71 Friday on the Plantation Course that left him T-18 at eight-under 138. He enters the year with a clear picture of his goals, but that picture doesn't necessarily include winning or qualifying for the U.S. Ryder Cup team or anything having to do with results. Which speaks to his maturity. He's all about the journey to improve.
"I'm just trying to get better and put myself in positions to compete," he said. "I'm not even too worried about winning. I just feel like as long as I keep progressing how I have in the last couple years and just like focus on that, that's how all the good things have come so far, so, why switch up anything, you know?
"I feel like the strengths of my game can get way better," he continued. "Weaknesses in my game obviously can always get better, but I'm not too worried about any one aspect. I feel like I have made an insane amount of progress the last year, but at the same time, against the level of talent on the tour, I also know I have a long way to go. And that's fine."
Ranked 43rd in the world, Theegala circled back to his original assertion that he doesn't feel worthy of special attention or focus. Then again, he doesn't really care, either.
"I'm not one to be on my phone a lot or pay attention to what's said. I guess it's nice that people have some expectations for me," he said. "I don't really have a lot of expectations for myself. My only expectation last year was to keep my card. I don't want to fall into that trap. My expectation for this year is to keep moving forward, keep doing the things well that result in good scoring, and then see how I measure up against these guys. That's all I'm trying to do."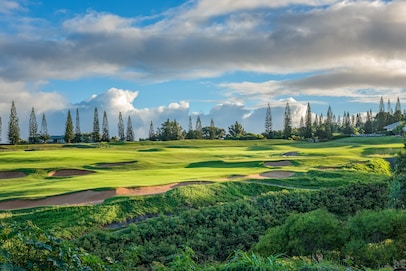 From Golf Digest Architecture Editor emeritus Ron Whitten: Most golf fans are familiar with Kapalua Golf Club's Plantation Course, home of the PGA Tour's opening event each year. Located on the north shore of the Hawaiian island of Maui, the Plantation was built from open, windswept pineapple fields on the pronounced slope of a volcano and is irrigated by sprinklers pressured solely by gravity. As the first design collaboration by Bill Coore and Ben Crenshaw, it unveiled their joint admiration for old-style courses. The blind drive on the fourth, the cut-the-corner drives on the fifth and sixth are all based on tee shots found at National Golf Links. So, too, are its punchbowl green and strings of diagonal bunkers. It's also a massive course, built on a huge scale, Coore says, to accommodate the wind and the slope and the fact that it gets mostly resort play.
View Course