Trick Shot Artist
Sahith Theegala goes lefty, pulls off sickest recovery shot of the year at Quail Hollow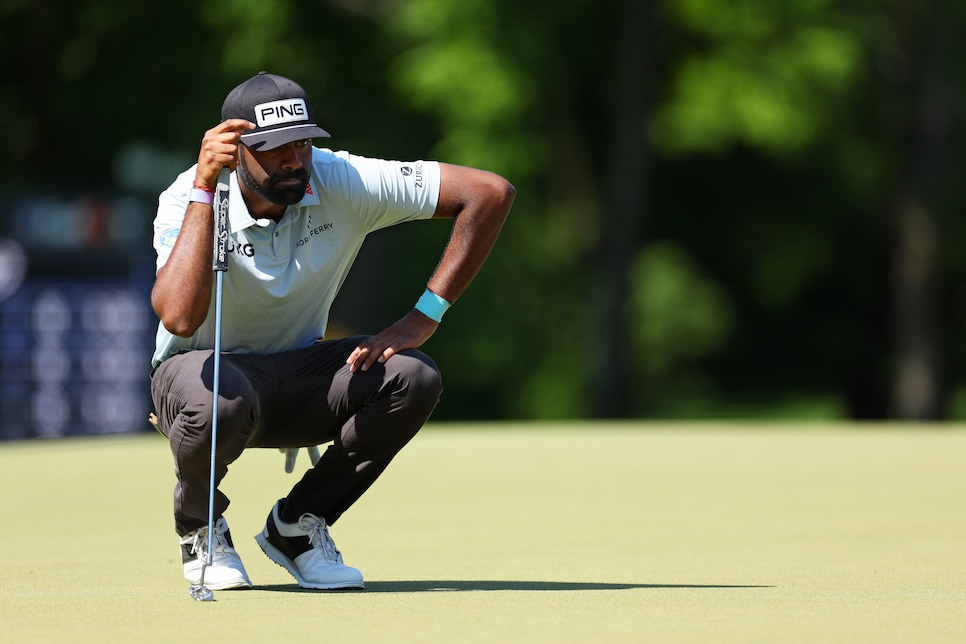 Sahith Theegala doesn't have to look for work any time soon, but should professional golf not work out, the 25-year-old could have a fine second career in Instagram/TikTok trick-shot artistry.
We already know Theegala knows how to shank the ball on command, and we heard plenty of legendary tales from his days at Pepperdine. But now he's showing off his skills in real deal tournaments, when the degree of difficulty is dialed up to 11.
At the 11th hole on Saturday at Quail Hollow, Theegala's errant tee shot ended up in some pine straw left of the fairway, his ball coming to rest directly right of a tree. If he attempted to hit it righty, his options were to go backwards or to possibly break his club on the follow through.
Theegala opted to play hero ball instead, going deep into his bag by turning the club over and taking a full swing lefty. Judging by the result, it's a shot he's undoubtedly practiced countless times before just in case the mood was right:
Considering how he followed through, where the ball landed and how it reacted, it looks like he actually hooked this ball around the trees. Reminder: this is not his dominant side. Insane behavior.
The bold play came close to seriously paying off for Theegala, who pitched his third to 13 feet for a look at par. He just missed, settling for one of the more creative and impressive bogeys you'll see on tour all year.