Ryder Cup
Ryder Cup 2021: Our contentious predictions for Team USA's captain's picks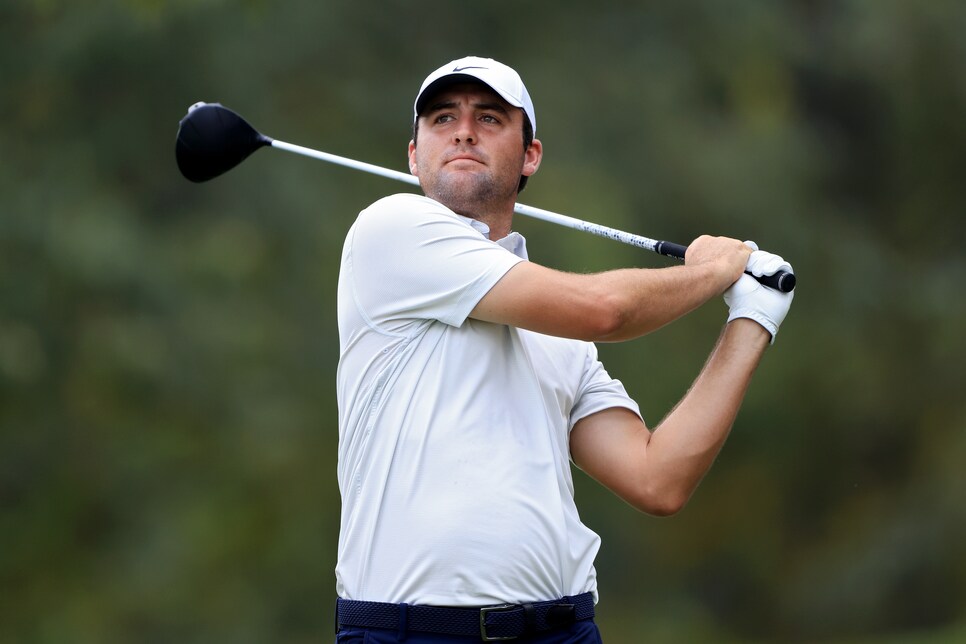 Scottie Scheffler plays his shot from the seventh tee during the final round of the FedEx St. Jude Invitational.
Sam Greenwood
Welcome to the latest edition of the Ryder Cup stock watch, where we'll periodically take a look at how the U.S. and European teams are shaping up heading into this year's match at Whistling Straits. Golf Digest writers Joel Beall and Daniel Rapaport assess where Ryder Cup matters stand heading into the Tour Championship.
Automatic qualifying has ended for the Americans, with captain Steve Stricker set to make his captain's picks following the season finale at East Lake. Rather than a back-and-forth dialogue, we decided to submit our own lineup projections for Team USA with just one week left for players to make their case.
Automatic qualifiers: Collin Morikawa, Dustin Johnson, Bryson DeChambeau, Brooks Koepka, Justin Thomas, Patrick Cantlay
Tony Finau
Xander Schauffele
Jordan Spieth
Harris English
Daniel Berger
Webb Simpson

Team USA's tailor has the measurements for the first three and English is getting outfitted as we speak, so we won't waste ink on their cases. If this song and dance was as simple as taking the 12 players with the best seasons, Young Master Berger—who is fourth among all Americans in Data Golf's Ryder Cup rankings, five in SG/approach and first in SG/swagger—would be in the proverbial dressing room as well. But that's not how the Ryder Cup process works for either team, which is why Berger's invite is very much in the air.
The short of it is this: The American squad, as currently constituted, is short on veterans. While one could argue team chemistry and experience are a bit overblown in this event—although this exact blueprint has fueled much of the Europeans' success over the past two decades—it's not hard to grasp the need for at least one war horse in the clubhouse. Dustin Johnson is currently the oldest U.S. player at 37 and has played in eight Team USA events as a pro; in that same breath, in spite of DJ's wealth of positives, he's more in the mold of a mercenary and gunslinger. That is fine and needed in its own right, but what the Americans lack is a calming presence that can handle the burden of a rookie or eccentric personality to go along with his own experience. With Phil Mickelson likely playing himself out of a pick, that role is left to Webb Simpson.
The former U.S. Open and Players champ has more than enough reps with seven Team USA appearances (three Ryder Cups, three Presidents Cups and a Walker Cup). His results haven't been great in 2021, underlined by Simpson missing out on the Tour Championship. However, he's 18th in strokes gained, eighth in scoring and eighth in birdie average this season, ninth among Americans in Data Golf's true strokes gained over the last six months, and he's one of the best short-game players on the Yankee side (10th in SG/around-the-green and 22nd in SG/putting). That is a recipe for a viable fourball partner and exactly the profile needed for foursomes. Simpson is also one of the more well-liked and respected players on tour, allowing Stricker to plug him into any situation Stricker needs.
This is important as it relates to Berger because it means just one captain's spot remains, and though Berger can secure it with a win or high finish at East Lake, the door is very much open for Sam Burns, Scottie Scheffler or Jason Kokrak should they steal the show in Atlanta. This especially applies to Burns, who didn't play at the Masters, withdrew from the PGA with injury, missed the cut at the U.S. Open and finished T-76 at the Open, and is 19th among Americans in true strokes gained over the last six months. But Burns has a trump card, and it is the FedEx Cup. With standings leader Patrick Cantley starting the Tour Championship at 10 under, Scheffler (one under) and Berger (even) are near the bottom, Burns is right in the mix at 10th (four under), meaning no one is better equipped among the captain's pick contenders to use this week as a springboard into Whistling Straits.
As for Scheffler, he checks all the boxes. Over the last three months, only Cantlay, English, DeChambeau and Spieth are ranked higher in Data Golf's Ryder Cup rankings; he has three top-10s in majors this season, was second at the WGC-Match Play and his power game is fitted for Whistling Straits. Unfortunately, as noted earlier, this team is not short on youth, and with a lineup already filled with bombers and ball strikers, his powers, while not muted, don't stand out as they should. It wouldn't be a surprise if Scheffler makes it over Berger, and in a perfect world both would make it, but as of now the winds seem to be blowing in a different direction, which is why we expect Berger to get the final captain's pick.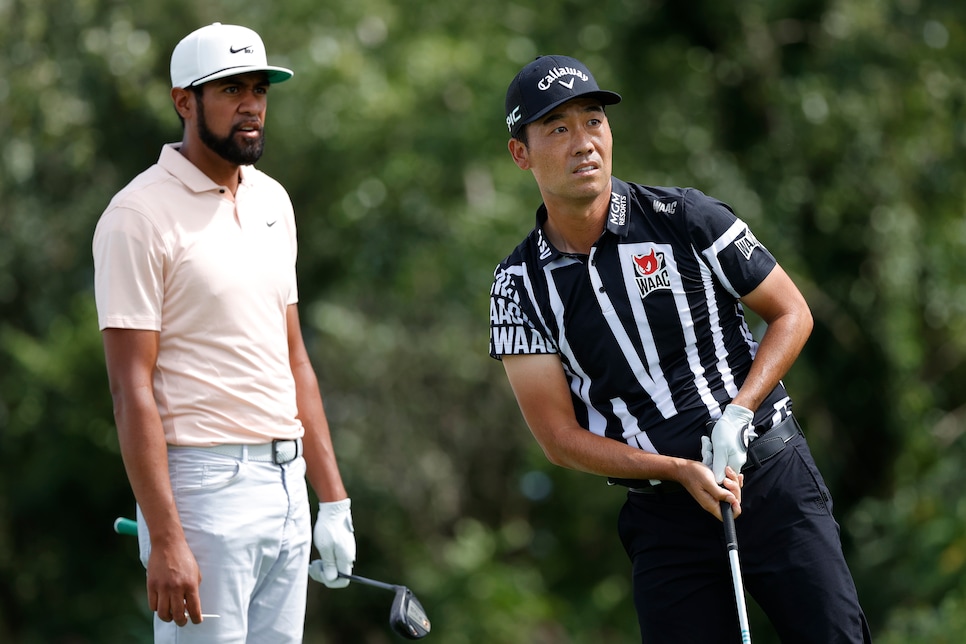 Kevin Na watches his tee shot on the 16th hole as Tony Finau looks on during the first round of the Northern Trust.
Sarah Stier
Tony Finau
Xander Schauffele
Jordan Spieth
Harris English
Scottie Scheffler
Kevin Na
The Na disrespect runs so deep, my man didn't even get an apology from JB. The six you suggested are perfectly fine picks, and I suspect Stricker's picks might mirror yours exactly. These guys, to dip into "Love Island" parlance, tick all the boxes. They're playing the best, they complete the young-experience dynamic, yadda yadda yadda. Apart from Reed, who's a separate case entirely, they're the picks you'd get if you went straight down the points list. Simply put, it's chalk. Which is fine, I suppose. But chalk has not been kind to our countrymen in recent years. It's time to step outside the proverbial box.
I'm not arguing for complete anarchy here; I'm with you on those first four picks. I simply do not see the value in adding a semi in-form Simpson. Yes, he's experienced, but every Ryder Cup team he's been a part of has lost. And while you say we need some more salt-and-pepper beard guys on the team, I think the U.S. needs some more youthful energy to combat what's going to be a very old European side. There are only two true rookies in the team as of now—guys who haven't played the Ryder Cup or Presidents Cup. One is Collin Morikawa, who's 24 going on 44. The other is 32-year-old Harris English, not exactly the type to start hooting and hollering to fire up the crowd. Enter Scheffler. He's shown a propensity for big events in his young career, going T-19, T-4, T-18, T-8, T-7, T-8 in his last six major starts. He's got a top-level gear that's as good as anyone's, as he's got membership in the 59 Club to prove it. And he's an easy-going personality that would seem to pair well with a number of different options. Put it this way: If I'm a member of Team Europe, I'd be more excited to play Webb Simpson than Scottie Scheffler.
Then there's Na, who I truly believe has big-time potential to emerge as a U.S. answer to Ian Poulter. The guy's in terrific form, going T-2, T-23, T-2, T-8, T-17 since the John Deere. He's also done it on all different types of courses. His early walk-ins and willingness to call out anybody—remember, he got in DJ's face at the match play without hesitation—could get under the Europeans' skin in a way no one else on this team can, especially if Reed isn't there. At last week's Northern Trust, I asked him what his response is to people who say Whistling Straits is too big a golf course for him. "The way, I'm putting," he said, "it doesn't matter." How can you not want to go into battle with this guy?