Analysis
Ryder Cup and Presidents Cup captain's rosters are very similar, and Davis Love III says that's no accident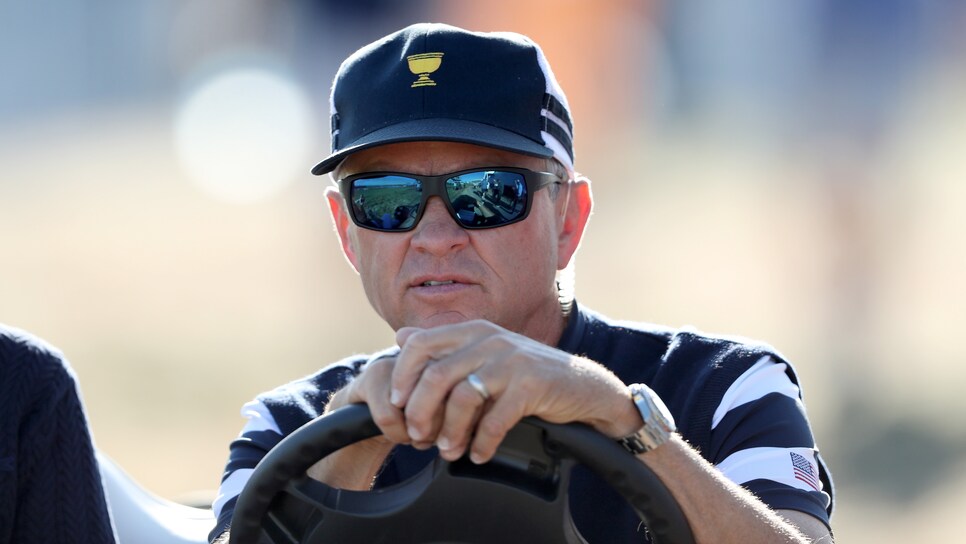 Davis Love III will lead the American Presidents Cup team this year at Quail Hollow.
David Cannon
HILTON HEAD, S.C. — Stay with us here: In the 2015 Presidents Cup, Jim Furyk, Fred Couples, Davis Love III and Steve Stricker were Jay Haas' assistant captains as the Americans won by a single point in South Korea. Since that year, Love, Stricker and Furyk have served as the three ensuing U.S. Ryder Cup captains—in each case, the other two were vice captains—and Couples was one of Stricker's vice captains at Whistling Straits.
The next two Presidents Cup captains were Stricker and Tiger Woods, with Love taking the reins in 2022 at Quail Hollow. Woods also served as vice captain at the 2016 Ryder Cup and would have done the same in 2018 and 2021 if he weren't playing and hurt, respectively. Meanwhile, as soon as he was done competing in the events, Zach Johnson served as a Presidents Cup assistant in 2019 and a Ryder Cup vice captain in 2017 and 2019—and he'll be the next Ryder Cup captain in Italy 2023 and one of Davis Love III's assistants this year.
You get the point: There is a very small group of people involved in the American captaincy succession, and they are being both auditioned and trained in not just one, but both major international competitions. It's a complete merger, and, according to Love, who spoke Wednesday at the RBC Heritage, it's also completely intentional.
"It started with Raymond Floyd," he explained, taking us back to the first winter meetings of the Ryder Cup task force in 2014 after the disaster at Gleneagles. "It was a big group of guys, all the way down to Rickie Fowler was the young guy and we had Tiger, Stricker, [Tom] Lehman, Phil, just right on down the list. And we all sat there and said, 'We've got to do something different.'"
That was technically a Ryder Cup meeting, but they began to look at things differently. Instead of Ryder Cup or Presidents Cup, it was just Team USA, and Team USA went from one competition to the next, perhaps with different players, but with the same philosophy and in many cases the same leadership.
"One thing that Phil was really adamant about was consistency and continuity from year to year," Love said. "And we can use an assistant captain at the Presidents Cup to get him experience for the Ryder Cup, to get him experience for the Presidents Cup captaincy down the road. We just do it year-round."
Love pointed to Johnson as the primary example of the new system. He even said it was "awkward" choosing who would take the head job for which tournament, and Johnson was initially slated to be captain in Charlotte for this year's Presidents Cup. That changed when a slot "opened" in Italy—likely a result of Woods' car accident taking him out of the line of succession—and Johnson became the obvious choice for that Ryder Cup, and Love slotted into the Charlotte Presidents Cup. (Discussing that move, Love noted that it was Woods who essentially granted him the job. Love thought Tiger should do it again, but Woods called him and said, "All right, you're captain in Charlotte; it's the right thing to do at this time.")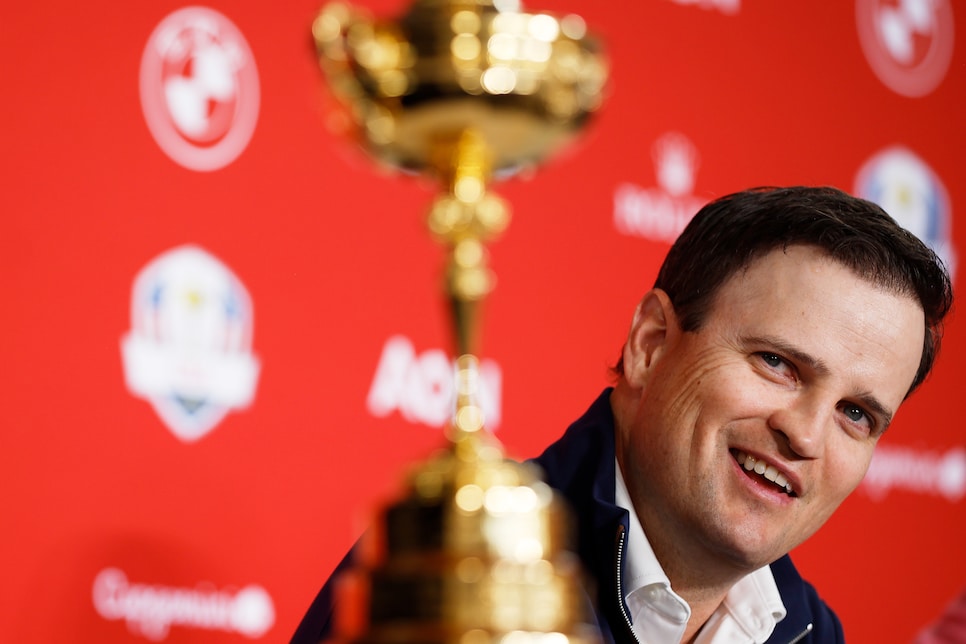 Zach Johnson speaks with the media as he is announced as United States Ryder Cup captain.
Cliff Hawkins
There are benefits to the captains themselves of this new system, the most obvious being extensive preparation before advancing to the top job. But there are smaller systematic advantages that are less obvious.
"We're already working on food for Italy, while we're working on food for Charlotte, while we're working on clothes," Love said. "And so Zach and I have done this together a lot and it's pretty seamless. Stats count for this year just like they did for last year. Things we learned over the last couple Presidents Cups and Ryder Cups are going to really help us in Charlotte."
The Europeans had a parallel in the Seve Trophy, a competition between teams from Great Britain and Ireland and the rest of continental Europe, and future victorious Ryder Cup captains such as Colin Montgomerie, Paul McGinley and Thomas Bjorn got their starts there. That competition was discontinued in 2013, in part because many of the best players skipped it and attendance was poor. According to McGinley, the effects have been felt.
The U.S. has a built-in advantage in the relative popularity of the Presidents Cup—backed by the PGA Tour, it's not going anywhere—but also a built-in obstacle, since the two events are run by separate organizations, with the tour overseeing the Presidents Cup and the PGA of America leading the American side of the Ryder Cup. In the past, that has prevented the mutual exchange of captains. While some, like Jack Nicklaus, participated in both, the crossover was nowhere near as steady, and there were constant rumors that accepting one captaincy would preclude you from accepting another.
That is clearly no longer the case, and by overcoming this obstacle, the larger institution known as Team USA has developed an efficient, effective system for churning out winning teams. The great test will be winning a Ryder Cup on foreign soil, which the Americans haven't accomplished since 1993. But the constant flow of information and the heightened institutional memory—constantly learning from past mistakes—gives them a better shot than ever before. Success builds on success, and the de facto merging of the two competitions under the larger American umbrella has been one of the key ingredients of the remarkable turnaround since the low days of 2014.
The last big question in these pre-Cup will be who Love and Johnson choose for their remaining vices and assistants. Every pick to date has been predictable, but whom they pick next will indicate who leads the Americans into the future. (This got even more interesting Wednesday after Love hinted that Mickelson's future captaincy might be jeopardy.) Their decision will be a collaboration, like everything else, and don't be surprised if they pick the same exact successors since this is now a true team effort.