Ryder Cup
Davis Love III hints that U.S. may need a captaincy backup plan for Phil Mickelson at Bethpage Ryder Cup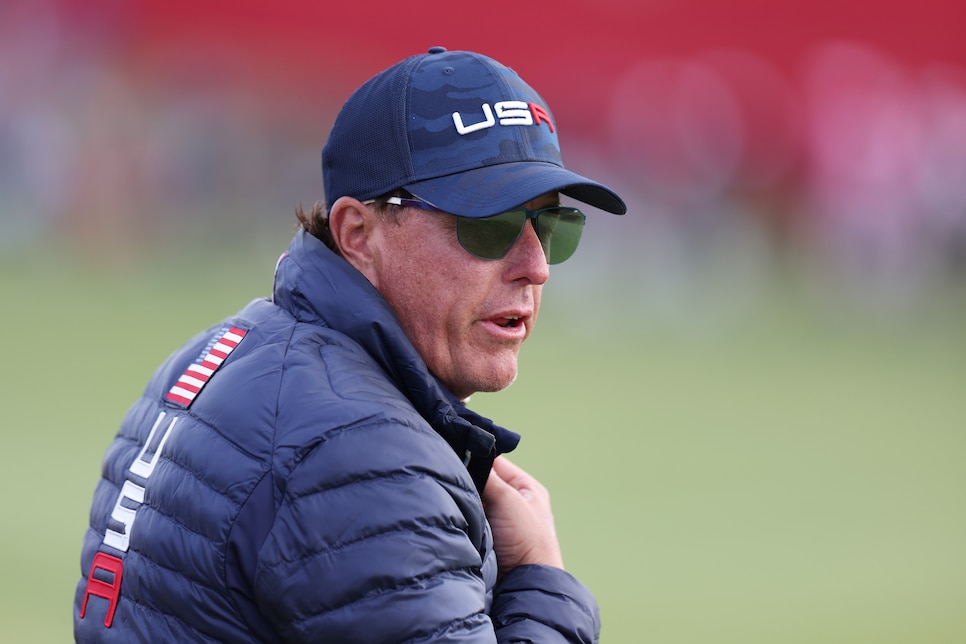 Phil Mickelson was a U.S. vice-captain for the 2021 Ryder Cup.
Richard Heathcote
HILTON HEAD, S.C. — The quote came at the end of a long and interesting press conference Wednesday at the RBC Heritage, where Davis Love III celebrated his 58th birthday with a cake from the PGA Tour and a timid but heartfelt rendition of "Happy Birthday" from a group of about 40 outside the media center.
The question that triggered it was about why Fred Couples had never been a Ryder Cup captain. After explaining that it may have been intentional—Couples might not have wanted the responsibility—Love broke into a smile and dropped the four most interesting sentences of the day:
"He could still be Ryder Cup captain. We may have to fill a gap somewhere now. Our order's kind of messed up right now. So maybe Fred would be great [for a] home game in New York."
The meaning here was unmistakable. It has long been assumed that Phil Mickelson was in line to take the reins at the Bethpage Black Ryder Cup on Long Island, originally slated for 2024, now 2025. For Love to reference the order being "messed up" and a spot potentially opening in New York, where Mickelson has been wildly popular, represents a very obvious reference to the 12-time member of American Ryder Cup teams who served as a vice captain last year for the victory at Whistling Straits.
The larger drama surrounding Mickelson is a well-known at this point. What began as a flirtation with the new Saudi-backed golf league became a full-on dalliance, and just when he seemed to be on the verge of leading multiple players in a kind of mass mutiny, the whole affair came to a screeching and spectacular halt when Mickelson made disparaging remarks toward the Saudis in late February, referencing their "horrid human rights record" and admitting that he was making a play for leverage with the PGA Tour.
Many in golf wondered if one of the knock-on effects of Mickelson's near-defection, and his recent absence from the PGA Tour (be it a sabbatical or something less voluntary), would be the loss of his future Ryder Cup captaincy. We still don't know the answer to that, and it's likely that no official decision has been made. But Love's remarks on Wednesday at least confirm that those at the highest decision-making levels are considering the problem. It confirms, too, that the ultimate verdict may be denying Mickelson the captaincy completely.

Earlier on Wednesday, Love III named Zach Johnson and Fred Couples as his first two assistant captains for the 2022 Presidents Cup in Charlotte. When asked what role Tiger Woods would play, Love said, "Any role he wants."