The Loop
Ryder Cup opening ceremonies' usual excess saved by legends, Jack Nicklaus and Tony Jacklin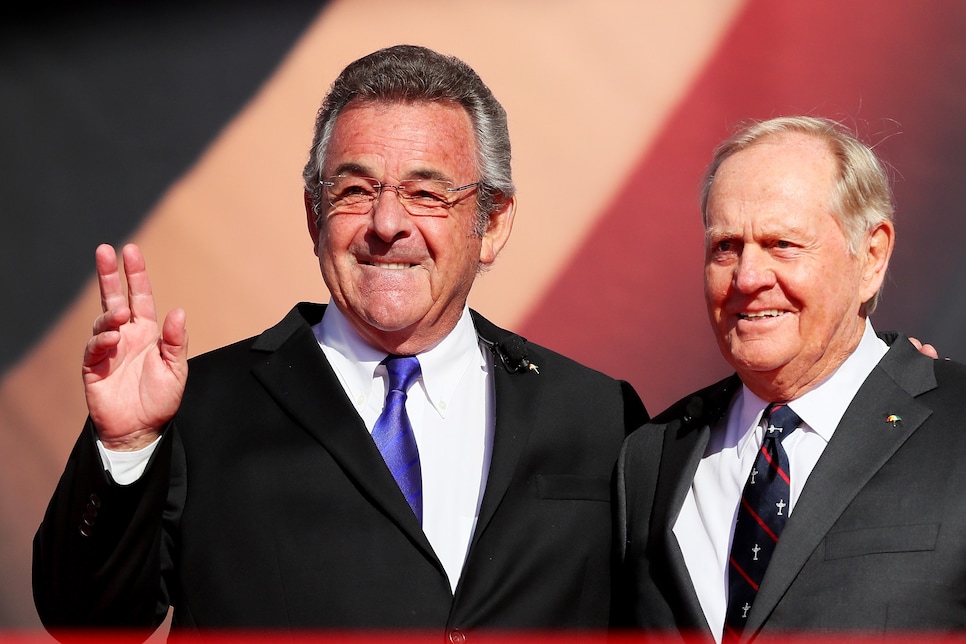 CHASKA, Minn.—Jack Nicklaus and Tony Jacklin saved The Ryder Cup. Again.
Fifty years after The Concession, the two greats took the stage to relive a seminal moment in match play history and to honor their friend, the late Arnold Palmer. The appearance provided a level of dignity for those unaware of their sportsmanship-defining Ryder Cup moment, followed by a stunning video tribute to the late Palmer that dared to interrupt the Ryder Cup opening's traditional over-the-top drudgery.
Hosts Dan Hicks and Michelle Tafoya were backed in the entertainment department by a flood of pre-recorded horns, singer-songwriter Aloe Blacc (nice get!) and Minnesota's own Sounds of Blackness. The real stars in this biennial display of excess — the dashing wives, girlfriends, partners, significant others — were daringly asked to enter the proceedings prior to the Golf Channel start time, ending the tradition of their grand entrance.
Sporting grey shawls that will double as Snuggies long after these matches, their fleece blankets were easily the least excessive bit of WAG fashion in the modern era. Task force success!
Less positive for the Task Force was the unfortunate placement of the last two players on each team directly behind large, white stage pillars, giving Jimmy Walker and Chris Wood a little Fenway Park sensation in Chaska. Task Force bogey.
The ceremony ran too long — about 30 minutes more than planned, the fault lying with our distinguished visitors from Europe. Captain Darren Clarke droned on for 15 minutes and thanked everyone in his life but the nurses present at his birth. He wasn't helped by having to follow the lively European Tour chief Keith Pelley and the opposite-of-lively PGA of Great Britain and Ireland's David Murchie, who ground the introduction proceedings to a halt with a special blend of monotony.
In a hopeful sign for the massive crowd that assembled on a glorious 66-degree day, Pelley, Clarke and U.S. captain Davis Love III all invoked the names of Minnesota sports teams in hopes of fan cheers. Thankfully, the Minnesotans didn't bite.
Maybe they just wanted the thing to end.
Of course the actual focus of the ceremony should be on the players and in a peculiar tradition, the attention turned to their often-tragic eyewear choices.
Rickie Fowler and Tiger Woods sported white-framed shades that appeared to be plucked off gas station NASCAR rack, Phil Mickelson channeled his inner Jon Baker from CHiPs, while J.B. Holmes drew comparisons to a scruffier, Don't Shoot Me I'm Only The Piano player-era Elton John.
There were introductions -- "Alphabetical order is an amazing thing," Love said when Woods was his fifth and final Vice Captain to be named — mentions of "goosebumps where you never thought you'd feel goosebumps," excessive sweat-induced calorie burning and of course, a totally over-the-top national anthem rendition drowned out by a slightly-early arrival of the inevitable F-16 flyover.
Just like that -- well after a grating song and music number by the reigning American Idol winner that had fans running for the exits—the ceremony was over. Mercifully, the only searing images were provided by those legends remembering a happier time when putts were conceded, Arnold Palmer was king and no one knew what sunglasses looked like.