Now that the insanity the Ryder Cup increasingly engenders has subsided, it's clear that even if the U.S. side got outcoached, it ultimately got outplayed. No matter. The enduring memory of Europe's victory at Gleneagles will be Phil Mickelson's rhetorical takedown of Tom Watson's captaincy.
It was a moment: surreal, more epically awkward than Jean Van de Velde standing in the Barry Burn at Carnoustie, sad in the way it diminished the legacies of two icons.
It also constituted golf history. For the first time, a player in a major international competition brazenly condemned the leadership of his losing captain before the world.
Mickelson's rant before the media in Scotland lasted about two minutes, but it seemed to freeze time. The other American players tried to avoid squirming, while Watson held a tight smile with hard eyes. Even Mickelson had a startled expression, as if comprehending the full weight of his words only after they echoed in his head.
Not that Lefty let up. After he damned Watson by extolling the way 2008 U.S. captain Paul Azinger got players "invested," a reporter called the answer "a pretty brutal destruction of the leadership that's gone on this week." In response, Mickelson struck a disingenuous tone: "I don't understand why you would take it that way." But when asked if Watson had gotten his players invested, Mickelson left no doubt. "Uh ... no," he said. "No, nobody here was in any decision. So, no." There have been plenty of autocratic Ryder Cup captains, but until Mickelson, every disgruntled player had held his peace, at least publicly. Even when David Graham was ousted by his International team before the 1996 Presidents Cup, it was done behind closed doors.
Considering that no one else picked up on his theme, it seemed that Mickelson had gone too far, whether it was because he was (a) disappointed at losing again; (b) angry at being benched for a full day, for the first time in his 10 Ryder Cups; (c) disapproving of what he perceived as Watson's brusque treatment of the younger players; (d) frustrated by the PGA of America's Ryder Cup system; or (e) all of the above. Then again, none of the other players or assistant captains, at the press conference or in subsequent days, defended Watson. It took until November before Rickie Fowler broached the subject: "I thought Tom did a great job of talking to the guys. ... Some things may have got blown a little bit out of proportion." But in subsequent weeks, no member of the team seconded Fowler. Mostly, the subject remained too toxic to touch. "I'm not going to be the one spilling my beans," assistant captain Steve Stricker said in early December.
Still, enough beans have been scattered that picking them up has provided a more cogent picture of what went down at Gleneagles, and why. In interviews with more than a dozen witnesses to key events, what emerges is an ill-fated saga of Watson and Mickelson—both of whom declined to be interviewed for this story—two ultra-Alphas who pushed each other's buttons until the result was an explosion.
"No, I wasn't surprised," Padraig Harrington, an assistant captain for team Europe, told Ireland's RTE Sport Radio. "The biggest asset the U.S. team could have in that team room was Phil Mickelson. All the players would love to follow Phil Mickelson. Especially without having Tiger there. [Woods failed to qualify and was injured.] ... Phil wants to do it. He wants to be the man up there inspiring them and giving them the talk... [but] between Tom and Phil, there was always going to be an issue: Who was the boss?"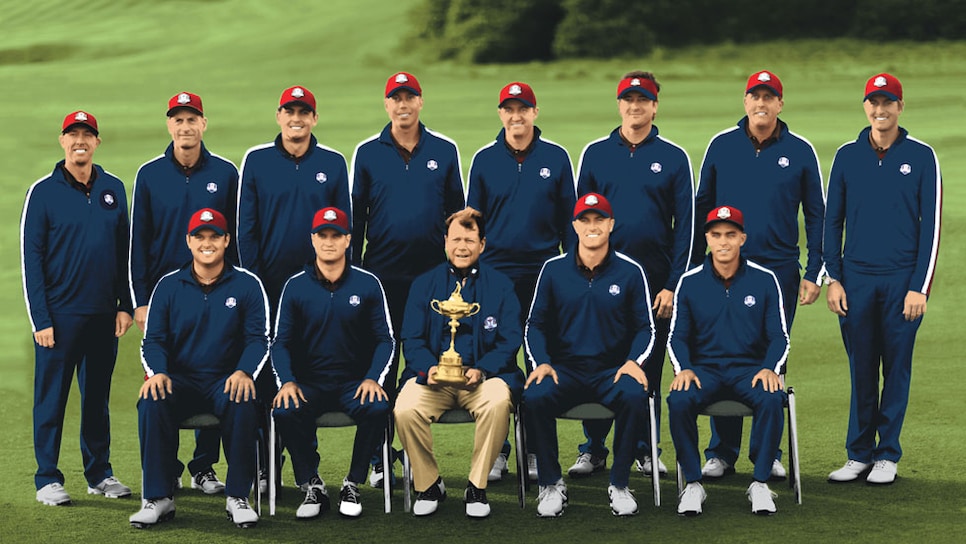 The two have some similarities. Mickelson is the most proficient practitioner of "the Watson par": the impossible scramble that demoralizes opponents. They also share resilience and records that have earned them plaques in the World Golf Hall of Fame, Watson with 39 PGA Tour victories, including eight majors, and Mickelson with 42 and five. But they are almost complete opposites in style.
"Terse" is a good word to convey Watson's personality, based more on action than words. Along with retaining a world-class game into his 60s, his reputation was built on doing the right thing: graciously handling his 2009 British Open loss at Turnberry, raising awareness of ALS in honor of his longtime caddie Bruce Edwards, leaving the Kansas City Country Club in protest of membership policies, and toning down the War by the Shore mentality of the 1991 Ryder Cup at Kiawah with a more gentlemanly captaincy in 1993 at The Belfry.
But beyond those virtues, Watson is an old-school champion, and as such, a lone wolf. He possesses a distinctively deep and slightly too-loud voice that is suited more to declarations than conversations. Those who know him well say he's naturally shy, with a tendency toward clunkiness in public settings. For all his diplomacy in 1993, Watson also caused a flap by refusing to sign Sam Torrance's dinner menu.
"Most people live in a gray world," says a person who has known Watson for many years. "For Tom, everything is black and white. He holds himself to absolutes, and he does it with people around him. It can make relationships difficult."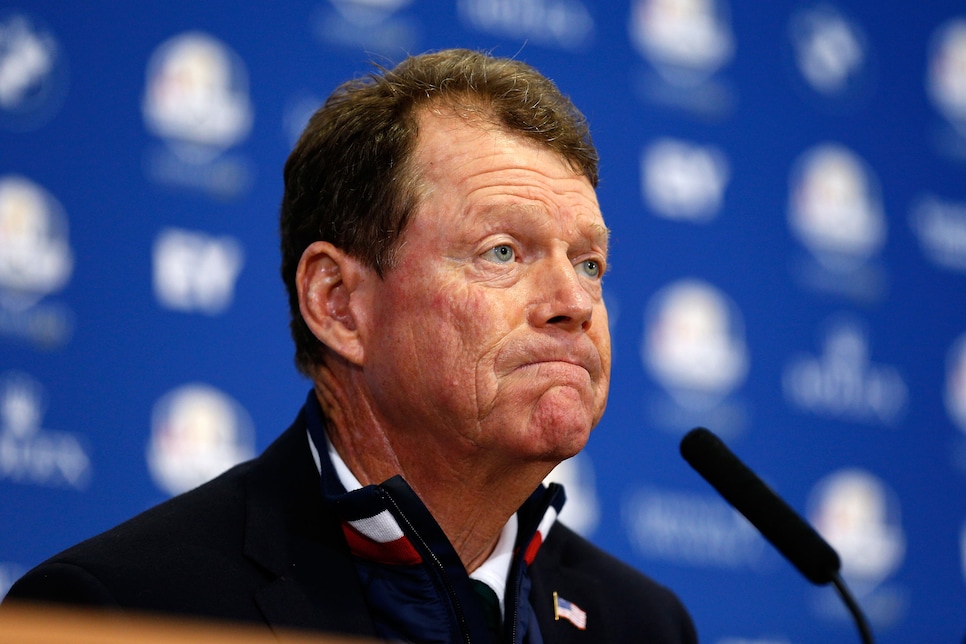 In contrast, Mickelson is garrulous, highly social and an unabashed showoff who often talks bigger than he can deliver. To the older generation of pros, he's often regarded as a hot dog. But many of today's younger players see him like a favorite uncle who is supportive and fun on the course or at a dinner table.
In his zeal to be positive and feel capable of the extraordinary, Mickelson likes to portray a wide-ranging expertise that has led to a long line of over-the-top statements. At the same time, because he takes being refuted with good humor, Mickelson is hard to dislike and raises the camaraderie in a team room. Tellingly, when Mickelson went 0-5 at the 2003 Presidents Cup, captain Jack Nicklaus nonetheless called him the most inspirational member of that team.
But it was the roles Watson and Mickelson assumed in this Ryder Cup that intensified their differences. At the direction of then-PGA of America president Ted Bishop, Watson was given the job to be his old-school self and win on foreign soil as he had done in 1993 (and no U.S. captain has done since). Revenge for the Americans' excruciating loss at Medinah in 2012 would be a main motivator. He also wouldn't allow players to dictate strategy, as Davis Love III was blamed for doing in letting a hot-playing Mickelson bench himself and partner Keegan Bradley on Saturday afternoon at Medinah.
Watson seemed determined to take the team down an arid, all-business road that was not about fun. Although he was openly moved by a signed flag given to him by the U.S. caddies before the competition began, he was seemingly stuck in grind mode. Curiously, in the run-up to the matches, Watson cited the intense pressure and said one of his main jobs would be to "diffuse it." By most accounts, he didn't.
"There were times when Tom seemed so intentionally mean and tough, I wondered if he was trying to pull a Herb Brooks and get the team to unite by turning against him," said a witness to the week at Gleneagles, referencing the hockey coach who led the United States to an Olympic gold medal in 1980. "But what he might have been doing to motivate sometimes just had guys rolling their eyes."
For his part, Mickelson was determined to have a big time at his favorite event, and in what might have been his last Ryder Cup as a player. He revels in what he considers the most intense competition in golf and reveres what the matches offer in mentorship, friendship with players from both teams and sportsmanship. At Gleneagles, he risked firing up the Europeans with a humorous line about U.S. players not litigating against each other—a reference to a lawsuit involving Rory McIlroy and Graeme McDowell.
"I couldn't resist," Mickelson said, and he couldn't stop himself again on Sunday night.
Potential discord was evident in July 2013 at The Greenbrier Classic. Through the caddie grapevine, it got back to Mickelson that Watson had told his playing partners, "I won't be afraid to bench one of these prima donnas." The consensus was that he had been talking primarily about Woods and Mickelson.
Or Watson might have been expressing the commonly held view among players of Champions Tour vintage that today's stars are soft and spoiled. Which naturally contrasts sharply with how the younger players view themselves—as veritable CEOs who are accustomed to calling their own shots. For Watson, the question was how much he could surrender to practical compromise.
Unlike past captains like Azinger, Love and Tom Lehman, Watson stayed relatively distant from players. He inadvertently betrayed this in his Ryder Cup blog of July 3, 2014: "I'm starting to make personal contact with those players—to get to know them and to understand them so that I can make informed decisions come September, both on and off the course." By "starting" on that area with less than three months to go before the matches, Watson had already spotted a year to European captain Paul McGinley. "Paul really, really knew his players," Harrington says.
The same could not be said of Watson. His invitations to some 20 potential Ryder Cuppers to meet him for practice rounds at Gleneagles in mid-July went unheeded by all but Keegan Bradley, who was fighting to qualify, and Jim Furyk, who was a lock. When Bishop asked Furyk why he had come, the veteran said, "Because I'm tired of losing."
At the time, Mickelson was pressing to qualify for the team. At the Scottish Open, Mickelson told Bishop, whom he played with in the pro-am, that he wanted to talk to Watson about a system that had been used to pair players in the Presidents Cup, but that he had sensed an unwillingness by Watson to communicate. Watson had said that if Woods were healthy and playing well he would select him as one of three captain's picks, but he didn't give Mickelson the same assurance. Some in the Mickelson camp thought it would be forthcoming after he shot a final-round 62 at Firestone the week before the qualifying deadline at the PGA Championship. Ultimately, Mickelson did not have to rely on Watson choosing him when he qualified by finishing second at the PGA, his only top 10 of the year.
"I love Phil," Watson said at the time. "You never know what you're going to get with Phil."
A relieved Mickelson got into full Ryder Cup mode. To prepare himself and younger teammates for the pressure ahead, he devoted practice rounds to intense money games. He withdrew from the BMW Championship in early September, announcing the rest would better prepare him for Gleneagles. The night before, he took eight of the team qualifiers to John Elway's steakhouse for a team-bonding dinner.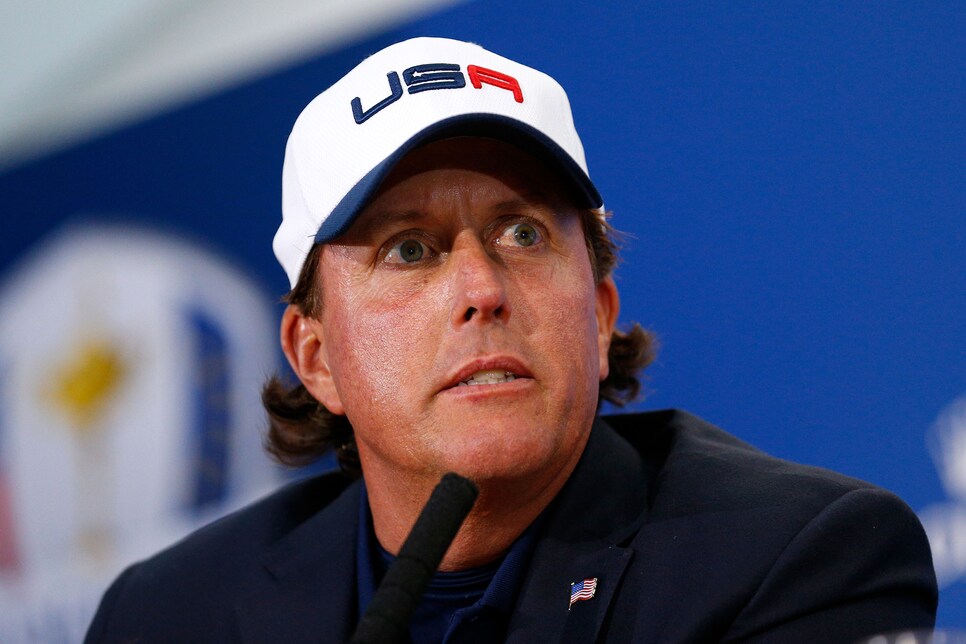 At Gleneagles, where the European team had structured practices in which the players conferred on reading the greens, Mickelson played his preferred money game with various teammates. At one point on Wednesday, Mickelson's group was behind Furyk, who was meticulously charting the course. Mickelson complained that his group would get in only 12 holes at that rate, so Watson gave him permission to go around. But observers noted tension between the two.
The unease continued during the matches. Mickelson and Bradley won their opening four-ball (best-ball) match on Friday and were expected to rest during the afternoon foursomes (alternate shot), mostly because the thick rough wasn't conducive to Mickelson's often-erratic driving. But late in the morning match, Mickelson told Watson that he had charted his foursomes matches over his last five years of Ryder Cups and Presidents Cups, and claimed that on his driving holes he had missed only three fairways.
It was a classic Mickelson exaggeration, but Watson sat the young and eager Jordan Spieth and Patrick Reed to go with Mickelson and Bradley, 4-0 at that point in two Ryder Cups. They would go on to lose, 3 and 2, and Watson admitted the decision was a mistake. He had been peeved when he caught up with the match on the eighth tee and learned that Mickelson and Bradley were 3 down and had yet to hit a fairway. Watson approached the pair and needled them: "When are one of you [expletives] going to hit a fairway?"
On Saturday morning, because of the energy Mickelson had expended playing two matches and his poor Friday-afternoon play, Watson again deviated from his plan and benched Mickelson and Bradley in four-ball, their strength. Not confident in their foursomes skills, Watson then decided to sit them in the afternoon as well.
Mickelson lobbied hard to get Watson to change his mind, asking in person and then texting him. At least one assistant captain was in favor, advising Watson that if Mickelson didn't play at all on Saturday, it could cause a distracting controversy.
According to one observer, Watson said, "Yeah, I know. But I can deal with that." Watson then texted Mickelson to tell him he wasn't playing and to get ready for his singles match.
At day's end, the U.S. trailed, 10-6, and Watson was seemingly all out of tact. In the American team room, he opened his remarks with the statement, "You guys stink at foursomes." After a brief talk in which he praised Spieth and Reed and emphasized the importance of the early holes in the Sunday singles, Watson was presented with a traditional captain's gift, a replica of the Ryder Cup trophy inscribed with the signatures of the team.
Earlier that evening, Mickelson had been asked by the PGA of America to present the gift to Watson, but he declined. Instead, Furyk, the player second to Mickelson in Ryder Cup seniority, gave Watson the trophy. After thanking the team, Watson said that this wasn't the trophy he wanted, that he wanted to "hold the real trophy tomorrow," perhaps an attempt at motivation. Later that night, according to a source, Watson said he regretted his choice of words, and that he hadn't intended to sound ungrateful.
The mood of the gathering was somber. Several people addressed the group, including assistant captains Stricker and Andy North, Matt Kuchar (who led the team in a humorous cheer) and Bubba Watson's wife, Angie. They had all made their brief speeches from in front of a stage in the converted banquet room, but when Mickelson got up to speak, he chose to sit on the back of a couch that was closer to the group. It put his back to Watson, who had remained standing near the stage. Mickelson spoke for several minutes, emphasizing his positive experience of playing in the Ryder Cup, and his belief that the U.S. could come back and win on Sunday. He then addressed his teammates individually, making a comment of admiration and appreciation to each. Said a source, "It was Phil trying to put his arm around the guys when that's what they needed."
After failing to sustain a fast start in Sunday singles, the U.S. was routed, 16½-11½. Frustrated players held their tongues, except for Mickelson. In the charged atmosphere, Watson was asked to respond but betrayed no annoyance.
But in the cart going back to the team room with Bishop and one other PGA of America official, Watson was quiet. When the cart stopped, Bishop said, "That was unbelievable." Watson answered, "Phil and I, we're at odds with each other right now." Then, Bishop said, Watson grinned slightly and added, "This too shall pass," before walking to his room. That night, players from both teams gathered in the American team room for a final celebration that lasted well into the night. Watson made an early appearance and left after only a few minutes.
Later in the week, Watson wrote an open letter of apology to his team in which he was conciliatory to Mickelson. It concluded with three terse sentences: "The bottom line is this. I was their Captain. In hindsight whatever mistakes that were made were mine."
About a week later, Bishop gently informed Watson by phone that a Ryder Cup task force would be formed. "I was afraid Tom would think that it was an indictment of him," Bishop says, "but he kind of stopped me and said, 'I approve 100 percent. Getting the players more engaged is a great idea.' "
"It's very sad," Bishop says. "Tom is an icon, and he gave two years of his life to this job. He had a time-honored old-school style, but with Bubba [Watson] and Patrick Reed, guys he thought might need some extra care, he put his hands on their shoulders and talked to them.
"It was different with Phil. Those two rubbed each other the wrong way."