Ryder Cup
The Ryder Cup presents tough questions about COVID-19 and vaccines. Officials are still working on answers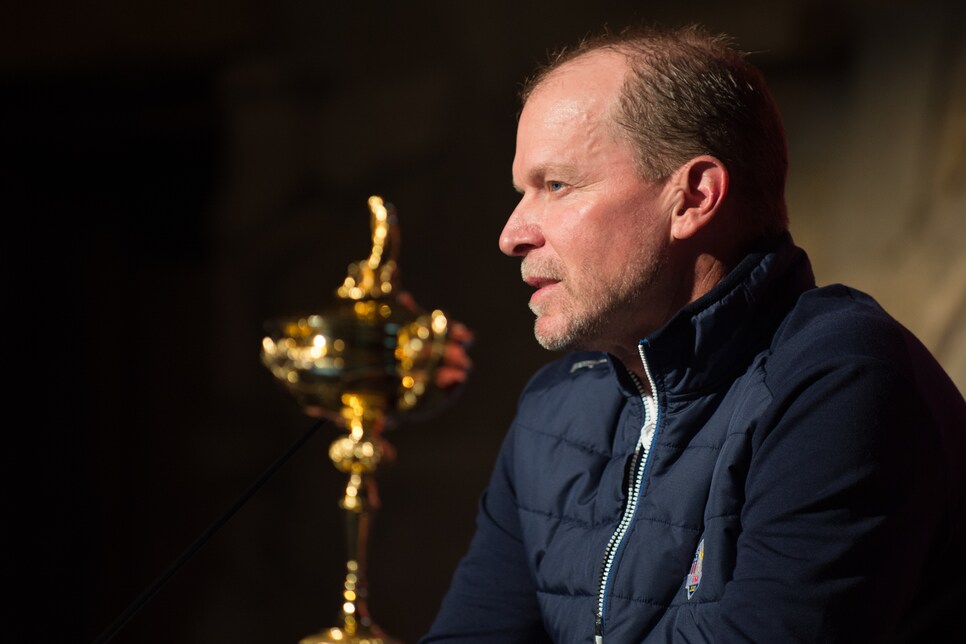 Montana Pritchard/PGA of America
Delayed a year because of the ongoing coronavirus pandemic, the 43rd Ryder Cup next month in Haven, Wis., continues to face potential organizational challenges, particularly as it relates to the administration of the competition.
The Captains' Agreement, which stipulates exactly how the matches between the U.S. and Europe are to be conducted—including such provisions as replacing injured players or setting a deadline on their completion—is likely to be the most unique in the event's history. With players on both sides having tested positive for COVID-19, most recently Jon Rahm and Bryson DeChambeau, it brings into question just who will be available to compete at Whistling Straits Sep. 24-26.
To get a better handle on the evolving situation, U.S. captain Steve Stricker, at the direction of the PGA of America, sent a text to prospective team members inquiring about their vaccination status. Xander Schauffele confirmed on Saturday at the WGC-FedEx St. Jude Invitational in Memphis that he received the text from the captain. Jordan Spieth said he'd been contacted by the PGA, though didn't specifically identify Stricker.
DeChambeau said earlier this week that he had not been vaccinated. Rahm was in the midst of getting vaccinated when he tested positive and had to withdraw from the Memorial Tournament after building a six-stroke lead through 54 holes. He tested negative in time to compete in the U.S. Open, which he won at Torrey Pines, but again had a positive test and, like DeChambeau, was knocked out of the Olympics.
"It was more so just to get a head start so he has answers for [the PGA] when they come to him is what it sounds like," Schauffele said of the text from Stricker. "But nobody's approached me. I think they're still talking it through. I think the whole nation's trying to figure out what they're going to do moving forward, so I'll just wait patiently and see what happens."
A rising number of cases of the Delta variant of COVID-19 nationwide has health experts on alert, but as of right now, some six weeks out from the start of practice rounds, the matches are on schedule with plans in place to welcome spectators. Obviously, those plans are constantly being assessed.
Kerry Haigh, chief championship officer for the PGA of America, was in Japan for the Olympics and unavailable for comment, but the PGA released a statement: "As has been the case since the pandemic, we are monitoring all developments and following CDC, state and local guidelines. We will work closely with our medical advisors, Ryder Cup Europe and our Captains in real time to finalize health protocols that, given how things are changing almost daily, will be announced closer to the Ryder Cup."
Reached by phone in Wisconsin, Stricker said only that a number of options are being considered to ensure that the full complement of 28 matche –16 two-man games and 12 singles–can be completed.
He would not confirm if one of those options was to have more than 12 players on site in case a player tests positive. The U.S. Golf Association took such a precaution and had substitutes available during the Walker Cup matches in May at Seminole Golf Club in Juno Beach, Fla. Other options that Stricker and European captain Padraig Harrington will have to hammer out might include matches being halved or forfeited in the event of positive tests.
They also could agree that the matches be extended beyond the prescribed three days. At the 2010 Ryder Cup in Wales, the Captains' Agreement between Corey Pavin and Colin Montgomerie stipulated that the competition had to be completed by 6.43 p.m. on Monday, and that any matches not completed at that time would have been deemed to be halved. The matches were pushed into Monday because of weather delays but ended before the deadline.
"There's a lot that can change, obviously, by the time we get to Whistling Straits," Stricker said.
Shane Ryan contributed to this report