PGA Tour
A shocker: Justin Rose and Tommy Fleetwood are still battling to get into FedEx Cup Playoffs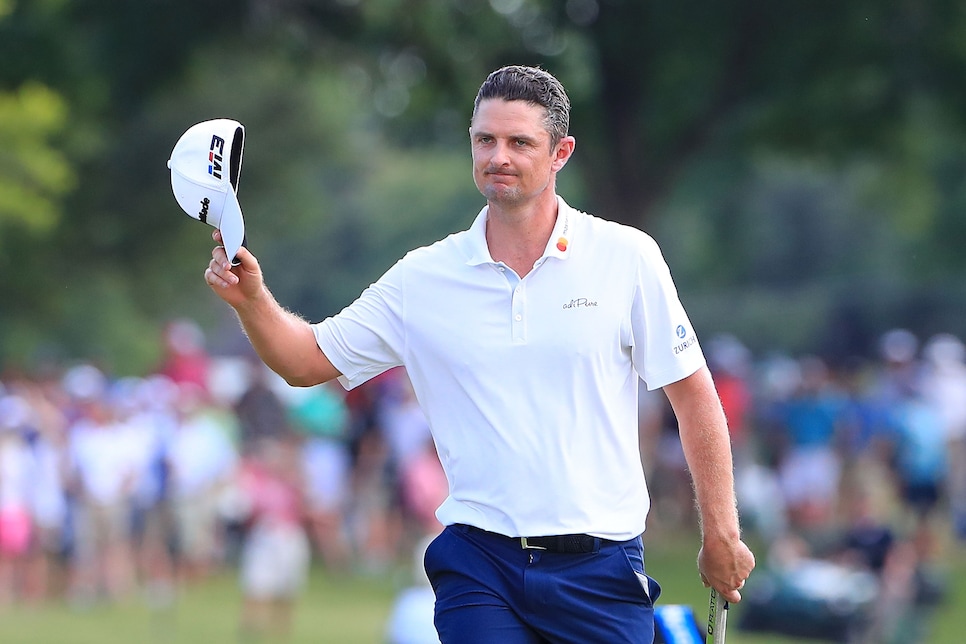 Tom Pennington/Getty Images
MEMPHIS, Tenn. — Coming into this week's WGC-FedEx St. Jude Invitational, Tommy Fleetwood and Justin Rose were back-to-back in their efforts to reach the PGA Tour's postseason, sitting at 133 and 134 in the standings, less than 10 spots below the cutoff for the first event of the FedExCup Playoffs in two weeks.
Both Englishmen had something to play for—Fleetwood trying to get full PGA Tour status, and Rose for more psychological reasons, considering his tour status is still protected next season on the strength of his victory in the 2018 playoffs.
"There's no pressure per se, but there's pride," Rose said on Friday at the St. Jude, "and I think it's really important. I am where I am because I haven't had a great season and you kind of want to stop the rot and nip it in the bud. The great thing about the playoffs is it does give you an opportunity to get hot and make a run."
In 2021, there's an additional concern for Rose—showcasing his form for Padraig Harrington as the European captain contemplates his picks for the Ryder Cup.
"I'd like to show the captain something," he said, "so obviously if you're sitting home and not playing, it's pretty hard to show him what's going on."
Fleetwood's concerns are more immediate. If he can't crack the top 125, he'll have to settle for conditional status in 2022. For him, though, the urgency is more about the improvements he's seeing in his game than qualifying for the playoffs and retaining his status.
"If I make it, I make it," he said Thursday following his opening round here. "If I don't, life goes on, and it's not the end of the world either way. The most important thing for me is I felt like I've struggled a bit this year, and I can start to see myself starting to play better, and it's all a case of when it clicks."
Heading into the weekend, both players sit squarely in the middle of the pack, Rose at two under and Fleetwood at minus 1. that would give them a bump, but not quite enough to cross the important threshold—from their starting positions, both are currently projected to rise two spots, to 131 for Fleetwood and 132 for Rose. No surprise, then, that both plan to head to the Wyndham Championship in Greensboro, N.C., next week for the last event of the regular season, and the last chance to force their way into the playoffs.
"I'm playing and doing everything I can to make them," Fleetwood said. "And of course, I can still make Atlanta. I can still win the thing. I'm going to try to play until they say I can't play anymore."
To be on the outside looking is uncharted territory for both. Rose has been in the top 125 of the standings every year since the FedEx Cup debuted in 2007, while Fleetwood hasn't missed the playoffs since becoming a full member in 2018. Both have made the Tour Championship multiple times, and Rose has his 2018 victory.
"I've been fortunate enough in the last decade or so to be cruising in Atlanta," Rose said, "and that's not always the way it is for a lot of guys out here."
Fleetwood played at the last-chance Wyndham Championship for the first time in 2020, finishing T-59, while Rose has more experience, having played five times in Greensboro, including a T-5 finish in 2009 and a T-6 result in 2006.
Neither player is staring down a death sentence if their late charges fall short—Rose has his status and Fleetwood will have plenty of opportunities to play with conditional status—but it's clear that it's a matter of professional pride for both as they try to salvage something from a season that has been uncharacteristically difficult. And for Rose, who likely has an inside track for one of Harrington's three captain's picks, there's a possibility that making the playoffs or not could be the difference between playing his sixth Ryder Cup and watching from the sidelines. With the weekend in Memphis coming on fast, both will be vying for hidden rewards while the leaders fight for the trophy.