Two days! Zach Johnson makes his picks in two days! We've been thinking about this for so long—and by "we" I mean the real obsessives for whom the Ryder Cup is never far from the brain—that it starts to feel like the milestone dates will never come, and we'll forever be shouting opinions and analysis and opinions disguised as analysis at each other with no resolution. But if the five biggest days in the Ryder Cup cycle are American captain's picks, European captain's picks, and, uh … oh yeah, the actual three-day event known as the Ryder Cup … then we're about to hit the first critical juncture.
As I write this Sunday, the Tour Championship is over, the situation on the American side has clarified, and Europe remains a question mark wrapped in a conundrum. And even now, on the verge of knowing the full American team, there are very possibly some major surprises still in store.
As far as our prognostications go, this is where the rubber meets the road. No more waffling: It's time to set the guesses in stone and make the call that goes into the history books. Who's making these teams? Who's watching on TV? Let's get after it: This is Ryder Cup-etology, the final edition.
Selection format: For the second straight Ryder Cup (and probably into perpetuity), the Americans have only six automatic qualifiers, leaving Zach Johnson and Co. six captain's picks to make this coming Tuesday, Aug. 29. The standings are now finalized.
Last week's American summary
Automatically qualified, full stop: Scottie Scheffler, Wyndham Clark, Brian Harman, Patrick Cantlay, Max Homa, and Xander Schauffele
Slipped out of automatically qualifying, still fine barring an ideological shocker: Brooks Koepka
Safely in, but uninspiring of late: Jordan Spieth
Still in, but still nervous: Justin Thomas
Good side of the bubble: Cam Young, Rickie Fowler, Collin Morikawa
Bad side of the bubble: Sam Burns, Lucas Glover
Really bad side of the bubble: Keegan Bradley
Goodnight: Tony Finau, Denny McCarthy, Dustin Johnson, Bryson DeChambeau
1. First things first, we have to talk about Keegan Bradley. After an indifferent showing in Chicago that put him on the "really bad side of the bubble," he needed to deliver something spectacular at the Tour Championship. And he did! But only for two days.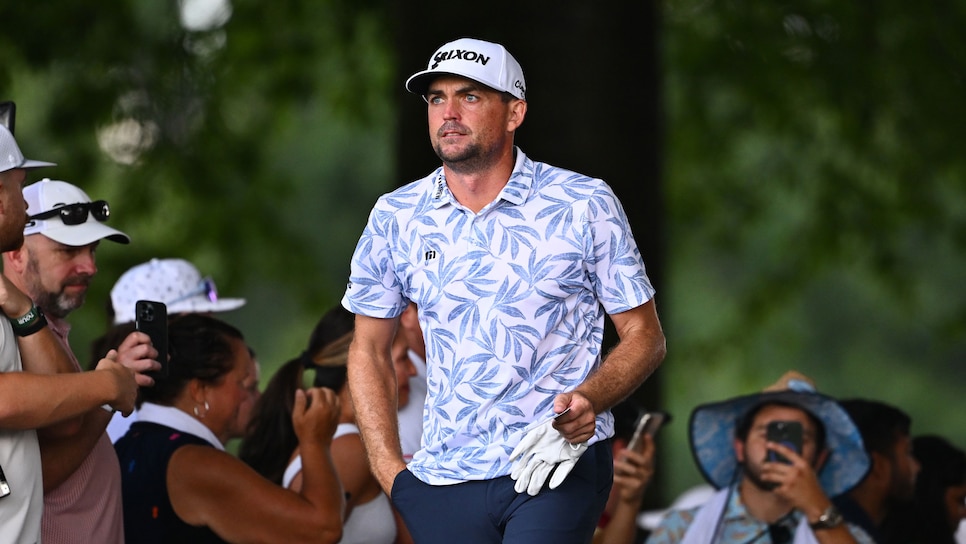 Bradley's 63-67-70-73 was, from the outside looking in, a sad tale of late Ryder Cup momentum that sputtered out just when it started to look tangible. A neater way to say that is that he had the best possible Thursday and Friday, and the worst possible weekend. I have no idea what Bradley actually needed to do to make the team, and now we'll probably never know, but I'm comfortable saying it wasn't this. By the time he shot 73 on Sunday—tied for the worst round of the entire field—even his total strokes were only good for T-11 in the field of 30. There's certainly nothing wrong with that, but it wasn't the big finish that might have made him impossible to leave home.
Even when you look at strokes gained over the last six months, he still just lingers in that shadow zone, and while you could construct a very good argument for him making the team on merit, in reality—when faced with the concept of picking him over Sam Burns or Cam Young or Rickie Fowler or Justin Thomas, you just keep coming back to the question of what distinguishes him. The answer is, not much—not match-play history, not any specific skill, not his major finishes (two missed cuts at the U.S. Open and British Open didn't help his cause at all) and not his consistency. Since a T-10 at Bay Hill in early March, he's only even had a single top-10. It happened to be a win, at the Travelers Championship, but that win alone isn't going to cut the mustard. The Keegan Bradley train sputtered out on Saturday—and will not be going to Italy.
2. Ditto for Lucas Glover. On the last Ryder Cup Radicals podcast, Luke Kerr-Dineen compared him to a fringe political candidate that gains some campaign trail momentum and even competes and maybe wins an early state or two, but never has a prayer of getting to the actual White House. I thought that was brilliant—even after winning at the Wyndham (I watched it in person, it was impressive) and Memphis, the idea of a 43-year-old potential rookie like Glover getting picked for the Ryder Cup team over someone like JT or even an up-and-comer like Young felt so far-fetched. There's a long history of hot form in August and September not really translating to much in the Ryder Cup, and the U.S. captains were smart enough not to get pulled into the buzz. That said, Glover absolutely could have forced the issue with big finishes in Chicago and Atlanta to end the season. He did not; his 278 at the Tour Championship put him in the lower third, and Glove-mentum is dead.
3. Which leaves one guy who could have conceivably gone from the bad side of the bubble to the good, and that guy is Sam Burns. And what did Burns do? He finished T-4 at the Tour Championship by actual strokes, after a T-15 showing in Chicago. And Burns isn't a Glover or Bradley type; he's young, he's got big wins under his belt including a WGC-Dell Match Play triumph this year when he beat Seamus Power, Adam Scott, Patrick Cantlay, Scottie Scheffler and Cam Young on the way to the title, he's a great putter—11th on the PGA tour in SG/puttingthis season—and he's friends and potential partners with the World's No. 1 golfer. He cooled off a little bit over the summer, but now that he's back in fine form, what's the argument against him again?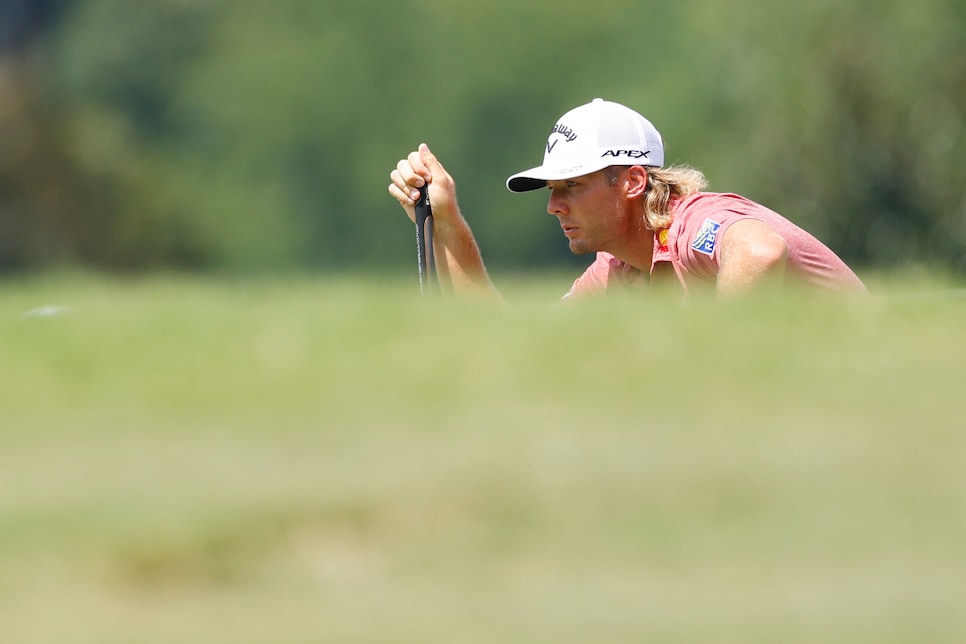 4. Well, to answer that question, we have to ask who's actually the most vulnerable. Says here it's not Justin Thomas, despite the fact that he has been a worse golfer than anyone else who will make the U.S. team this year. The value he brings is so substantial in terms of his past performance and his general excellence in team match play that it's my belief—based on no inside information—that Zach Johnson already has told him he's on the team. (For what it's worth, I also believe Thomas loves the Ryder Cup so much that if he wasn't already on the team, he'd be playing in Europe right now to try to prove something. I also think part of the reason he committed to the Fortinet Championship a week before the Ryder Cup is that he wants some tournament reps before going to Italy.) I was theoretically ready to move him off the team if something wild happened in the playoffs, but even in Atlanta, nothing bumped him. JT's ironclad.
5. So is Collin Morikawa, after showing on Thursday and Friday that he's capable of bringing the heat. You don't leave behind the guy who went 4-0-1 at Whistling Straits and who can pair with literally anybody if he's out shooting 61s and 64s. And though it's less clear-cut, I'm also saying that Rickie Fowler is fine. His play was scintillating in mid-summer, he got his win at the Rocket Mortgage, and though he's cooled off lately, he's been good enough statistically to pass muster. I think in a vacuum, Fowler might be an easy one to leave off the team when the hard decisions have to be made. In reality, he's so well-liked, such an asset to the team room and his game is substantial enough that he has to be in. I will say, though, that Fowler's career record in Presidents Cups and Ryder Cups is 8-10-9, and just 3-7-5 in Ryder Cups alone. If a robot were picking this team without looking at anything but hard data, I think he might be the 13th man.
6. Which leaves us with the one guy who might be vulnerable to the late Sam Burns insurgent campaign. Cam Young in 2023 reminds me so much of Scottie Scheffler in 2021, from how he competed at majors (two top-10s to Scheffler's three) to finishing second at the WGC-Dell Match Play to being one of the best players in the world without a win. Vice Captain Fred Couples already said he was on the team. (Which may end up being Exhibit A in PR school for why you never say something like that in public; life moves fast in Ryder Cup land, and what seems certain in late July might not look so great in late August.) I would not be even a little surprised if next year he went on a Scheffler-esque run and become definitively one of the two or three best players in the world. But at the same time, let's be realistic: That comparison is favorable to Young. Statistically, even by comparing 2023 to 2021, he's not quite Scheffler. And he didn't make the Tour Championship this year. All of which makes him the guy who's going to fall off if Burns is on.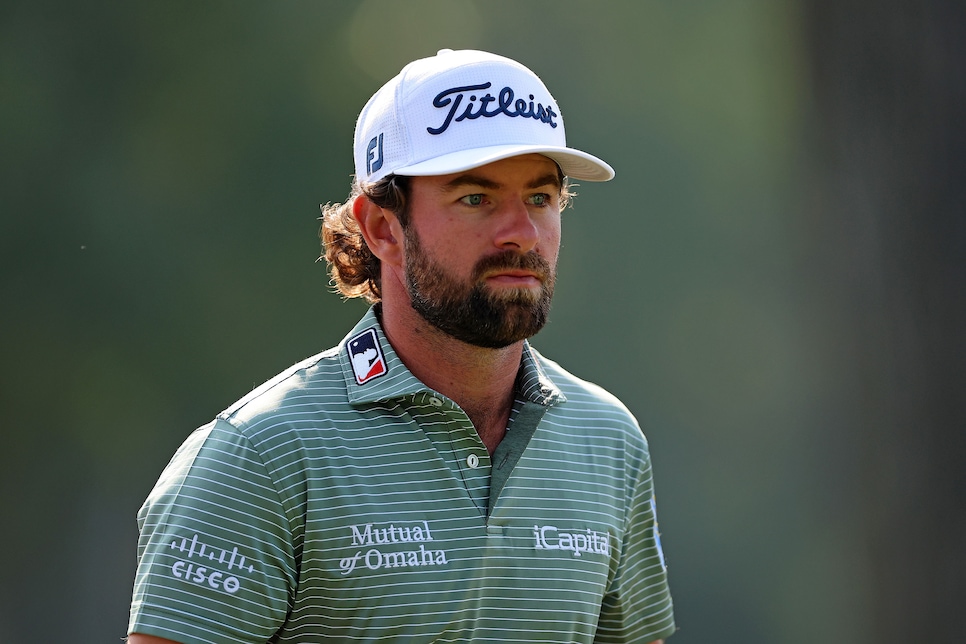 So how do you decide between these two? Young is better tee to green, Burns is a better putter. Burns has actually won, Young has only come close. If you're Zach Johnson, and the decision is this tight, you'd start looking at elements like team fit. You'd ask your top six automatic qualifiers who they want on the team. You'd consult with your stats people to see who was a better course fit, and who might work best in certain pairings. (That information, unfortunately, is something we'll never get.) None of these present easy answers, but you can start to fathom at least a guess when you put it all together.
And because I'm on the spot here, and I have to make a pick, I think Burns sneaks in off the bubble at the last possible moment.
Lock it in. At least until Tuesday, when Zach Johnson makes me look like a fool.
Here's the final roll call on the U.S. side:
Automatically qualified: Scottie Scheffler, Wyndham Clark, Brian Harman, Patrick Cantlay, Max Homa, and Xander Schauffele
Easy Captain's Picks: Brooks Koepka, Jordan Spieth, Collin Morikawa
Harder, but Still Definite Captain's Picks: Justin Thomas, Rickie Fowler
Last Man In: Sam Burns
First Man Out: Cam Young
Never Made the Final Push: Keegan Bradley, Lucas Glover
Selection Format: The Europeans have two lists—the European Points and World Points. Three players qualify from each list, which means that for the first time Europe's captain (Luke Donald) will have six picks to fill out his roster, which he'll make a week from Monday, on Sept. 4. (Current standings here.)
Last week's European summary
The impregnable duo who would not be left out barring death and maybe not even then: Rory McIlroy, Jon Rahm
Currently qualified and definitely in: Viktor Hovland, Tyrrell Hatton, Tommy Fleetwood
Won't qualify, obviously in: Matt Fitzpatrick, Shane Lowry
Newly off the bubble and in: Justin Rose
Qualified, probably in: Robert MacIntyre
Good side of the bubble: Adrian Meronk, Alex Noren, Sepp Straka
Bad side of the bubble: Yannik Paul, Rasmus Hojgaard, Nicolai Hojgaard, Adrian Otaegui, Alex Fitzpatrick
Extremely bad side of the bubble: Victor Perez, Matt Wallace
Missed their chance: Guido Migliozzi, Seamus Power
1. First off, the deal with the European picks is that unlike the Americans, they haven't given us the courtesy of an extra day to write and print a story like this after the conclusion of next week's Omega European Masters. Luke Donald will make his picks the next day, so I won't have time to write anything up with final predictions beyond Twitter. Which means, in turn, that I'm going to have to make a final Golf Digest call here. Take it with a grain of salt; I think next week's results will actually matter quite a bit to Donald, so just know that I'm operating with one week shy of full intelligence here.
2. On to the actual tournament: Man, I am more intrigued than ever by Nicolai Hojgaard. John Huggan, Digest expert on all things European golf, told me a couple weeks ago that I was underrating him, particularly because he won in 2021 at Marco Simone, the Ryder Cup course, which was enough to make me put him on the bubble last week. Then he pulled off a T-14 at the Wyndham, and in his return to Europe, he just finished third at the Czech Masters. So along with obvious course fit, he's now got some form. It would have been much better for him if he wonthe thing, but this was a major step in the right direction.
3. Hojgaard's position, and the position of many others, is bolstered by the fact that Alex Noren, a guy I've had as the 12th man and Donald's last captain's picks for a couple weeks, simply isn't playing. I have no idea what's going on. If he's injured, I can't find a report of it. And if he's not injured, it either means he thinks he's safely on the team or he's fully out. But it's totally far-fetched to think Donald would have guaranteed anything to Noren, right? Sure, some veteran presence would come in handy, but this isn't Shane Lowry or Justin Rose. Which means that no matter what the reason for him sitting out these last few weeks, and next week, he's basically conceding any chance to be on the team. Which throws everything topsy-turvy, because it's almost impossible to predict who takes that 12th spot.
4. As a side note, I've looked into my heart, and I refuse to take Ludvig Aberg's candidacy seriously. He's going to be a great player, and maybe he already isa great player, but he has two professional top-10s (one of which came at this weekend's Czech Masters). There's no way Donald chooses this guy. There's part of me that wants to believe, but in the end I can't see this as anything but some sort of internet fantasy. In real life, this never happens, and if I'm wrong, you can embarrass me on Twitter. But I just can't talk myself into this being remotely possible.
5. Back onto the real candidates, but before we get deep into 12th-man territory, a tip of the cap to Robert MacIntyre. The man seized third place in the European points rankings and has held onto it for dear life, including this week at the Czech Masters when players like Yannik Paul, nipping at his heels in those standings, were having terrific weekends and putting his spot under the gun. MacIntyre's response was to go 17 under for a T-4 finish, and things have to go wayyyy wrongfor him to lose his automatic qualifying spot now. Even if he does, Donald is going to take him. For a month, it's seemed like someone would overwhelm him, but he held fast and staked his claim. You have to respect it.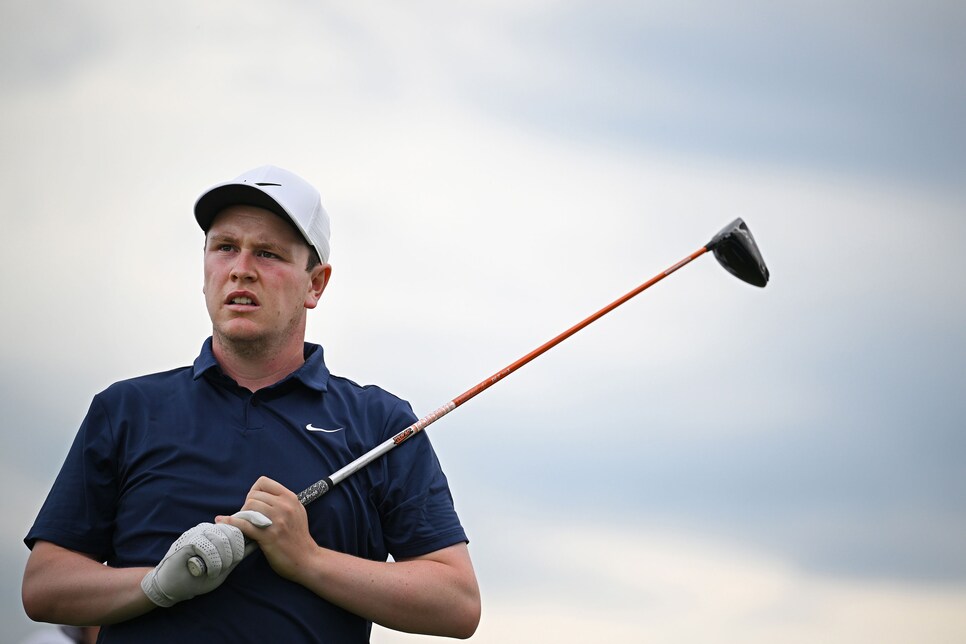 6. Also, quickly, nice work Sepp Straka finishing top half at the Tour Championship. Your spot was probably already secure, but now it definitely is.
7. What do we do about Matt Wallace? The European leadership team loved his fire at the Hero Cup (the UK/Ireland vs. Continental Europe team competition staged earlier this year), but Wallace was just plainly bad almost the entire year after that, other than an anomalous win at Puntacana. Just when it seemed safe to pronounce him D.O.A., he turned in a solo second at the Czech Masters. Do they love him again? Is it too little, too late?
8. And finally, who else is in the running for that last spot? Adrian Meronk was only so-so at the Czech Masters, but as the aforementioned Kerr-Dineen pointed out on Sunday night's Ryder Cup Radicals, he makes an obscene number of birdies, which makes him an ideal fourball player with a steady partner. He also won at Marco Simone this year.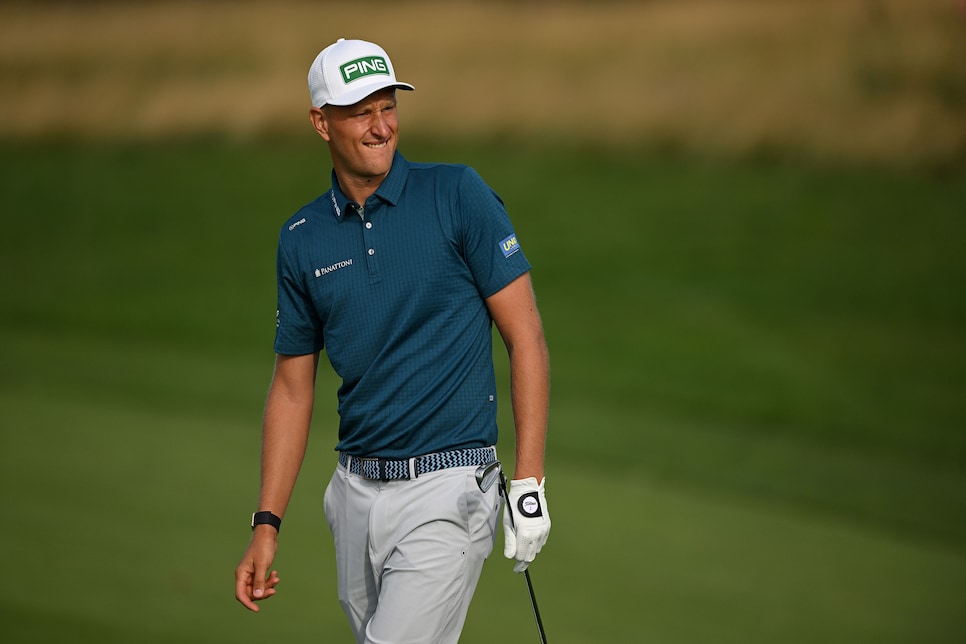 You probably see where I'm heading with this. Without more information to work on, sure, I could start talking myself into Yannik Paul or Victor Perez (terrible recent form, was great the Czech Masters) or Wallace. Maybe I could even get to Adrian Otaegui or Alex Fitzpatrick!
But with Noren out, I'm going to take the path of least resistance, and say that along with the nine guys who are locked, I think Donald right now could go with three players in solid recent form who also constitute the last three winners of the Italian Open at Marco Simone: Meronk, MacIntyre and Nicolai Hojgaard.
The final European picks:
Qualified on the World List: Viktor Hovland, Tyrrell Hatton, Tommy Fleetwood
Qualified on the European List: Rory McIlroy, Jon Rahm, Robert MacIntyre
Sure Thing Captain's Picks: Justin Rose, Shane Lowry, Matt Fitzpatrick, Sepp Straka
Last Two In: Adrian Meronk, Nicolai Hojgaard
Last Man Out: Yannik Paul
Off the Bubble: Adrian Otaegui, Matt Wallace, Rasmus Hojgaard, Victor Perez, Alex Fitzpatrick