Ryder Cup
Zach Johnson isn't letting the U.S. Ryder Cup team commit the same crucial mistake it did in Paris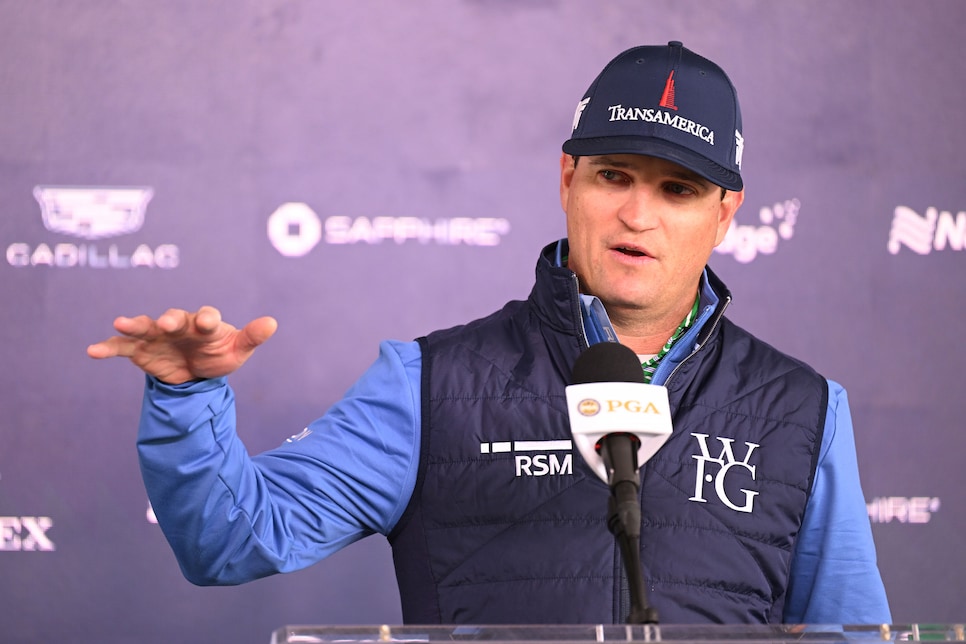 ROCHESTER, N.Y. — Given the desultory performance of the U.S. team in the 2018 Ryder Cup outside Paris and the smashing success of the 2021 team in Wisconsin, Zach Johnson has a clear idea of what might enable the Americans to snap a 30-year drought abroad this September in Rome.
Johnson, the U.S. captain, said on Wednesday that he will take his 12 players to Marco Simone Golf & Country Club in early September, about two weeks prior to the 44th Ryder Cup (Sept. 29-Oct. 1), a trip he labeled as "crucial" to keeping the cup after the Americans' record 19-9 drubbing of the Europeans at Whistling Straits.
In 2018 at Le Golf National, the Europeans registered a thorough beatdown of the U.S. squad, 17½-10½. Only Justin Thomas, who went 4-1 in his Ryder Cup debut, had seen the course prior to the 42nd Ryder Cup when he played in that year's French Open. In 2021, captain Steve Stricker made sure that his squad spent time together at Whistling Straits and got immersed in the nuances of the Pete Dye course.
"I made it a priority, and I'm very grateful that the powers that be at the PGA of America have granted me that liberty, in the sense that I'm taking the 12 guys that make my team to Rome two weeks prior to the event … two and a half weeks prior to the event, so that way we get our feet on the grounds, they get their feet on the grounds, experience Marco Simone firsthand," Johnson said at Oak Hill Country Club, where will make his 20th start in the PGA Championship on Thursday. "Then when we leave and come back home for two weeks, they'll have at least, I think, a pretty realistic expectation as to what is required.
"I think it helps. I think that trip right there is going to be crucial," Johnson continued. "That's a strong word, but I think it's just key for a number of reasons. Certainly chemistry and camaraderie and all that good stuff inside the locker room. But more than that, we all know that … those that have played, we all know Monday through Thursday is pretty trying. There's a lot that goes on. And if we have any weather issues or just things get really congested and difficult and tight, they've already experienced it, so they don't have to push themselves immensely."
Johnson said that specifics of the reconnaissance trip are still to be determined, but he has made sure to put it on the radar for all of the players who might be in line to make the team. The six players who will be automatic qualifiers off the U.S. points list are finalized on Aug. 20 after the final round of the BMW Championship, with Johnson's six captain's picks set to be announced the following week after the conclusion of the Tour Championship.
"The beauty of it is there's four weeks between the Tour Championship and the Ryder Cup, so I'm confident knowing that these guys … again, I know they're making it a priority, so I know they'll take care of their bodies, but if there's anything I can do along the way, I'm certainly going to give it its full attention," Johnson said.
"The only thing I can do right now is communicate that. Communicate, one, that it's a priority to me; two, that it's a priority to Team USA and the PGA of America; and, three, put it on your radar, put it on your calendar. So I've done that. I don't know how far down the list I've gone, but I've done that to the guys. I have not heard anything that says that no one is in support of that."
MORE FROM GOLF DIGEST @ THE PGA CHAMPIONSHIP