Legends
Ryder Cup 2023: Brian Harman says he and Rickie Fowler have never talked about 'that match'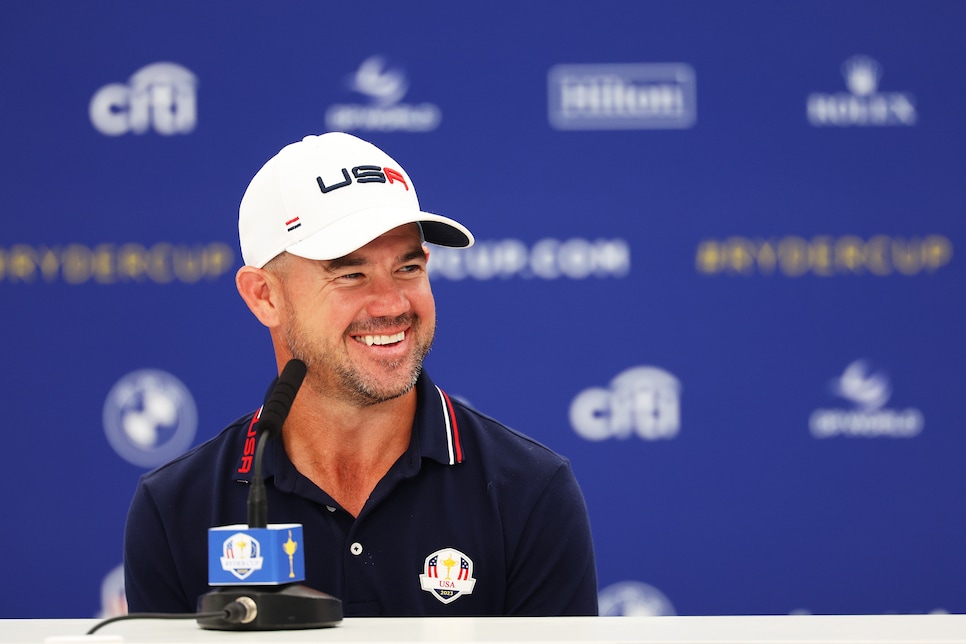 It has been 14 long years since Brian Harman took down Rickie Fowler in an epic match at the 2009 NCAA Championship, a result that apparently left Fowler fighting back tears on the 18th green at Inverness Club in Toledo, Ohio. Enough time has passed where, by now, you'd think the U.S. Ryder Cup teammates could have a laugh about it. Or even reminisce about the glory days.
Evidently, that's not the case, according to the reigning Open champion.
"We've never talked about that match," Harman said on Wednesday in Rome. "We were college kids. I was trying to beat him; he was trying to beat me. I got the better of him that day.
"He's had an incredible career. I've done OK," he added.
As the story goes, Harman, a senior at Georgia at the time, faced off with Fowler in the quarterfinal round. This was the first year the team title was being decided in match play, and Fowler was the No. 1 player on the No. 1 team, Oklahoma State. Knowing what we now know about Harman, it was the perfect spot for his inner-bulldog to be unleashed. The winner would decide which school advanced to the semifinal round.
Fowler led 1 up after 14 holes, then two-putted for par on the 15th, forcing Harman to have to make an eight-footer to tie the hole or risk being 2 down with only three to play. Harman holed it, then notiched that Fowler and Oklahoma State coach Mike McGraw had already left the green to head to the 16th tee, leaving the flagstick for Harman to put back in.
"You mother***er," Harman thought to himself, relaying those thoughts to Golf Digest's own Shane Ryan in his book Chasing the Tiger. "I'm about to kick that guy in the teeth."
First, Harman had to come up with another clutch halve at 16, which Fowler birdied from outside of 15 feet. He did just that, following it with a birdie on 17 to win the hole and return the match to all square. On the 18th, after Fowler's approach came to rest 30 feet from the hole, Harman stuffed one to four feet. Fowler missed, Harman made, and a legendary match-play story was born.
Oddly enough, the two former rivals have been in the same practice groupings on both Tuesday and Wednesday at this week's Ryder Cup, implying that it's possible they could be paired together. It's not the first time they've played on the same U.S. team, however. A few months after that match in 2009, Fowler and Harman were both a part of the victorious U.S. Walker Cup team at Merion Golf Club, though they were not paired together that week.
Harman was asked how he would react if the two were paired together this week, and his answer indicated that not only is their no bad blood, but that would welcome it.
"I'd be elated. Rickie is one of the—I call him Iron Byron sometimes. He hits the ball so great," he said.
"Rickie is a good friend and he's a great dad, and I've got the utmost respect for Rickie."