Q&A
Ryder Cup 2021: A year later than expected, PGA of America president feels relief, satisfaction in pulling off matches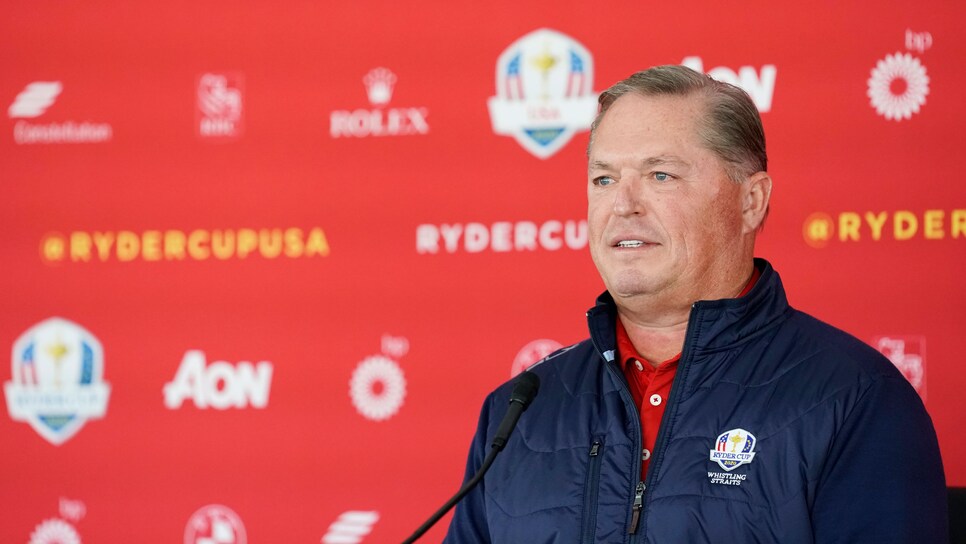 Photo By: Patrick McDermott
HAVEN, Wis. — PGA of America President Jim Richerson had far more than just the business interests of his organization in mind in seeing this week's 43rd Ryder Cup finally come to fruition after a one-year postponement due to the ongoing COVID-19 pandemic.
Richerson, who last October was elected the association's 42nd president, was general manager and director of golf for more than 11 years at the Kohler Co., tasked with overseeing the operations at Whistling Straits and nearby Blackwolf Run in Kohler, as well as The Duke's Course in St. Andrews, Scotland. He also lived for a time in Madison, Wis., as a youngster. He was directly involved in four major events at the two Wisconsin properties: the 2007 U.S. Senior Open, the 2010 PGA Championship, the 2012 U.S. Women's Open (where he served as the General Chair) and the 2015 PGA.
Currently, Richerson is senior vice president of operations for Troon Golf in Scottsdale.
Reveling in familiar surroundings and with family and friends in attendance throughout the week at Whistling Straits, Richerson sat down with Golf Digest for an interview during the first day of matches.
Golf Digest: We're here a year later than scheduled, but we're here. Tell us a little about the emotions of getting through that extra year and finally getting to this point.
Jim Richerson: Well, it's a relief that we're actually able to get together. There were so many different times where we didn't know [if] we would have the Ryder Cup, or if we'd have it with no fans. So now the fact that we're all here and we can have fans, we can all be together, it's absolutely the right choice. We made the right choice, postponing a year and being able to have the fans together. It's a relief to know that we actually got here and now you can exhale. Those first tee shots were hit and it's like, It's really happening. It's really, really cool.
What's it been like for you personally to have this Ryder Cup in a place and an area of the country where you have ties?
Being able to be involved in several of the major championships [held here previously] and to come back home, so to speak, to a lot of people that we know, it's just so gratifying to see this event take place. The PGA Championship is a major and fantastic event, [but the] Ryder Cup is just on such a different scale.
I've always enjoyed being involved in events and involved with teams. There's so much work that takes place. There's so much stuff behind the scenes that the average fan doesn't see. You're in that process with a bunch of people, where they share a goal of pulling it off. I always love being involved in that. I'm involved now in a little bit different way, in the role that I'm in, but being able to be involved with it, coming back here to where I worked for 10 years, it's pretty special.
What has been the toughest part about getting to this point?
Well, there's so many new things that we had to discuss over and over and different plans. There were probably more Plan Cs, Ds, Es, Fs, and Gs for this Ryder Cup than in probably any Ryder Cup we've ever been involved with. I think that was the hardest part. All the people are involved with that had so much work to do over and above a normal Ryder Cup.
For everybody to have the perseverance, to really stick to it with all of that and not really, quite frankly, go crazy from the fact that it was just too much work and too overwhelming to the normal work that goes into putting on an event like this than all the extra work. Because you have to plan for so many different potential options based on what was going on in the world. All of the different work that was done with health officials. All the different work that was done with both teams that are related to pandemic protocols, travel for spectators, for fans, for corporate patrons. To get to this point, I think, it's pretty gratifying, and there's relief in the fact that we got here.
What do you see for the future of the Ryder Cup? How do you see it evolving, moving forward? It's already so successful. Are there ways it can improve?
Well, I think, from our perspective, we're always trying to improve it from all those that are involved with it. We want to improve the spectator experience. We want to improve the corporate experience, the player experience, the teams and the experiences that they have families. When we say our family, which includes media that have covered these events for so many years, a lot of our vendors that have helped us put them on for so many years, the past captains and past players, keeping them in the fold and being part of that.
We've got four or five of our past captains who are with us this week, and it's great to have them here as part of it. It's just how can we elevate the experience for all those groups?
Then, for us, as an association how are we trying to promote our 28,000 working men and women and all they're doing to grow the game? How can we utilize [the Ryder Cup] to show a bigger spotlight on all that great work that they're doing, how they're bringing more people into the game, how they're getting juniors involved, how they're giving back to their local communities with charity events, what we're doing with our veterans' programs and giving back to people that are re-acclimated into society? It's utilizing events like this with our media partners to show our bigger spotlight on all the work that we're trying to do to help promote our members and to help continue to grow the game.
Golf has enjoyed a boom during the pandemic, with more people playing and curious about the game. How can the PGA of America professionals as a whole build on that momentum and retain players?
Well, the pandemic helped us with that invitation to get new people into the game. A lot of families got into the game that do it as a family unit, because they couldn't do a lot of other activities for the last 12 of 18 months. So we introduced them. Now, we have to make sure we keep them engaged and continue to keep reaching out to them. Hey, I know you're a beginner, but we have these programs that we can actually make you a little bit better and you can have more fun or you're new to the game. And we want to introduce you to some other newcomers to the game who are in your same segment … so the experience is elevated. You could have more fun doing it.
I always said, we've got the best teachers of the game in the world. PGA professionals can teach people how to play and how to play better. If you play better, you have more fun. More fun you have, the more golf you play. So we just need to keep those people who are now introduced to the game having fun in it, continue to engage with them, continuing to reach out to them and making sure that they're having fun in the game. So they keep playing more golf.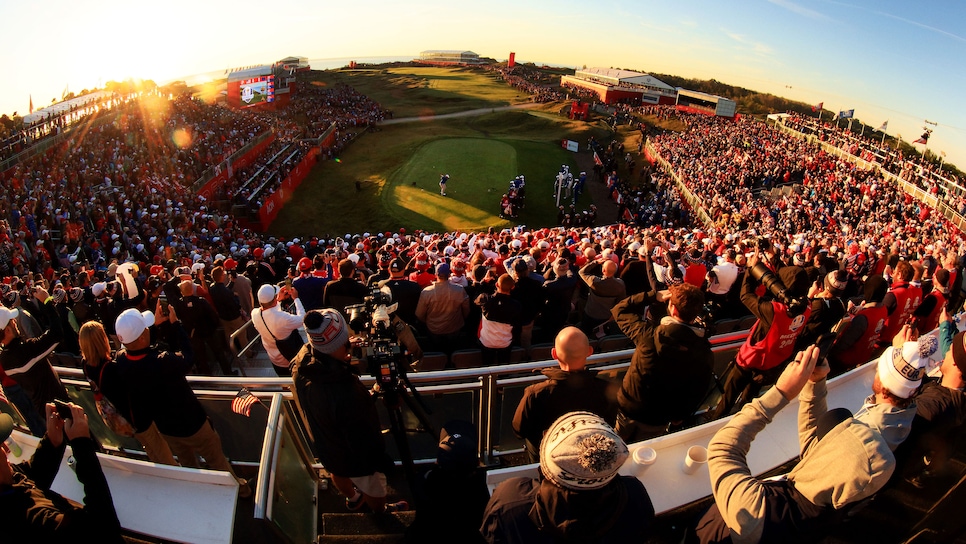 The first tee on Friday morning at the start of the 43rd Ryder Cup.
Mike Ehrmann
Where do things stand with the relocation of PGA headquarters from Palm Beach Gardens, Fla., to Frisco, Texas? Are things on schedule despite the pandemic? Is that going according to plan?
Pretty much all on schedule. Our headquarters is scheduled to open in probably February or March of 2022. The resort, with our partner at Omni, the 500-room resort, two golf courses, 10-hole par-3 short course that will be lighted, 75,000 square foot putting course that will be lighted so the community can take advantage of that, even at night, we're excited about it.
And we're going to be bringing some of our championships to Frisco, a Gil Hanse and Beau Welling have done a great job on the golf courses. They really, really look great, but we've all decided as a group to hold the golf course opening about the same time that the hotel will open. We figured if we opened up the golf course, even though the course, from a condition standpoint, would probably be ready sometime this fall, the fact that they would be opening while the construction of the hotels still going on, operationally might create maybe not the best experience. We really love that first for everybody to see it that it's completely open.
So our headquarters will open. Resort and golf courses are going to be opening in the first quarter of 2023.
Last thing: What's the most enjoyable part about being the president of the PGA and what's the biggest challenge that you think you're going to face the rest of your term?
The most enjoyable is anytime you have a PGA member anywhere that sends you a note or gives you a phone call or text saying, hey, we're proud of what's going on. I'm proud of the Ryder Cup and the way that's being held and hosted. I'm proud of how their association is representing them. Anytime you get a positive note that says they're proud of what their association is doing or the way that we're showing how the work that they're doing to the industry and the general public, that's the most gratifying thing in the world to me as president.
The most difficult thing is we've got to continue to do and elevate on our mission. We've had the same one we've all been working on it for over 100 years: How do we elevate our PGA members and elevate the vocation of being a golf professional and how do we continue to grow the game? Even though golf is really, really healthy now, we're going to have challenges. We always do. They always pop up. How do we face those challenges? So we can make sure that mission continues to grow and thrive in future years. That's the thing that keeps me up at night.