VIRGINIA WATER, England — Padraig Harrington has made his three captain's picks, an on-paper blend of experience and major-winning quality. In naming Sergio Garcia, Shane Lowry and Ian Poulter, the European Ryder Cup captain has added a total of 15 past appearances in the biennial contest, even with Lowry, a rookie, in that mix. The trio will join the nine automatic qualifiers—Jon Rahm, Tommy Fleetwood, Tyrrell Hatton, Rory McIlroy, Viktor Hovland, Paul Casey, Matt Fitzpatrick, Bernd Wiesberger and a relieved "last man in" Lee Westwood—on the plane to Whistling Straits later this month.
Little in the way of suspense surrounded the selection of Garcia and Poulter. Harrington long ago intimated both were front and center in his mind, which was no surprise. When it comes to the qualities each will bring to the 12-strong mix that will defend the trophy won so convincingly at Le Golf National in France three years ago, both are easy cases to make.
Garcia will arrive in Wisconsin already the highest points-scorer for Europe in Ryder Cup history, having amassed 25½ from his nine previous appearances between 1999 and 2018.
And Poulter? Surely every golf fan is familiar with the pride and passion the 45-year-old Englishman has brought to each of his six Ryder Cups. His tangible contribution is also remarkable, quite apart from the never-to-be-forgotten, game-changing, five-birdies-in-succession run he made in a Saturday evening four-ball at Medinah back in 2012. Never a loser in singles, Poulter has an overall record of 14-6-2, one that means he "plays with a target on my back."
"This year will be no different," he said. "It's not a case of me being the 'bad boy.' This is about me being one of 12 guys who can do the job we need to do. We have the experience in the team. We need to go out and enjoy what we have to do."
Still, the same levels of certainty and justification were not in place when it came to the third pick. While Lowry's selection is easily justified—he is, after all, a former Open champion—Harrington was quick to hail his fellow Irishman's ability to cope with "brinkmanship" over the course of the qualifying period. Always on the edge, either just in or just out, Lowry played the last few months with much self-induced pressure hanging over his every competitive appearance.
In the end though, it was relief Lowry was feeling, not disappointment, especially after suffering the agony of waiting for the captain's decision.
"I don't normally talk myself up, but I think I've done enough," Lowry said before his selection. "I deserve to be on the team, but it's up to them. I've put forward as strong a case as you can put forward."
Which turned out to be enough.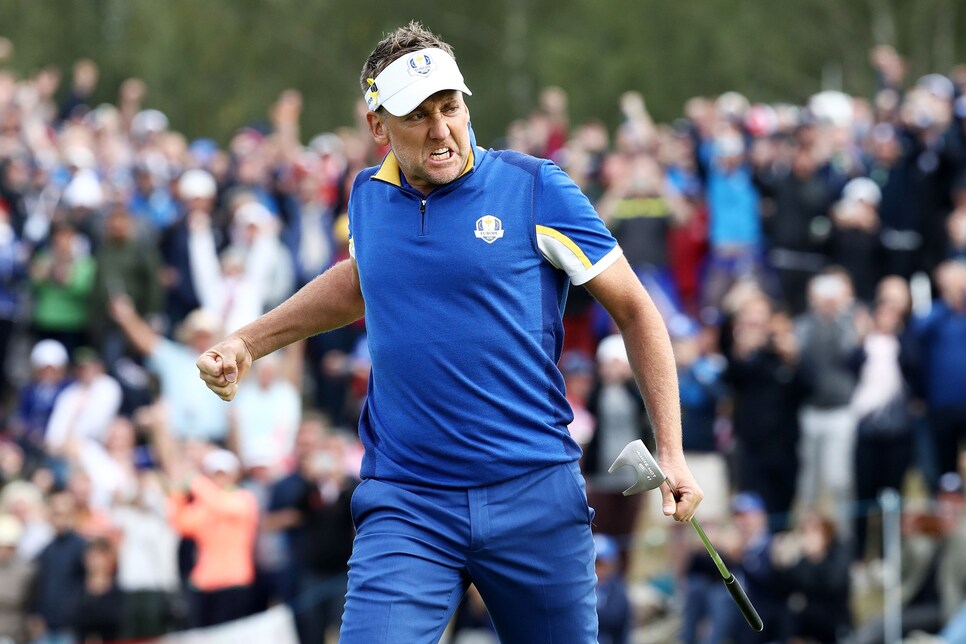 Poulter is unbeaten in Ryder Cup singles and seems to be in the heads of many on the American side.
Jamie Squire
Hamstrung by the (self-inflicted) volatility of the proceedings during the heavily weighted final qualifying event, the BMW PGA Championship at Wentworth, Harrington and his assistants—Martin Kaymer, Robert Karlsson, Graeme McDowell and Luke Donald—were left with about two hours to decide on all of the above following the climax of a virtual shoot-out between Westwood and Lowry for an automatic place.
Westwood did himself few favors with a final-round 77 that saw him drop all the way down to T-71 and, it appeared, in real danger of missing out on what will be an 11th Ryder Cup appearance. But he made it. By a margin of only 8.98 points.
Speaking before the result became clear, Westwood was doing his best to be philosophical.
"I wasn't thinking about trying to make it difficult for Shane," he said. "I hope Shane plays well today. A Ryder Cup without him is weaker. He's a world-class player. He should be in the team. I'm surprised he hasn't overtaken me before now. I've played with him a lot this year and he's been ripping it. I won't be disappointed at all if I miss out. You can't complain if you don't qualify. It's the captain's prerogative to pick who he wants and who is on-form."
Later, Westwood was understandably more effusive. Lowry had not played well enough. A final-round 71 left the Irishman in a tie for 17th place and just short of the promised land. Which was perhaps just as well for Westwood. The widely held suspicion was that his lack of form—he hasn't recorded a top-10 finish in more than six months—would have left him as the odd-man out in Harrington's mind.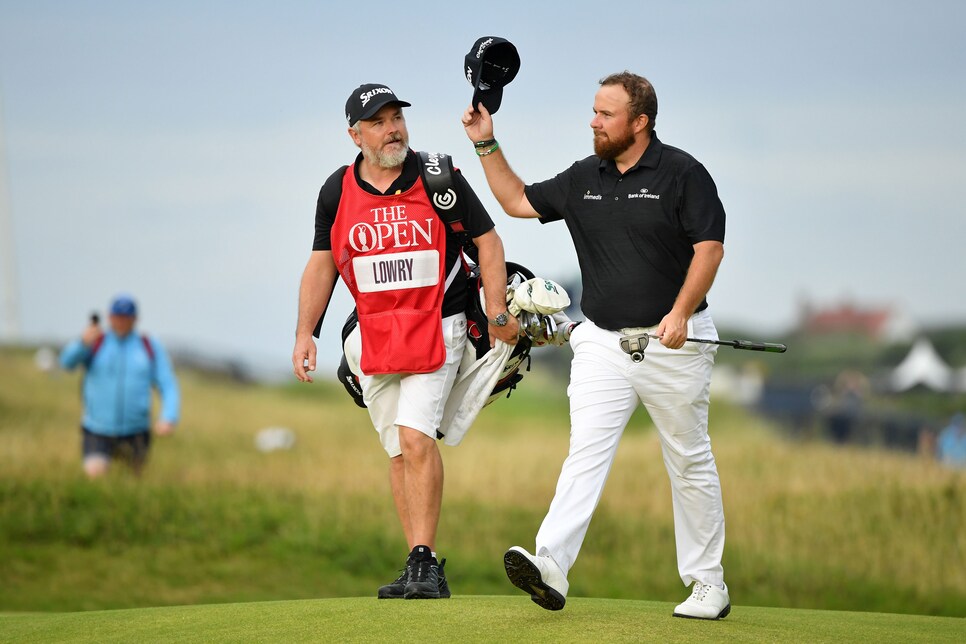 Lowry might be a Ryder Cup rookie, but his experience winning a big event like the 2019 Open was an asset in captain Padraig Harrington's mind.
Stuart Franklin
As things turned out, it was Justin Rose who was the "13th man." The former U.S. Open champion made a last-ditch attempt to impress the skipper with a closing 65 in the BMW PGA Championship. But a T-6 finish wasn't quite enough to overtake the three men selected.
"It was incredibly difficult with JR," Harrington said. "Clearly he was in contention in his last two events. Did I need more? Maybe not, but the fact of the matter is, with who he was going up against, the consistency of Shane Lowry, what Ian and Shane have brought over the years, somebody had to lose out. It really was as close as that. And if you don't play your way in it's a tough place to be. We just went with the passion, the core, the heart of the team that has been Ian and Sergio through the years. stress. JR did deliver this week, he performed. He came here under pressure. Maybe if he'd had a couple more weeks. But it was just a step too far."
All of which elicited some sympathy from Poulter.
"It's never easy is it?' he said. "I don't think any captain has had an easy time with this. I know this will be tough for Justin. He played great golf this week. I know the call he had to take from Padraig will have been difficult. I've had that call myself. Justin is a great player and a great person. He'll respect what Padraig's choice was."
In that, there are no options. Not any more.
With the European team now finalized, here are the thoughts of the Golf Digest staff on Harrington's picks.
Which pick surprised you?
Joel Beall: There were no surprises. Bernd Wiesberger complicated the plot slightly by making it as an automatic qualifier, but Harrington had telegraphed that Sergio and Poulter were two of his three picks for months now, and with the team not exactly thrilled with Justin Rose's playing schedule (seen as a lack of effort to make an automatic qualifying push), Lowry was not a shock.
Daniel Rapaport: Can I say none, too? Eleven of the 12 spots were all but locked in coming into this week—the only question was who would take the last spot. The answer is Wiesberger, who made Harrington's decision extremely easy when he took the last qualifying position from Shane Lowry, who was always going to get a pick anyway. These were three no-brainers in the end: Garcia and Poulter are Ryder Cup legends in decent-enough form, and Lowry's a major winner who's playing well and also happens to be close with his compatriot captain. No surprises here.
Shane Ryan: None of them here, either. It felt very much like the real drama for these picks was all about Bernd Wiesberger and Justin Rose. If Weisberger played well but failed to make the team, then we had an interesting dilemma—the Austrian rookie in solid form, or the experienced veteran? In the end, Wiesberger did make the team, and basically eliminated any drama. The minute Wiesberger made the team on his own merits, it was tough luck for Rose.
Who was the biggest snub?
John Huggan: That's easy. Rose. It can't have been easy for Harrington to leave out a man so obviously suited to all three facets of Ryder Cup play. More than, say, Poulter, Rose would also have provided a potent fit with more prospective partners in both foursomes and four-balls. It's hard to imagine anyone on the side being reluctant to play alongside the former U.S. Open champion.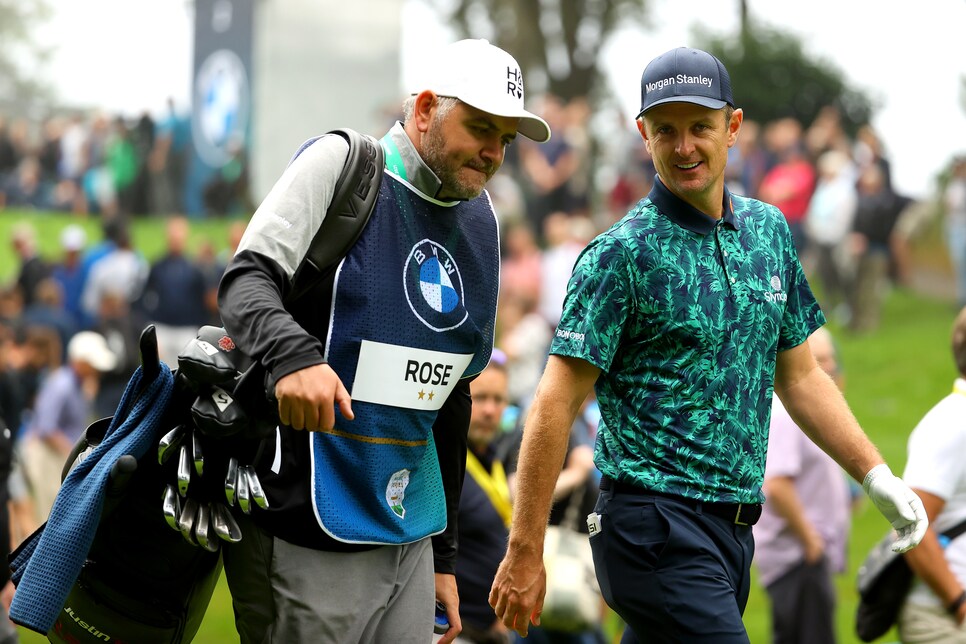 Despite a closing 65 on Sunday at Wentworth, Justin Rose was the odd man out for Team Europe.
Andrew Redington
Rapaport: Rose will feel the most hard-done. It wasn't so long ago he was No. 1 in the world, he's 13-8-2 in the Ryder Cup in his career and he has a terrific record in massive events in the United States. While his last two starts both yielded top-10s, a disappointing year on the PGA Tour—he bogeyed the last hole at the Wyndham Championship to miss the FedEx Cup playoffs—proved fatal.
Beall: To be a snub doesn't just signify someone was unjustly left off; it means someone was unjustly put on. Rose had a nice case—two major top-10s in '21, was the only European to finish in the top 10 (fourth) at the '15 PGA at Whistling Straits and he had five Ryder Cups under his belt. That said, heading into Wentworth Rose was 28th—28th!—in Data Golf's European Ryder Cup rankings over the past three months and with Lee Westwood ice cold (zero top-20s in stroke play since the Players), Harrington could not afford to have two players with less-than-stellar recent form.
Looking at all 12 players, what's your assessment of Team Europe?
Ryan: Europe has the No. 1 player in the world, an absolute warrior in Rory McIlroy, an exciting rookie in Viktor Hovland, and a lot of guys who have had great success in Ryder Cups past, including two legends in Garcia and Poulter. But let's be real—this team is not as good as the American team, Stricker seems to be an able captain, and with a vociferous home crowd ready to back up the Americans, the Europeans are underdogs on paper. Realistically, the U.S. should have an actual, tangible edge at Whistling Straits, but we'd be fools to think it couldn't vanish in an instant. This is Europe, where the whole is greater than the sum of its parts, and they're facing America, where sometimes the exact opposite is true.
Huggan: This is a good squad, a deep squad. As ever in team play, however, much will depend on the performance of those at the top-end of the side. If the likes of Rahm, McIlroy, Hovland and Casey play well and win most of their matches, Europe will be hard to beat. The biggest question mark is the generally mediocre form a few automatic qualifiers have recently displayed. For Europe to claim their 10th victory in the last 13 contests, the lower-half of the team will need to step up.
Beall: With only three captain's picks, Harrington didn't get to cook as much as Steve Stricker and frankly he didn't have as many viable candidates to choose from compared to his American counterpart. Still, this is an old, old team, and while the Europeans have successfully leaned on experience in the past, this year's war horses are a terrible fit for Whistling Straits. They are still a formidable bunch, yet their lack of depth and power make the Europeans as vulnerable as they've been in a decade.