Letter from Europe
The original Mr. Ryder Cup
Before there was Ian Poulter there was Dai Rees, a Welshman whose passion for the Ryder Cup fueled often undermanned teams for four decades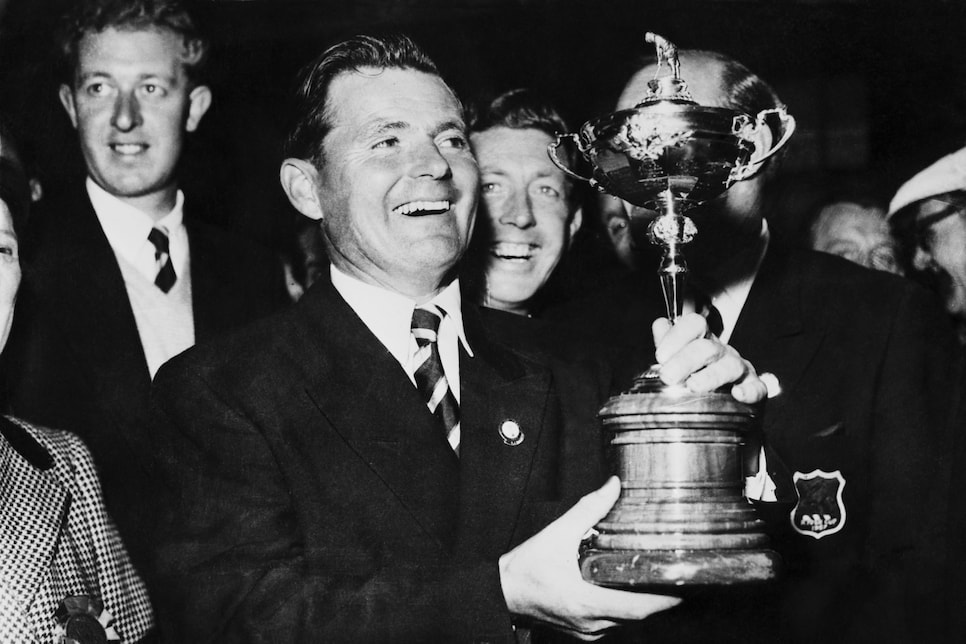 Plenty are those of a (contemporary) European persuasion who will insist the inspirational figure of Ian Poulter is the ultimate "Mr. Ryder Cup." And they would not be wrong, given the Englishman's already legendary propensity for heroics—see Medinah, 2012—in golf's biggest biennial battle. But they would not be completely right, either. That tribute and unofficial title was originally given to another, a man who played in nine Ryder Cups, captained the then Great Britain & Ireland team on five occasions and was good enough to go head-to-head in singles with major champions Byron Nelson, Jay Hebert, Doug Ford and Ed Furgol—and beat all four.
Dai Rees has been gone for nearly 40 years, but his memory deserves recognition beyond reference in dusty history books. No one has ever displayed more enthusiasm for the Ryder Cup than the wee Welshman who was also three times a runner-up in the Open Championship. You had to be way better than good to beat him. All-time greats Ben Hogan (1953), Peter Thomson (1954) and Arnold Palmer (1961) were the men who most cruelly denied Rees his biggest lifetime ambition. Which is not to say that 1946 at St. Andrews, where he shot 80 in the final round when 74 would have won the claret jug, was not most painful.
Amid those lingering disappointments, Rees also did plenty of winning, his penchant for the rough and tumble of match-play obvious.
"My method in match play has been always simply to play against the course rather than against my opponent," he wrote in his 1968 autobiography, Thirty Years of Championship Golf. "And to anticipate his performing great feats rather than hoping he will commit vast blunders. I have never minded losing a match, provided I have played well. If someone has outplayed me, he is welcome to victory. I always try to go boldly for the correct shot, rather than easing up and playing safely."
It is a philosophy that worked well enough for long enough. Winner of the British Matchplay Championship on four occasions between 1936 and 1950, Rees remained good enough to reach the final in 1967 (where he lost to Thomson) and in 1969. He travelled well, too. In 1958, Rees won the South African Matchplay title, beating Harold Henning and Gary Player along the way.
He wasn't too shabby with card and pencil in hand either. In 1973, one year after the establishment of the European Tour, Rees came close to adding to a cosmopolitan list of career victories that included the Irish Open, Swiss Open, Belgian Open, New South Wales Open, South African PGA and the PGA Seniors Championship when he was runner-up in the Martini International … at age 60.
Throughout all of that commendable longevity, Rees was (in)famous amongst his peers as a man who never hit a poor shot. Any fault wasn't his; always, some outside agency caused his misfortune, a feature of the Rees game that future Ryder Cupper Ken Brown saw up close during his European Tour debut at the 1975 Irish Open.
"I was 18; Dai was 62," says Brown with a smile. "We were out early on the last day, the youngest player in the field and the oldest. I remember him as a 'chirpy chappie,' but highly competitive. I instantly picked up that he was determined to beat me. It was in his genes. On the first hole at Woodbrook, a par 5, we were both 130 yards or so from the putting surface after two shots. The green was a little elevated, so the approach was slightly uphill.
"He hit first. The pin was on the left side. But Dai pulled his shot. It landed on a slope just off the green and shot straight left. He looked at me incredulously. Did you see that bounce? he asked. I was laughing inside. The pin was left. He pulled the shot. It landed on a big right-to-left slope and kicked left. What did he expect? He had hit an awful shot that was only ever going produce one result."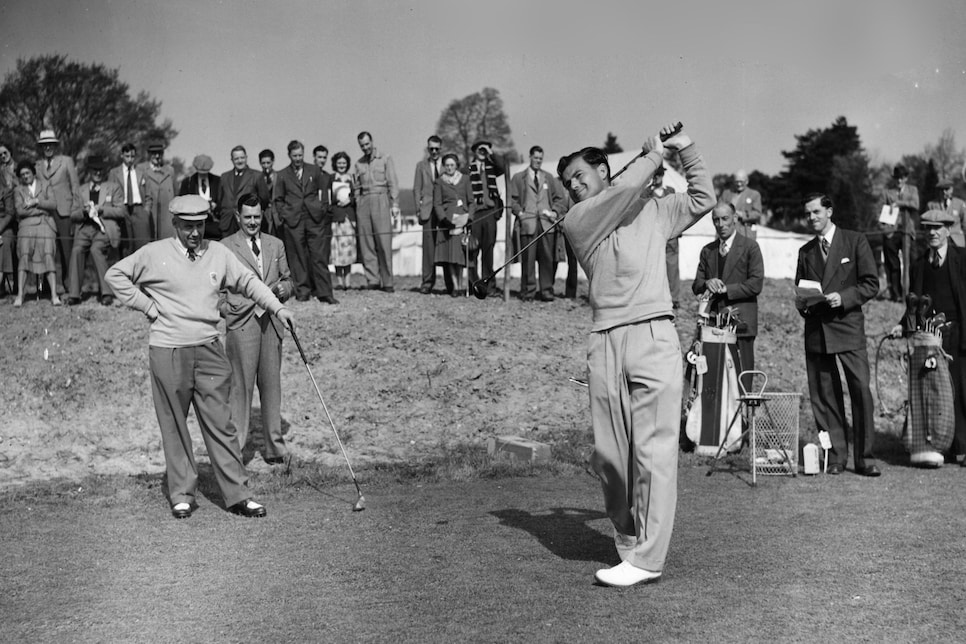 Dai Rees driving off the first tee during a tournament at Sunningdale in 1952.
J. A. Hampton
Still, for all his seemingly inexhaustible competitiveness on tour, it was for the Ryder Cup that Rees was best known. The now 67-year-old BBC Sports Personality of the Year award isn't quite what it once was, but it remains an indication of where the nation's interests lie. In 1957, the year Rees captained GB&I to what would be its last Ryder Cup victory, he won the public vote and remains the only golfer to have done so.
If Rees was a bonafide star, the starting point for that level of acclaim was that '57 Ryder Cup victory at Lindrick. It was, by a distance, the high point of Rees' 30-year direct association with the matches. Given that every other encounter was lost (often with something to spare) that is hardly surprising. But even in heavy defeat, Rees often stood out. His sound technique, based on a two-handed baseball grip, was built to last. (His nine appearances for GB&I would have been 10 but for the intrusion of World War II).
"Dai had a tremendous all-round game, and it was hard to find any weaknesses," says Brian Huggett, the last man to captain a GB&I Ryder Cup team. "His best department was the fairway woods, which is why I think he did so well on British links courses. He would hit the green eight times out of ten with his 3- or 4-wood."
In passing, driving of another sort was a memorable part of the six-year gap in (corporal) Rees' golfing life during WWII. Serving in the Royal Air Force, he saw active service in North Africa and the Middle East before landing the job of personal driver to Air Marshal Sir Harry Broadhurst, a senior RAF commander. In that role, Rees also drove Field Marshal Bernard Montgomery (commander of Allied Ground Forces on D-Day), British Prime Minister Sir Winston Churchill and an American General by the name of Dwight D. Eisenhower.
On separate occasions, Rees also played golf with Montgomery and King George VI, at Eindhoven in Holland. His game with the former was interrupted on the sixth green when an aide arrived to tell the Field Marshal that the Germans had launched their last big counterattack of the war, what would lead to the Battle of the Bulge. As Rees recalled, Monty reacted to the news by calmly holing an eight-foot putt for par.
Post-war, Rees soon picked up where he had left off. That final-round Open collapse in 1946 was the forerunner to a productive trip across the Atlantic. At Riviera in 1947, Rees finished third behind Hogan and Toney Penna in the Los Angeles Open at Riviera. It would have been better but for a 7 at the opening hole of the final round, Rees' seemingly "perfect" approach mysteriously finishing 60-yards left of the green, wedged tight against a fence.
"What happened?" asked Rees in his book. "I'll never know. Maybe the ball struck a spectator or a rock and ricocheted at right angles. Or maybe it was kicked there by some Las Vegas gambler with money on Hogan."
Throughout it all, however, the biggest constant in Rees' career was the Ryder Cup, in which he ended up with a commendable 7-10-1 record from his nine consecutive appearances between 1937 and 1961. In the last four of those he was a playing captain; only in 1967 did he fill that role in a non-playing capacity. Despite all that experience, Rees' leadership was nevertheless not devoid of eccentricity.
"At my first Ryder Cup in 1961, we had three days of practice," says Neil Coles, the only surviving British/Irish member of what would be Rees' final appearance as a player. "Dai was captain and incredibly enthusiastic. He gave great team talks. But he didn't always make great decisions. On the first practice day, he told us we would be playing foursomes. He put me with Harry Weetman, who was a long and wild driver. But he was strong enough to get the ball out of the rough. I spent most of that day hacking out.
"The next day we played foursomes again," Coles continues. "And he put me with Harry again. Same story. On the third day, it was foursomes again. I was with Ralph Moffat this time. But he had a bad back and was driving badly. So it was more hacking out for me. At lunch that day, Dai told everyone to rest in the afternoon. But I went out and played by myself. I told him I'd been there for three days but hadn't seen the course yet. So he let me go out. Then, of course, I played with Tom Haliburton in the foursomes. You have to laugh."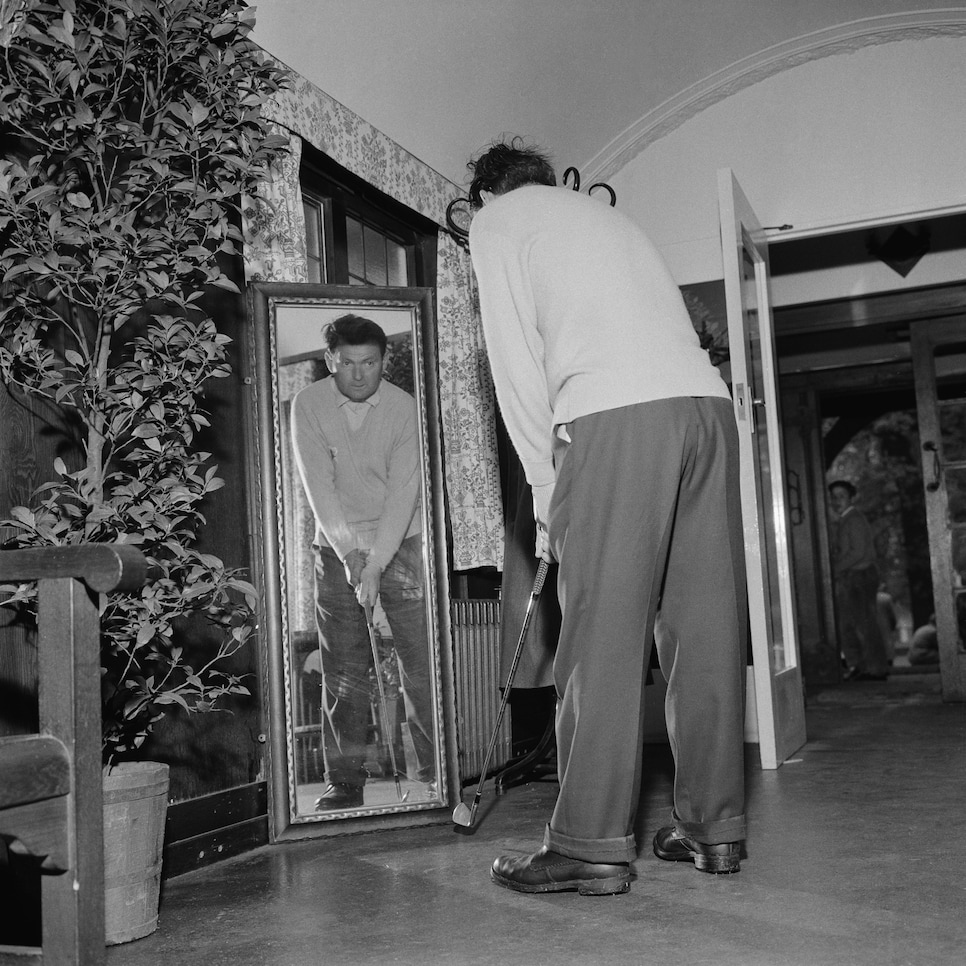 After his playing career was over, Rees became the club professinoal at South Herts north of London, succeeding six-time Open champion Harry Vardon.
Reg Burkett
As he aged and from his long-time base at South Herts north of London (where he succeeded six-time Open champion Harry Vardon as club professional), Rees played the role of mentor to a host of up-and-coming young players. One of those was Pete Cowen, the 1976 Zambian Open champion, but now better known as swing coach to a host of major champions.
"I spent a lot of time with Dai," Cowen says. "We played a lot of golf together and talked a lot. If you came under Dai's wing, he was always there to help you. He was the second man to congratulate me when I won in Zambia. The first was the local bookie. I saved him a fortune by beating Jack Newton, the big favorite that week. Dai always wanted the best for the young players. And he always looked after us. We got stuck in Nigeria once when there was a coup. He virtually took over, getting in touch with the High Commissioner, who got us out of jail.
"As far as the golf swing was concerned, Dai wasn't too deep a thinker," Cowen continues. "He told me, When you're under pressure, just hit it as hard as you can. So he had no influence on my teaching. I did ask him a lot of questions about playing though. He was a great driver of the ball. Really good. And a strong iron player. But I don't think he putted as well as the Americans. That was the biggest problem for the Brits in the Ryder Cup back then.
Maybe so, but Rees always did his best for the usually unavailing cause, his boundless enthusiasm never dimming.
"I remember hitting a 4-wood stiff on the 17th hole at Royal Birkdale during the 1969 Ryder Cup," Coles says. "Dai ran up to me, from the green, as I was putting my club back in my bag to tell me the ball was stone dead. Then he ran back again. He wasn't even part of the Ryder Cup that year.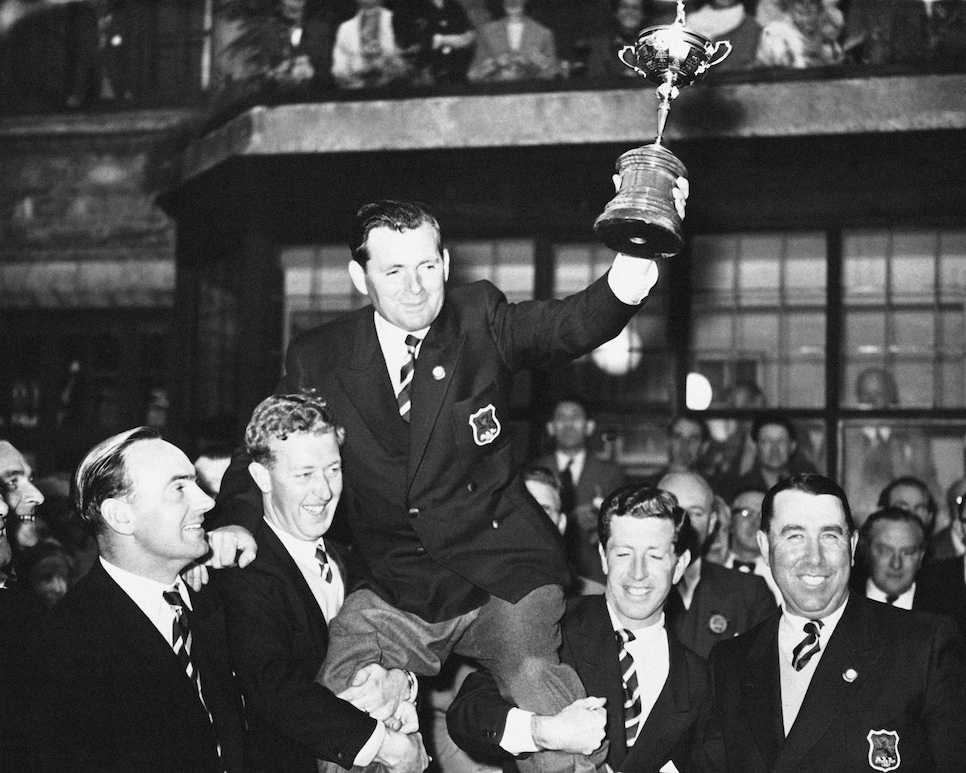 Rees' players carry off the captain in 1957 after the British team won the Ryder Cup for the first time since 1933.
Bettmann
Even after his death in November 1983 at age 70, Rees continued to exert influence. In 1985, when Europe won for the first time, Rees provided the crate of pink champagne sprayed over the cheering crowds from the hotel balcony. Purchased not long after that equally momentous victory at Lindrick 28 years earlier, he bequeathed the traditional celebratory alcohol on the condition that it was not to be opened by anyone other than the "next team to beat the Americans."
The perfect legacy. Rees really has to be "Mr. Ryder Cup" forever. Sorry Ian.