News
Ryder Cup 2018: Tiger Woods plummets back to earth with an ugly start in France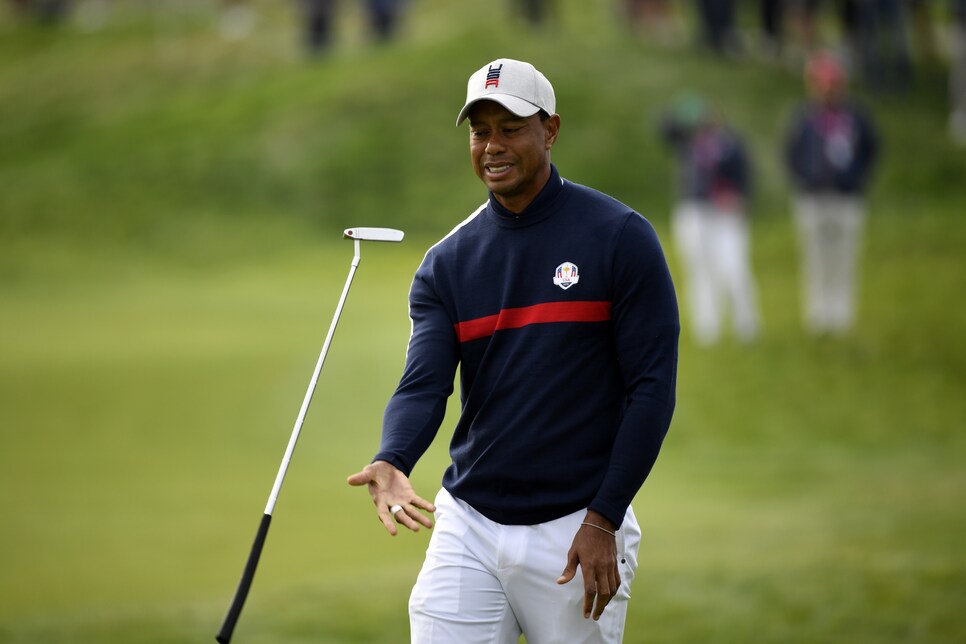 SAINT-QUENTIN-EN-YVELINES, France — So much for momentum.
Less than a week ago, Tiger Woods won for the first time in five years, capturing the Tour Championship with an impressive array of shots at East Lake in the PGA Tour season finale.
But the Ryder Cup is not a 72-hole stroke-play event against just 29 other guys.
As good as Woods has been throughout his historic career, and in his latest comeback, his performances in the biennial matches haven't quite lived up to the same standard for a variety of reasons. How else to explain a record that dipped to 13-18-3 on Friday morning in what is his eighth Ryder Cup this week at Le Golf National?
Eight of those losses have now come in four-balls after a stunning 3 and 1 defeat with Patrick Reed to Francesco Molinari and Tommy Fleetwood in the opening session. Another remarkable number: Woods is a ghastly 3-11 lifetime on the first day of the event—not that his mark got any worse after being sat down for the afternoon foursomes, something that seemed to surprise him when informed by captain Jim Furyk just off the 17th green before Woods hopped in a cart and headed inside.
"We just couldn't put any pressure [on them]," Woods said of his match, which went from the Americans being 2-up through 10 holes, to even through 12, to 2-down with two to play before being closed out. "We couldn't answer them.
"They were playing perfect best-ball. They were nickel and diming it. When one person was in the hole, one person was out of the hole but the person that was in [it] was making birdie."
That Furyk sat Woods in the afternoon on Friday was hardly a surprise. He made just three birdies, struggled to keep his tee shots out of the thick cabbage and as the match wore on didn't seem to have his usual speed on several of his swings. Though Furyk said he felt like Woods could have gone 36 holes, he realizes there's a long way to go, especially for his aging superstar.
Lest anyone forget after all that Woods is 42 years old, less than 18 months removed from spinal fusion surgery and has played more golf this year than he has in his last three combined. His 18 starts were his most in five years.
"I think it has been a lot of golf," Furyk conceded. "I think winning last week was very exciting. Also it takes a little bit out of you."
The bigger question is what Woods has left at this point in the year to try to help lift the U.S. to a second straight victory. Given how evenly matched the two teams are, and a two-point deficit for the Americans after getting swept in foursomes for the first time, they are going to need him and every point he could potentially deliver.
As for Woods' surgically repaired back, Furyk said that Woods told him he was "all good" and added that he did go back out to practice late in the day. He'll also play with Reed again on Saturday, with Furyk trotting out the same lineup, albeit in a slightly different order, for the morning four-balls, with Molinari and Fleetwood getting them in a rematch, this time in the third match of the session as opposed to the last.
Is it possible that's all we see of Woods on Saturday? It will likely depend on how those morning matches go and how Woods goes, both physically and with his game, which was hardly as sharp as it has been the last couple of months.
"It's disappointing and frustrating for Pat and I not to contribute to the team," Woods said of the loss. "When you lose a point, you feel like you contributed but you're contributing to the wrong team.
"That part's frustrating. Wish we could have done a better job, especially being 2-up. Would have been a different story if we were down the entire match, but we were down early, flipped it, got up, and we felt like we should have won the match if we make some birdies coming in."
Five days ago, a lot of people would have felt the same way.