News
Ryder Cup 2018: Tiger Woods on the young guys wanting a piece of him—'All right. Here you go.'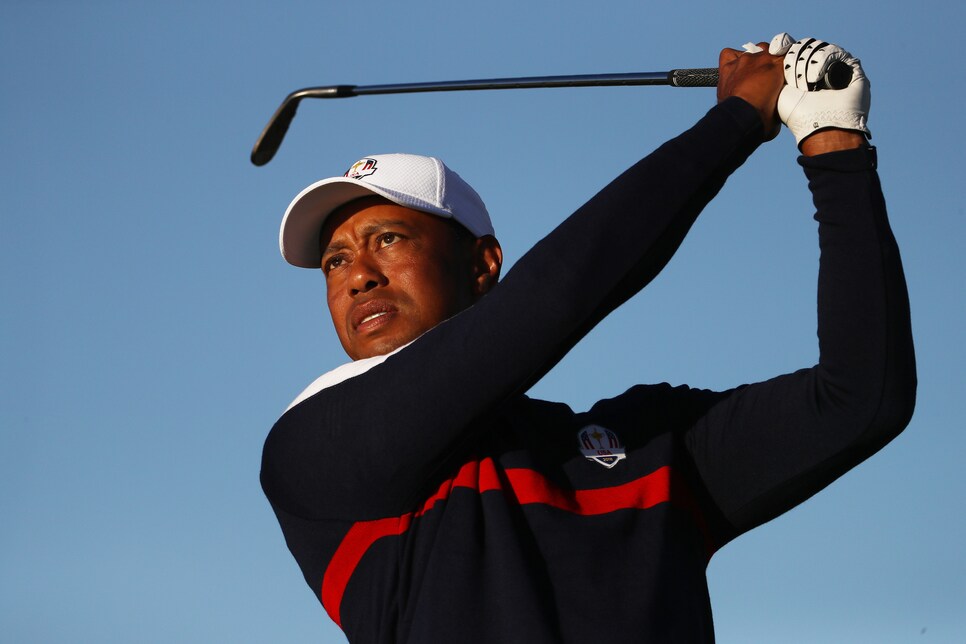 Before Tiger Woods' latest, this time successful comeback, many of golf's young stars were quoted as saying they'd love to experience what it would be like to go up against the 14-time major champion at his best on a Sunday. Whether or not they actually meant it was irrelevant at the time, because no one knew if he'd ever play again, let alone contend on a regular basis.
Little did they know they'd get their wish in 2018 on numerous occasions, none bigger than Sunday at East Lake, where Woods claimed the Tour Championship for his 80th career victory. Rory McIlroy found out the hard way what a typical Tiger final round used to be like, with Woods in complete control (for the most part) as he cruised to a two-shot victory.
Woods wanted the young crop to experience it too, especially considering the fact many of them weren't even established tour pros during his five-win season in 2013.
"Well, a lot of these guys were -- well, the younger guys were on their way in when I was on my way out," Woods said during his Tuesday press conference at the Ryder Cup. "You know, they had never really played against me when I was playing well. It's been, what, five years since I've won a golf tournament.
"And a lot of the players were just coming on to the scene, whether it's J.T. (Justin Thomas), Jordan (Spieth), now Bryson (DeChambeau), Brooksy (Brooks Koepka) was just getting out here, getting started, coming off The European Tour. So a lot of these guys just had not played against me yet."
While most of them weren't even in contention on Sunday at East Lake, including Spieth, who wasn't even in the field, they did get to witness him at his best. Woods, clearly feeling good about his game, sounded confident on Tuesday that the young guns will have plenty more opportunities to take their shot at him.
"I think that when my game is there, I feel like I've always been a tough person to beat. They have jokingly been saying that, 'We want to go against you.' All right. Here you go."
For added context, here's the clip, in which Woods' expression would imply this is a nice little jab at his fellow competitors:
This isn't the first instance of Woods reverting to his old, competitive, win-at-all-costs self. Back in February, after Justin Thomas had won the Honda Classic, he mentioned he didn't receive his normal text of encouragement from Woods, who was in contention at PGA National:
"It was funny because every other time that I've had a chance to win or in L.A., I get a text from him or hear from him, you know, kind of giving me a little advice or just kind of wishing me luck," Thomas said. "Got crickets last night. I knew he had one thing in mind, and we both had the same thing in mind, so I thought that was pretty funny."
The new, bubblier Tiger has been a welcome sight this season, but he's still got that killer mentality, something American fans would love to see more of this week in France.