The Loop
Tiger Woods' "message" to Justin Thomas, the USGA's stunning reveal, and Larry Fitzgerald's handicap gets questioned again
Welcome to another edition of The Grind, where we are happy to be back to rearranging our weekend schedules around Tiger Woods' tee times. My wife was a good sport, agreeing to go on our Costco lunch run earlier than usual. But once I got home, I barely moved from my couch during the rest of daylight hours on Saturday and Sunday. Well, other than an emergency chips and guac run when Tiger made the turn during the final round.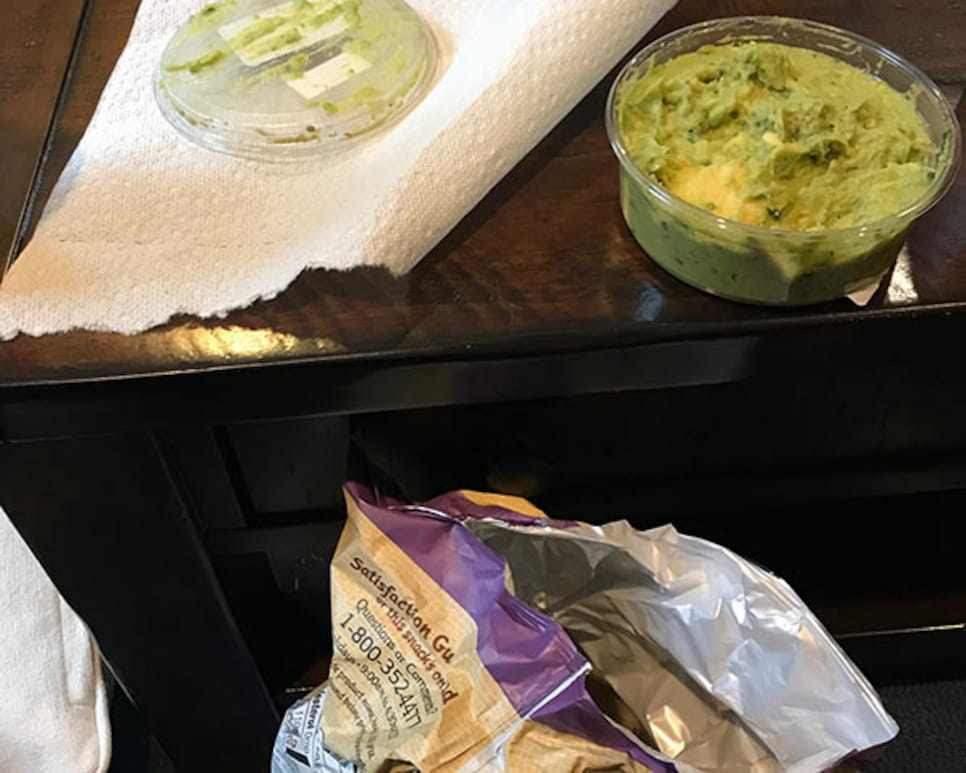 Watching Woods strutting around in a red shirt and stalking the leaders sure is fun, but it also causes me to stress eat. A LOT. You should see the damage I did to a Costco bag of Hershey Kisses. . . Anyway, Saturdays and Sundays are for watching Tiger Woods again. Sorry, honey.
Justin Thomas: Tiger Woods didn't win at PGA National, but one of his proteges did. Again. For a second time this season, Thomas won in a playoff, joining Tiger and Jordan Spieth as the only players to get to eight wins before turning 25 in the past 30 years. He also jumped (his good buddy) Jordan in the Official World Golf Ranking for the first time.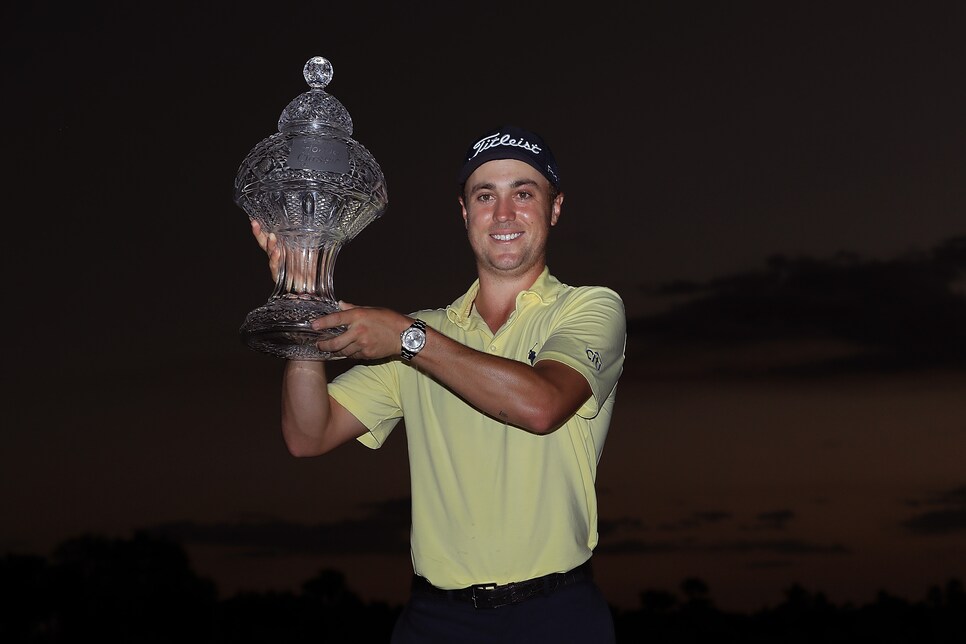 More impressively, it was the reigning PGA Tour Player of the Year's seventh win in his last 31 starts. And if he keeps up that winning percentage for two decades, he'll almost match his mentor. Speaking of. . .
Tiger Woods: We could point to a slew of stats to show the progress Tiger made — 1st in proximity to the hole, 15th in strokes gained approach-to-the-green, a 128.2 MPH(!!!) swing speed on Saturday — but the most encouraging thing was the way he felt as he climbed the leader board. As he said the week before, Woods is focused on "winning time," talking about things like "posting a number" on Sunday and talking less to his friends on tour.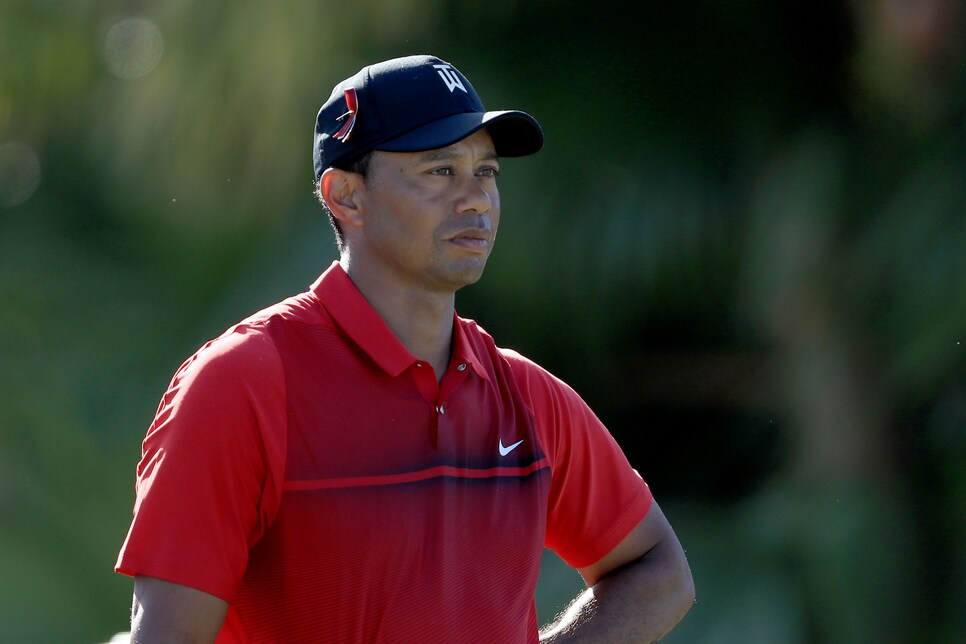 Thomas said Woods usually texts him with words of encouragement when he's in the hunt entering the final day, but with Woods in contention? "Crickets." How about that for sending a message. Tiger Woods is back, people. At least to being the game's ultimate competitor.
Jessica Korda: While everyone was focused on Tiger Woods' latest comeback, Korda made a remarkable return from an off-season jaw surgery that makes my recent root canal look like a routine checkup. Korda has 27 screws in her face and has been battling severe headaches, but she managed a four-shot victory at the Sime Darby LPGA Malaysia in her first start back on tour. This could be just the start of a monster season for the 24-year-old.
Eddie Pepperell: And all this time, I just thought this guy was a great follow on Twitter. Turns out, he's a heckuva golfer as well. Of course, I kid, but it took Pepperell 129 European Tour starts to finally get his maiden victory at the Qatar Masters. And his Monday blog post might have been even better than his Sunday performance on the course. Here's how he signed off:
There's lots more I could say I guess, but that can wait. Above all though, I'm just so happy for my family and girlfriend, all of whom deserve the credit for constantly reminding me who I am. Christ, if I ever get above my station, my sister will put me right. She has a knack for four letter curses and pinpoint truth telling.
Time for a nice dog walk.
We're rooting for more wins -- and more posts -- from Eddie.
18-hole playoffs: Good riddance to this archaic method of settling a golf tournament. The USGA is doing the right thing by switching to a (more) sudden-death method, although the two-hole choice screams of golf's governing body just trying to be different than the other three men's majors. In any event, this will go down as the last 18-hole playoff (actually 19) in U.S. Open history: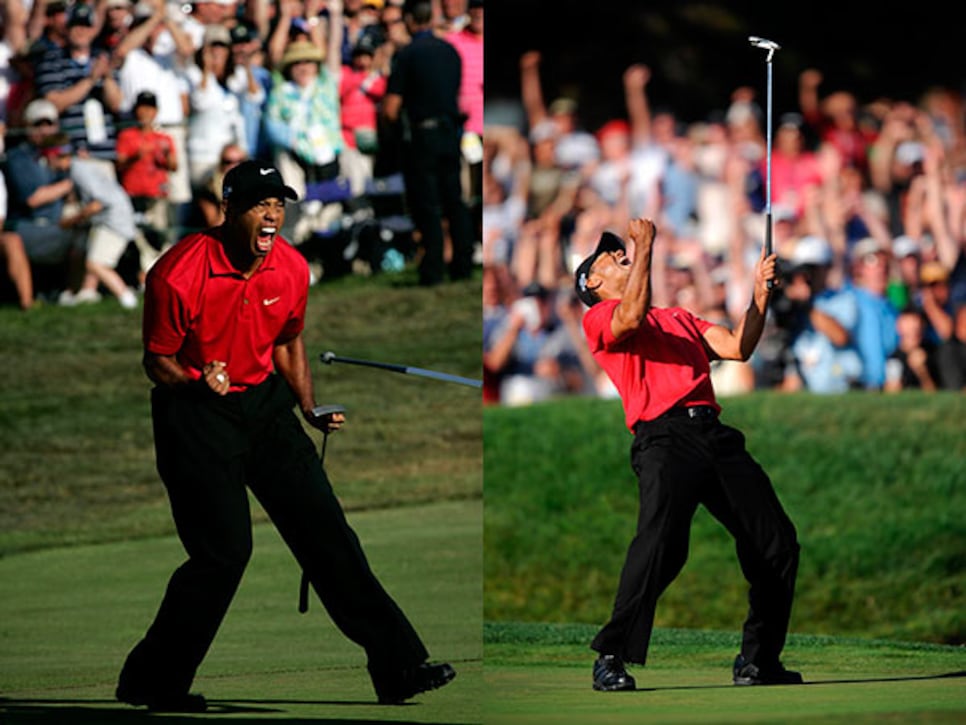 And I'm totally good with that.
Larry Fitzgerald's handicap: On the flip side, I'm not totally good with this. Look, I gave Larry the benefit of the doubt after his dominant Pebble Beach Pro-Am performance as a 10.6 handicap. But somehow, the NFL star's handicap has gone up in the two weeks since to an 11.3 index. And many, including Peter Kessler, are labeling Larry a sandbagger:
I don't think Larry is exaggerating his scores (maybe he just stepped back to the tips), but I also know that after you win a celebrity tournament by eight shots and people start questioning your handicap, you should do everything in your power to make sure it goes down. So I'm throwing a yellow flag here for Fitzgerald getting excessive strokes.
Honda Heckler: Let me do a quick top-five ranking of those at fault in the heckler situation at the Honda Classic on Sunday, in order from most to blame to least:
Was JT a bit too thin-skinned? Sure. But this bozo sounds like he was looking to get ejected. And why did Thomas have to step in and take care of business of himself? He's got enough to deal with trying to win. In any event, how much funnier would this have been if it was Rickie Fowler heckling Thomas? Sorry, sorry, not endorsing hecklers at golf tournaments. No matter who they are. But seriously, that would have been funny.
The PGA Tour heads south of the border for the WGC-Mexico Championship, AKA that WGC event they used to play at Doral. It's also where Justin Thomas one-hopped a hole-in-one from 232 yards last year, but Dustin Johnson still won, because Dustin Johnson was winning every tournament at this time last year.
Random tournament fact: With only 65 players teeing it up in the no-cut event, last place pays out $50Gs. Not too shabby.
RANDOM PROP BETS OF THE WEEK
— Justin Thomas will one-hop another ace from 232 yards: 1 MILLION-to-1 odds
— Tiger Woods' updated odds to win the 2018 Masters: 16-to-1 odds
— I'm kicking myself for not betting on Tiger when he was 25-to-1 odds: LOCK
The weekends are officially TIGER TIME again, folks!
And how about this reaction to Eddie Pepperell's win that was filmed by his older brother:
VIRAL VIDEO OF THE WEEK (TRICK SHOT DIVISION)
We recently came across an Instagram user who goes around catching marshmallows in his mouth in a variety of locations while wearing a "FAT & PROUD" T-shirt. Here's his golf-related trick "shot":
Well done, sir. And after this weekend's eating performance, can you send me one of those shirts in a medium? On second thought, make it a large.
THIS WEEK IN CELEBRITIES PLAYING GOLF (SORT OF)
Check out the contract Denver Broncos tight end Jeff Heuerman signed, promising his fiance he won't buy another new driver for five years:
It looks like this poor guy is going to be giving up a lot of yards to his buddies on the course in the coming years, but that might be the least of his problems. . .
"It was a good gallery, good crowd, but it wasn't obviously anything big. It wasn't anything remotely close to Tiger's. But he fully deserves that and he is the needle. He moves the needle. He's the reason probably why the attendance this week was as high as it was, and you know, they weren't coming out here to watch Luke List and Justin Thomas. They were coming out here to watch Tiger, so I don't blame them. I'd go watch him, too, instead of me." — Say what you will about having a fan ejected and blurting out a curse on the winning putt, Justin Thomas is awesome.
THIS WEEK IN TOUR PROS LIVING THE LIFE
Rory McIlroy is buying up possessions of PGA Tour pros. First, he reportedly purchased Ernie Els' house and now he's snagged (one of) Ian Poulter's Ferraris:
If any tour pro is looking to sell their boat, Rory looks to be your guy.
THIS WEEK IN DUSTIN JOHNSON-PAULINA GRETZKY PUBLIC DISPLAYS OF AFFECTION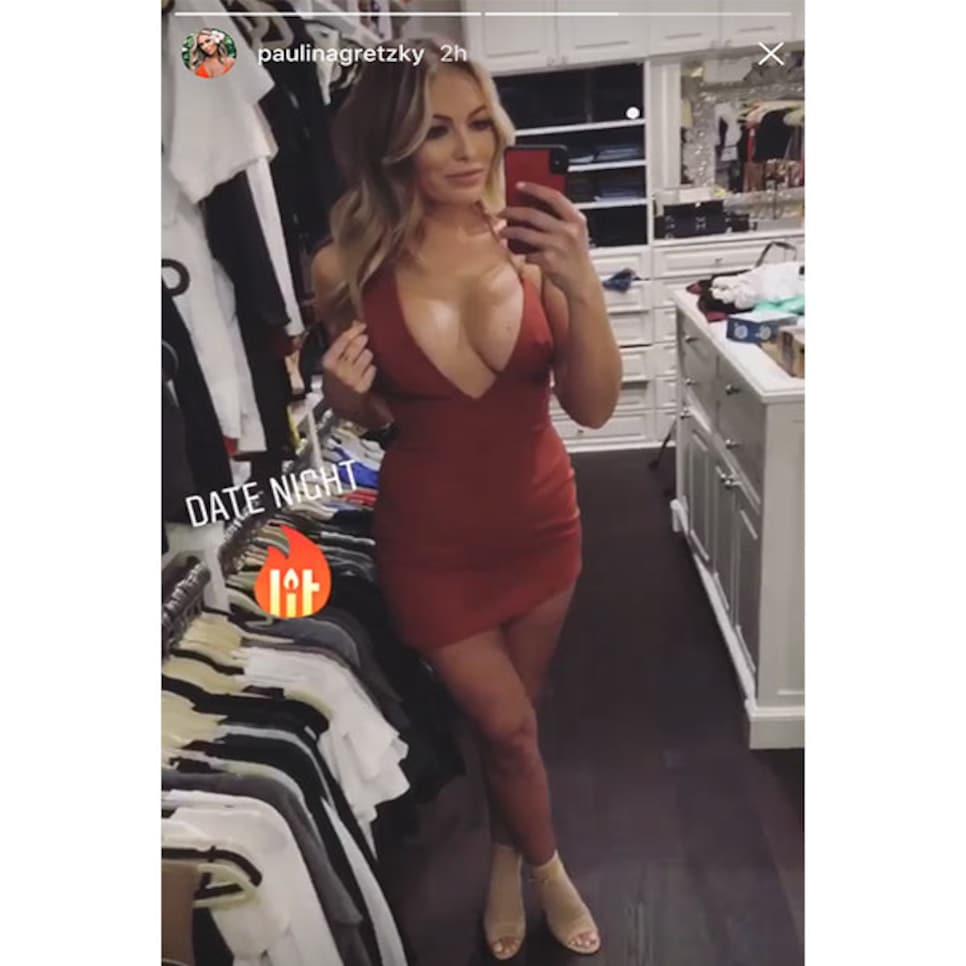 What are the odds DJ still went with a t-shirt and jeans look for date night? We're guessing they're pretty good.
THIS WEEK IN AWESOME JASON DUFNER HATS
This might even top the Biggie Smalls hat Dufner donned earlier this season:
I love how he just saw a hat he liked at Rickie's house and took it. And you know Rickie was planning on taking that to #SB2K18. Savage move, Duf.
Daniel Berger teamed up with Tom Wall to win the gross division of the fabled Seminole Pro-Member on Monday. But seriously, did you see the field?! Berger deserves Official World Golf Ranking points for the title. . . . The USGA/R&A announced a new World Handicap System will go into effect in 2020. I'm not exactly sure how it will work, but somehow Larry Fitzgerald's handicap will go up. . . . John Daly is once again denying the authenticity of a claret jug replica that was auctioned off as his for $66,000. As the old saying goes, Buyer Beware, especially when it comes to John Daly-related items. . . . Stance announced this sweet new pair of socks (Although, if I'm nitpicking, I'd prefer more green) that features a look back at Jack Nicklaus' 1986 Masters win: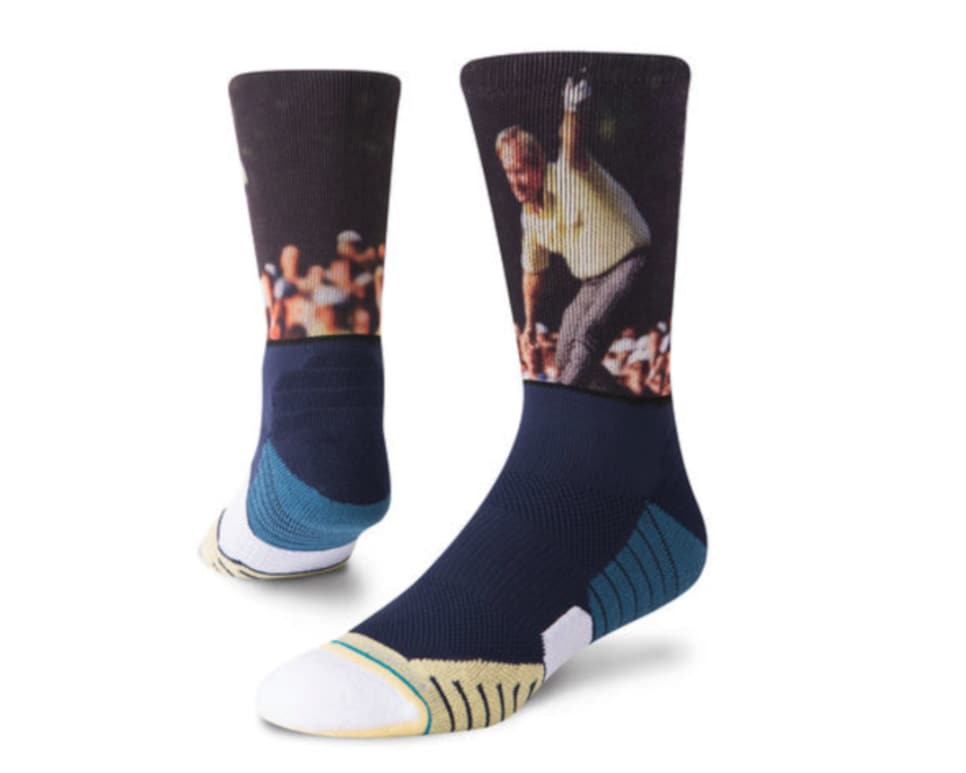 You know what's more boss than wearing a "boss" hat at a golf tournament? Wearing your own commemorative socks to the tournament you owned more than anyone. Jack, please rock these at Augusta in April.
RANDOM QUESTIONS TO PONDER
Will When will Justin Thomas get to No. 1?
Will When will Tiger Woods win again?
Why are avocados so expensive?