News
Ryder Cup 2018: The finish to Friday morning four-balls was a whole lot of ugly, but the Americans walk away with 3-1 lead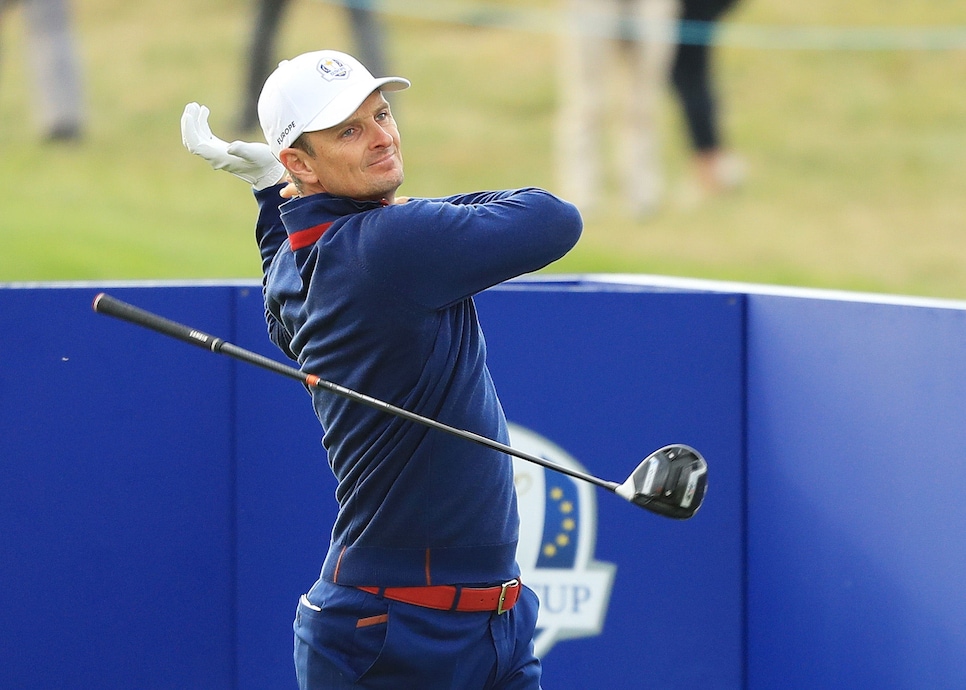 SAINT-QUENTIN-EN-YVELINES, France—Locals have a playful name for the final four water-laden holes at the Albatros Course: the Loop of Doom. The closing stretch produced some terrifying results during Friday morning's four-ball session, foreshadowing how it might be the harrowing X factor in this year's Ryder Cup at Le Golf National.
For the 16 players competing in the opening four matches, seven balls were hit into the water, as both the Americans and Europeans limped to the finish.
It was the Americans who limped better, winning the first three matches to take a 3-1 lead.
The biggest shock of the morning came in Match 1, where the Americans Tony Finau and Brooks Koepka trailed the European duo of Justin Rose and Jon Rahm for 15 of the first 16 holes, only to win two of the last three to steal away the point with a 1-up triumph. Finau almost adding to the water-ball total with his tee shot on the par-3 16th hole hit a railroad tie in front of the green. But it took a fortuitous bounce forward set up a birdie that allowed his pair to square the match.
Then on the par-4 18th hole, after Rahm was forced to lay-up after hitting his tee shot in the right rough, Rose overcooked his approach shot from the fairway, the ball rolling into the water behind the green. Koepka, safely on in two, lagged his birdie try to a foot, giving them a par that Rahm could not match when he gave a go with his attempt from 15 feet.
"We'll take the breaks when we can get them," Finau said afterward.
It was the second point the Americans had banked, the first coming earlier when Dustin Johnson and Rickie Fowler swamped Rory McIlroy and Thorbjorn Olesen, 4 and 2. Justin Thomas and Jordan Spieth soon followed with a 1-up victory over Paul Casey and Tyrrell Hatton (a match the Americans had taken a 3 up lead in only to see the Euros wipe it out on the back nine.)
The Europeans salvaged the final point with a 3-and-1 win from Francesco Molinari and Tommy Fleetwood over Tiger Woods and Patrick Reed, rallying from 2 down thru 10 holes. Molinari and Woods both put their approach shots on the 15th hole into the water, but Fleetwood made birdie to win the hole, then did it again—from 35 feet—on the 16th to give the Euros the momentum. Molinari closed out the match with a birdie on the 17th hole.
How crucial was the European side getting at least a point? Nine times a team has swept the opening session in the Ryder Cup and all nine times that team has gone on to win the cup.