News
Ryder Cup 2018: Europe becomes betting favorite after historic afternoon on Day 1 against USA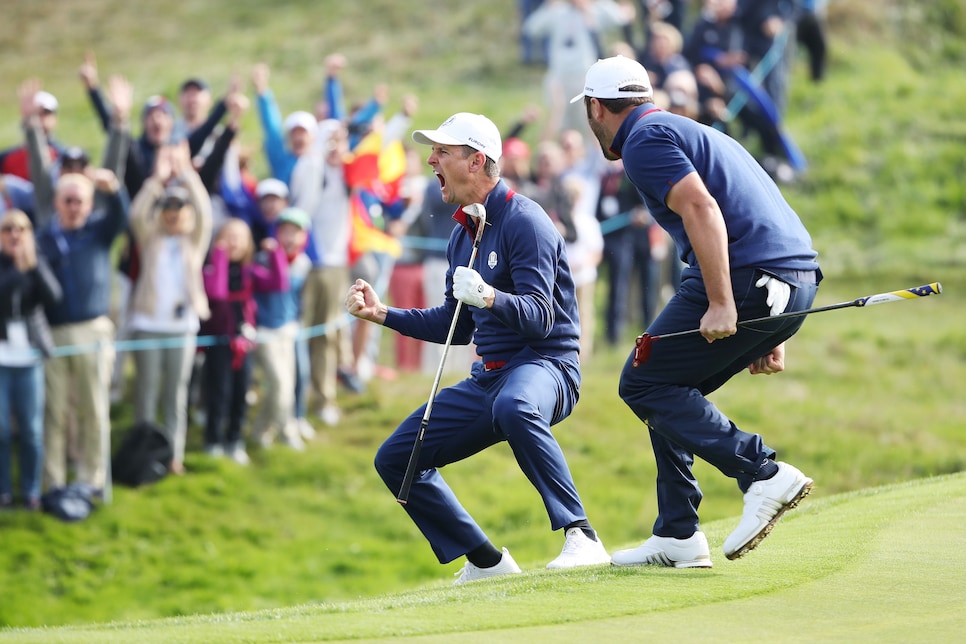 (Photo by Christian Petersen/Getty Images)
The first sweep of a foursomes session in Ryder Cup history has led Team Europe to be listed as the betting favorites after Day 1. That's quite the change in opinion, evident of the momentum grabbed by the Europeans Friday afternoon at Le Golf National.
Here are the current odds to win:
To Lift the Trophy (Westgate's sportsbook, GolfOdds.com):
To put it in context, the U.S. were a slight favorite (-130 in most places) on Thursday evening.
Odds to Win (3-way result):
Interesting, DraftKings has made Team USA a favorite to earn the most points on Day 2—despite the Americans now being an underdog.
Day 2 Odds to Win (DraftKings odds):
Day 2 Odds to Win Fourballs (DraftKings):
Day 2 Odds to Win Foursomes:
To us, you have to like the Europeans' odds at plus-money to win foursomes on Saturday. It was such a historic defeat—becoming the first-ever sweep in foursomes in a Ryder Cup—that it's tough to deny the Europeans' advantage in the format. Sure, mixing up the teams on Day 2 in foursomes could change the outcome ... but the Europeans still have a strong advantage on home turf against the Americans in the history of the Ryder Cup.
If you're making a wager, that would be one we could get behind. Though if you're an American fan, and you still have faith in Team USA, you have to like the Americans' odds as high as +180 on DraftKings as of Friday afternoon.
Here are the fourballs odds for Saturday morning:
Tony Finau/Brooks Koepka: +110 vs. Rory McIlroy/Sergio Garcia: -130
Dustin Johnson/Rickie Fowler: -160 vs. Paul Casey/Tyrrell Hatton: +140
Tiger Woods/Patrick Reed: +105 vs. Francsco Molinari/Tommy Fleetwood: -125
Justin Thomas/Jordan Spieth: -125 vs. Ian Poulter/Jon Rahm: +105
If it were us, we'd get behind Finau and Koepka in Day 2 fourballs against McIlroy and Sergio. McIlroy struggled mightily in Friday's fourballs, failing to make a birdie throughout his match. Sergio has also not played well coming into the Ryder Cup, and Finau and Koepka pulled off a strong reversal on Rose and Rahm on Friday. We'd take Finau and Koepka at plus-money.
The Molinari/Fleetwood duo is also pretty enticing. They've been Europe's MVPs so far, and this will be the third match they'll play together. Reed didn't play great on Friday, only carding two birdies. We'd expect Molinari and Fleetwood to ride the momentum from Friday.