Ryder Cup 2018: What you missed from Day 1 in Paris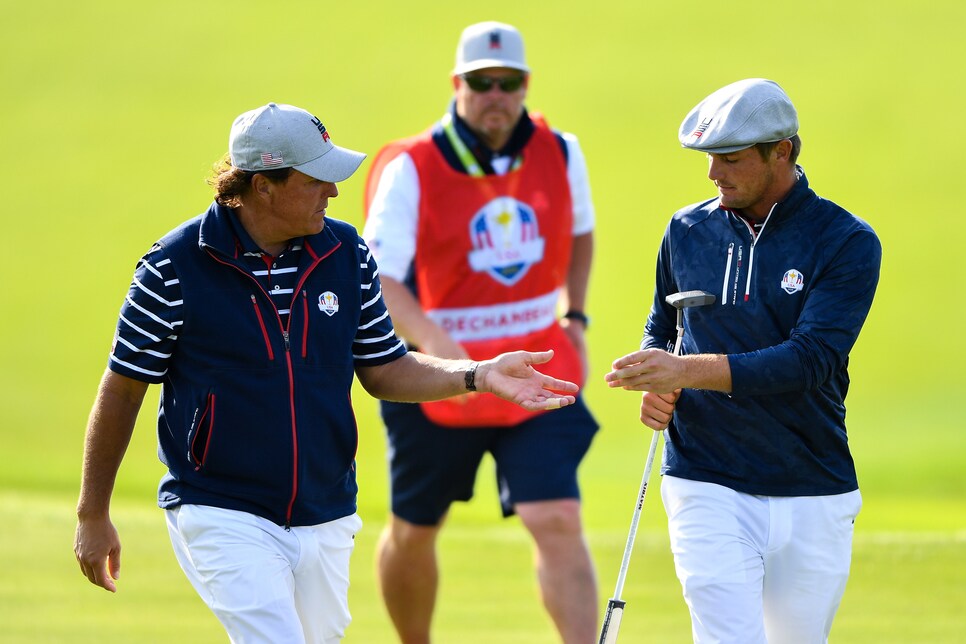 The beauty (or depending on your perspective, brutality) of the Ryder Cup is the turbulent nature of the status quo. One minute your team looks like it's firing on all cylinders, the next it looks lost and anemic. A sentiment on display on Friday in Paris, as the Americans looked to be on the verge of sweeping the morning session, with only Tommy Fleetwood's staving off the whitewash. But, as soon as U.S. fans began puffing out their chest, the Europeans answered, and answered with vigor, laying the smackdown to the tune of a 4-0 display.
The Americans are still in fine position to retain the cup, yet the comeback from Team Europe showed that the cakewalk at Hazeltine won't be repeated at Le Golf National. From the afternoon surge to a disastrous U.S. pairing and other questionable calls, here is what you missed from Day 1 in Paris.
Most Valuable Player: Tommy Fleetwood
Was there any doubt Fleetwood wouldn't be ready for the Ryder Cup stage? The Englishman's putter was the sole reason the Europeans didn't get swept in the morning session, as he and Francesco Molinari salvaged the team's only point over Tiger Woods and Patrick Reed. Then the duo rolled over Jordan Spieth and Justin Thomas in the afternoon. Decent 2-0 start to a budding Ryder Cup career. -- Christopher Powers
Biggest No-show: Phil Mickelson/Bryson DeChambeau
Pairing a wily veteran with a rookie is a classic Ryder Cup combination. The veteran is there to calm the nerves of the rookie, to shepherd the hot young talent to Ryder Cup success. But the theory didn't pan out for Mickelson and DeChambeau when they took on Sergio Garcia and Alex Noren, as the Americans were 7 down at the turn. Certainly not the performance Captain Furyk had in mind when he picked both as captain's picks. -- Keely Levins
Underrated Performance: Alex Noren
Much like Fleetwood, Alex Noren's resume over the last few years suggested he'd do just fine in France. He only played once on Friday, but he made the most of it, joining forces with a previously lifeless Sergio Garcia to trounce Phil Mickelson and Bryson DeChambeau, 5&4. Don't be surprised if Captain Bjorn rides the Swede hard this weekend. -- CP
Biggest Comeback: Justin Rose
After surrendering what looked to be a locked-up lead to Tony Finau and Brooks Koepka, Rose shushed the crowd on the 18th tee when his drive found the fairway. Alas, the move backfired, as he proceeded to put his approach in the water, giving Koepka and Finau an unexpected W. Despite the egg-on-face moment, Rose bounced back in style, reviving his successful partnership with Henrik Stenson to dispose of Dustin Johnson and Rickie Fowler in quick order. With Rory McIlroy's game looking shaky, Team Europe will need a steady Rose this weekend. Following an early stumble, Rose appears ready for that responsibility. -- Joel Beall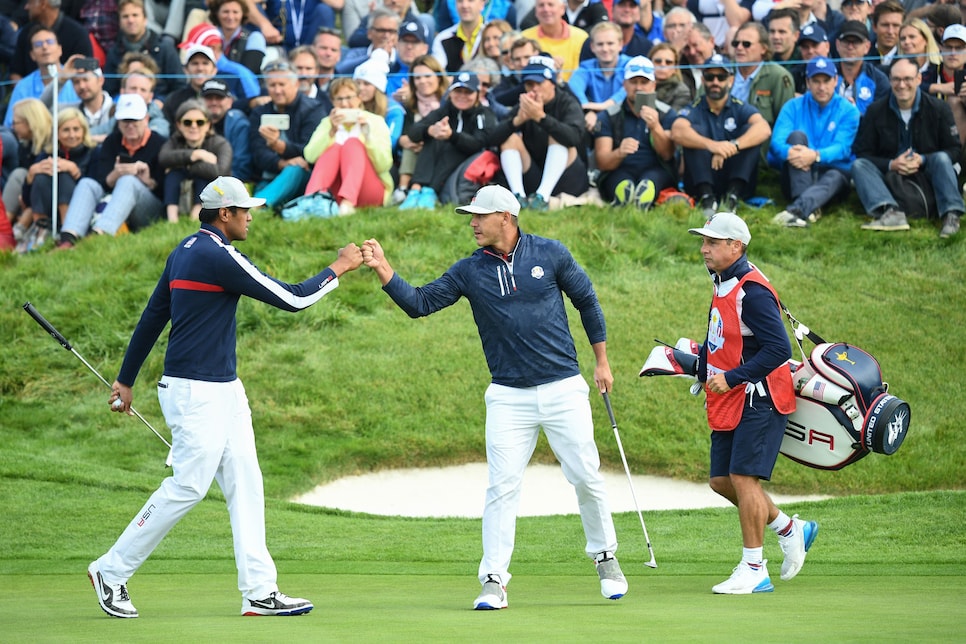 Head-scratcher of the Day: Benching Tony Finau and Brooks Koepka
Trailing for most of their match against Rose and Rahm, the gutsiest performance from Team USA came from Koepka and Ryder Cup rookie Finau. The American duo won three of the last six holes to win the opening match 1 Up, setting the tone for a 3-1 U.S. lead. But, instead of rolling with the hot hand, Furyk wanted to play those who sat in the morning play, and that proved costly. It seems like Furyk stuck with his original plan instead of reading the situation, which might have cost the U.S. a crucial point. -- Stephen Hennessey
Most Controversial Call: Breaking up Jordan Spieth and Patrick Reed
There were rumors that the U.S. supergroup, which won 3.5 points together at Liberty National and 2.5 points at Hazeltine, would be split come this Ryder Cup, but it was still a bit of a shock when it came to fruition. The early returns weren't prosperous, as Reed contributed zero points and Spieth going 1-for-2. There's a chance this move pays off on Saturday—or perhaps the two find their way back to each other in alternate shot—but if both flounder apart tomorrow, expect this to be an uncomfortable question Furyk will have to answer. -- JB
Most Embarrassing Behavior: European fans at Le Golf National
The outlandish, boisterous and perhaps over-the-top behavior from American Ryder Cup fans at Hazeltine now has some company. To sum up the scene at Le Golf National, we had: European fans booing the U.S. team on the first tee, jeering Finau before he putted, yelling "FORE RIGHT!" on multiple occasions at U.S. players on the tee and clapping for poor shots. We can understand taunting Patrick Reed for him provoking Euro fans in the past, but for those who like to argue that the European golf fans repudiate poor behavior, that wasn't the case on Friday. -- SH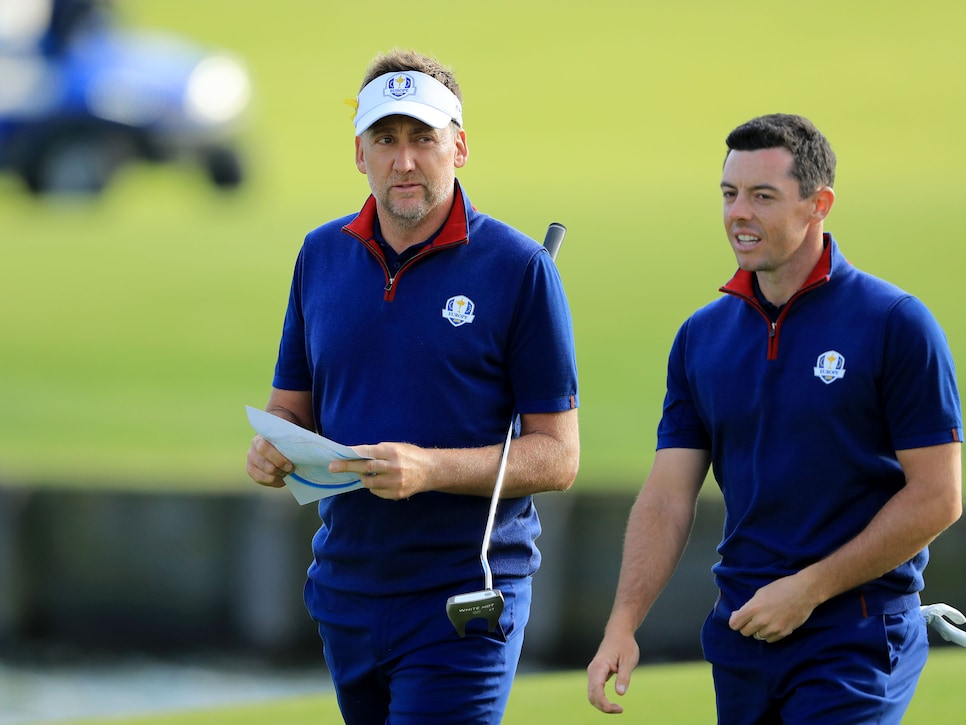 Best Teammate: Ian Poulter
He may get underneath Americans' skin, but he should wear that stigma, at least in this event, with honor. Though McIlroy is the team leader, it was Poulter, who owns the best European career winning percentage in this event, that saved McIlroy when it appeared the Ulsterman was off the deep end, keeping him steady in the afternoon matches. Forget the point they won together in foursomes; Poutler righting Rory might be the thing that wins the weekend for Team Europe. -- JB