The Loop
Ryder Cup 2018: Both teams wore red and it created a ton of confusion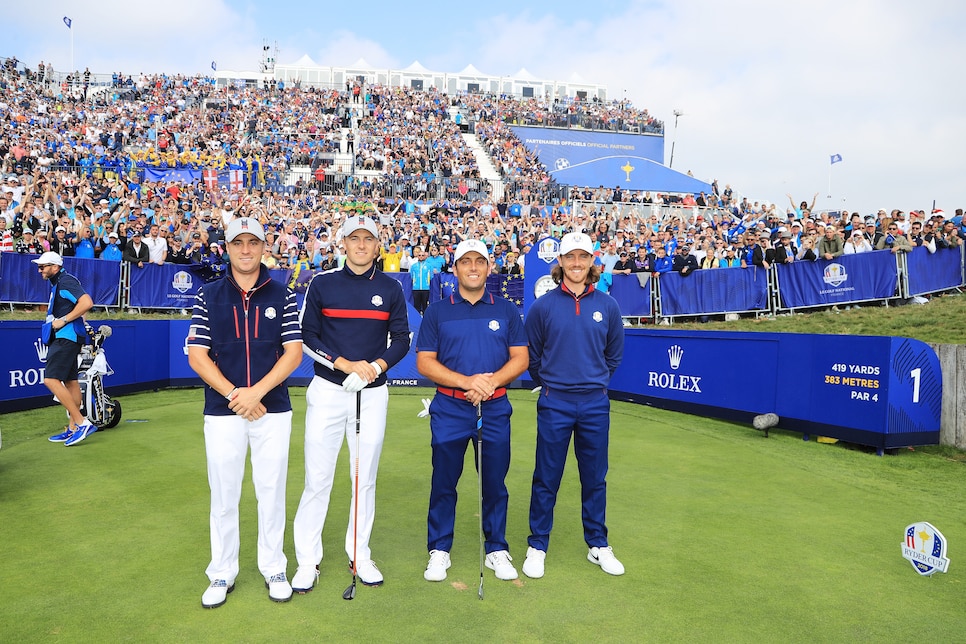 Team USA started the first day of the 2018 Ryder Cup competition strong taking an early lead after the first session, but fans seem to be a little confused as to who to root for on the course. We all saw the reaction Paris had to Tiger Woods at the opening ceremony, but now European fans cheering for USA players during the tournament? Well not exactly. Team Europe showed up to the first tee Friday morning looking more Team USA than Team USA did. Their navy tops featured red collar, zipper and shirt detail, while the navy trousers were accessorized with bold red belts.
We're assuming the red accents in Europe's uniforms are paying tribute to the host's national colors—blue, white and red—which just happens to be pretty similar to the good 'ol American's red, white and blue.
Twitter, of course, had a field day with the uniform snafu.
Viewers also commented on the variety of layers the Americans displayed on Friday. While the Ralph Lauren uniforms were set for the team, players seemed to take it into their own hands on which sweaters to wear throughout the day. Tiger Woods and Jordan Spieth wore the Team Sweater, Dustin Johnson, Tony Finau and Justin Thomas wore a version of the Team Jacket, Rickie Fowler, Brooks Koepka, Bryson DeChambeau and Webb Simpson wore the Camo Jersey Pullover, and Phil Mickelson wore the Team Vest. Patrick Reed and Bubba Watson were the only layerless players on the team, wearing the team shirt.
Loro Piana, a luxury Italian clothing company specializing in cashmere and wool, is the official uniform supplier of the European team. While the brand hasn't released the scripting for the team or commented on the inclusion of red, they did post a video on Instagram showing Captain Thomas Bjorn's involvement with the uniform development.
If temperatures drop or skies start to gray, the Europeans can fall back on their true blue weatherwear. The Galvin Green raingear is Navy with light blue accents, so no confusion there. Bjorn rocked The Albatros full zip jacket on the first tee with not even a hint of red in sight.