News
Ryan Vermeer from Happy Hollow Club wins the club pros' major, is headed to PGA Championship at Bellerive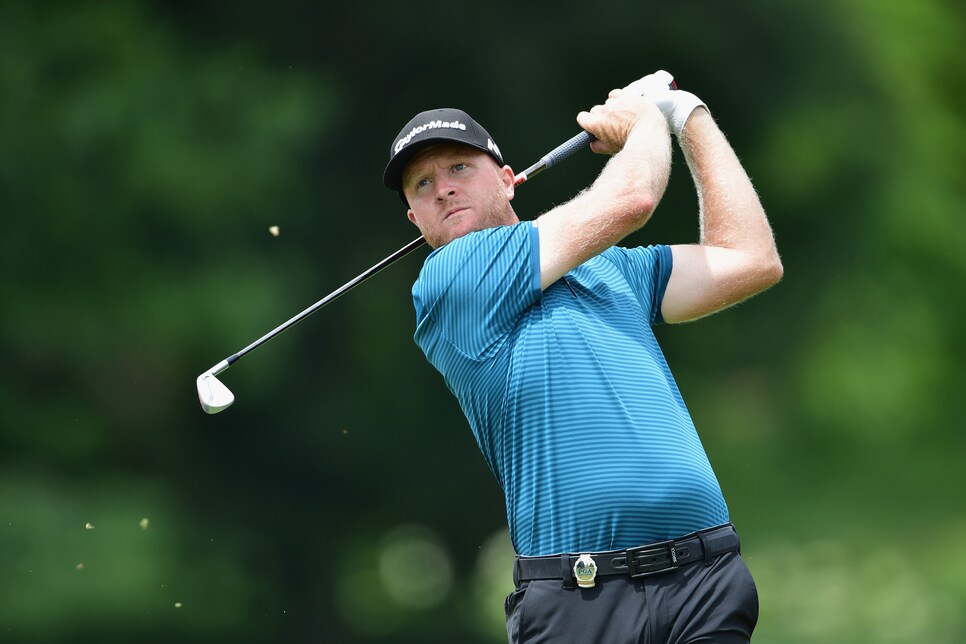 The PGA Professional Championship is not a major as most would see it, but don't try telling that to the emotional winner, Ryan Vermeer.
This is a major for the PGA of America club professionals across the country, and it is not inconsequential. For his two-stroke victory on the Bayonet Course in Seaside, Calif., near Pebble Beach, Vermeer earned $55,000 and a start in the PGA Championship and was awarded the Walter Hagen Cup. Hagen won 11 major championships, but also was a club pro.
Vermeer, 40, is the director of golf at the Happy Hollow Club in Omaha, Neb., as well as an All-American at the University of Kansas and a former Web.com Tour player.
"I'm new to the place [Happy Hollow], so being there was fantastic in itself," he said. "The membership has been awesome and has welcomed me with open arms. They're great people. They allow me to go play tournaments when I can keep my game ready so I can do stuff like this."
Vermeer thanked "everybody that sponsors this event" and the television coverage it receives that "showcase guys that aren't on the tour every week. But we all play the game competitively and love to play the game."
The top 20 players in the PGA Professional Championship earned invitations to play in the PGA Championship at Bellerive Country Club in St. Louis in August. Vermeer tied for ninth in the club pro event last year and missed the cut in the PGA Championship at Quail Hollow.
On a difficult Bayonet Course that once was part of a 36-hole facility at Fort Ord a few miles north of Monterey, Calif., Vermeer started slowly on Wednesday, but recovered to post a one-over-par 73 that gave him a four-under 283 total in the 72-hole event.
"Really, I only had three bad holes on the front," he said. "I hit a lot of shots that were not really good, but I was able to scramble through some of those. Walking to 10 I said I've only had three bad holes, didn't make any birdies.
"But three holes in the course of a day like today everybody's going to have struggles out there. So I said let's get back to hitting some good drives and making some good shots and giving yourself some looks at birdies. Made birdie on 10, birdie on 11 and then relied on my short game."
He needed only a par on the par-5 18th hole to win, but hit a superb pitch and made a short birdie putt to win by two over Sean McCarty and Bob Sowards.
The PGA Professional Championship, meanwhile, is one of those tournaments within a tournament, not unlike the old PGA Tour Q School that crowned a winner and gave PGA Tour cards to the top 35.
Winning the PGA Professional Championship, for those with a chance, is the ultimate goal, but the secondary goal is finishing in the top 20, which earns them a start in the PGA Championship.
Brian Smock, the head professional at Coronado Golf Course in San Diego, was among the latter. He eagled the par-5 18th hole that allowed him to avoid a playoff for the top 20 and earn a spot at Bellerive.
"Satisfaction," he said, when asked to describe his emotions. "It's really nice. It's been a long week. Stayed patient all week, and finished the race.
"I spoke with my GM, Chris Brown, a little bit ago. Everyone's excited. The whole pro shop was erupting. It's fun. It's cool I still get to do stuff like this. As club pros that's what you look for."
Marty Jertson was another. An engineer at Ping Golf and likely the only player among those who qualified for the PGA Championship to have designed (or had a hand in designing) the clubs he used, he birdied the final three holes also to avoid the playoff.
"The Bellerive Country Club is literally a couple blocks from my high school and where I grew up in St. Louis," he said, "so it's definitely going to be a homecoming to go see my high school and college friends."
Defending champion Omar Uresti also survived the playoff and is headed to Bellerive.