Wins by six
Ryan Brehm, facing the improbable that was flirting with the impossible, delivered the unimaginable, a win in the Puerto Rico Open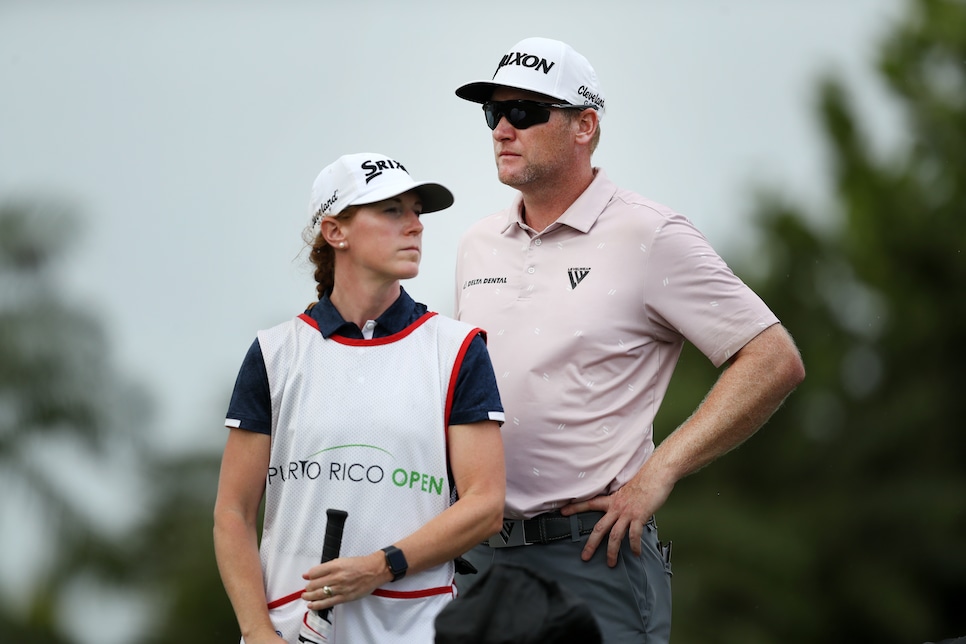 Back to the wall, do-or-die, last gasp, eleventh hour … desperation. Tournament golf is stressful under nominal circumstances. When you're playing in one event for all the marbles—or in this case, your status on the PGA Tour—there can't be a more oppressive psychological challenge.
And, yet, Ryan Brehm said on Sunday that "it was the calmest I've ever been as a pro," as he set out to complete an improbable achievement. The 35-year-old Michigan native needed to win the Puerto Rico Open in his lone start on a Minor Medical Exemption or he would again be exiled to the Korn Ferry Tour. Which isn't necessarily the worst thing for a pro golfer, but it ain't The Show. Complicating the task at hand was Brehm's record on the PGA Tour: 67 starts, 0 top-10 finishes.
But Brehm and his wife Chelsey, serving as his caddie, were as smooth and graceful and unflappable as Fred and Ginger. Win or go home? How about win and go to the Players?
An inspired final-round five-under 67 amid stiff tropical breezes enabled Brehm to dance to a six-stroke victory over Max McGreevy, the largest winning margin in the event's history and the largest on tour this season. He didn't make a bogey, but, then his card was almost blemish-free all week; he suffered just one bogey over 72 holes. He was one of two players with four sub-70 scores, joined by Brandon Wu, who tied for third. This discharge of skills brought to you by a player who was 170th in scoring last year with a 71.810 average and came in ranked 773rd in the world, which illustrates just how exquisitely a guy well down in golf's pecking order is capable of performing.
"I'm speechless," Brehm said, shaking his head, after posting 20-under 268 and pocketing $666,000, nearly three times his PGA Tour career earnings heading into the most important tournament of his life.
A two-time winner on the Korn Ferry Tour, Brehm's best previous finish on the PGA Tour happened to come at last year's Puerto Rico Open, where he tied for 11th. The former Michigan State University standout was granted one—and only one—start this season on his medical exemption after he tested positive for COVID last April and was forced to withdraw from the Zurich Classic of New Orleans, where he was scheduled to play with Joel Dahmen.
He bided his time this year with four KFT starts and figured that he could return to that circuit if things didn't work out in Puerto Rico.
"There was really no pressure at all. I had everything to win and nothing to lose," Brehm said.
Easy to say in the aftermath, but he knew the stakes at hand. The question becomes, how do you marshal whatever talents you have for that one gotta-have-it week—especially when you haven't shown previously that you had it?
"Well, that's just it … it's can you produce the golf shots when you're uncomfortable and when the pressure's on and figure out a process to do that," he said. "This week we just tried to refine that process the best we could and learn from the mistakes. This week it just so happened that there were very few mistakes and got a 'W', but, you know, in previous weeks there have been a lot of mistakes. So Chels and I just tried to move on from them, learn, put it in the memory bank. I didn't really pay much attention to my back being up against the wall."
But then in the next breath he admitted, "I look calm from the outside, but I'm a basket case inside."
Brehm began the final round with a three-shot lead and birdied two of his first five holes to settle the nerves. Then he had the nerve to grind his gray spikeless shoes into the eclectic field gathered in the event opposite the star-studded Arnold Palmer Invitational. His three birdies in a row starting at the ninth—just as a squall that brought gusting winds of 30 mph and pelting rain strafed Grand Reserve Golf Club—essentially decided the outcome. Two of those putts were in the 30-foot range. The last of those hit the hole so hard it likely left dimple marks.
Serendipity. Truly fairy-tale stuff.
"It was great having Chels up there with me caddying," Brehm said. "It was a special week. I don't know, there was just something special about it from the moment we landed."
He played solidly, if not a bit cautiously, coming home to become only the second player in the last 17 years to make his first top-10 finish a victory. Jason Gore did it at the 2005 84 Lumber Classic.
Perhaps fittingly, the sun broke out as Brehm played the par-5 18th hole, and the pressure truly was off. Brehm faced four feet for par and could afford to six-putt the darn thing and still win. Of course, he made it. When it was over, he revealed that he had committed to the Players on Friday, or, rather, Chelsey had done it on his behalf. "She believes, I guess," he said of his wife.
Together they became the first husband-wife team to win a tour event in nine years. You can't write up a fairy tale better than this.
Except maybe to add that they lived happily ever after. Or at least for the next few years. He's in The Show through 2024.
"I'm sure there's going to be a lot of doors open for me now after getting a victory," said Brehm, who also qualified for the PGA Championship in May. "There will be some new challenges and situations that I'll have to navigate, but, you know, we'll be able to draw on this moving forward, which is going to be powerful, I think."