Amateurs
Georgia's Rusty Strawn wins U.S. Senior Amateur after beating third past champion in match play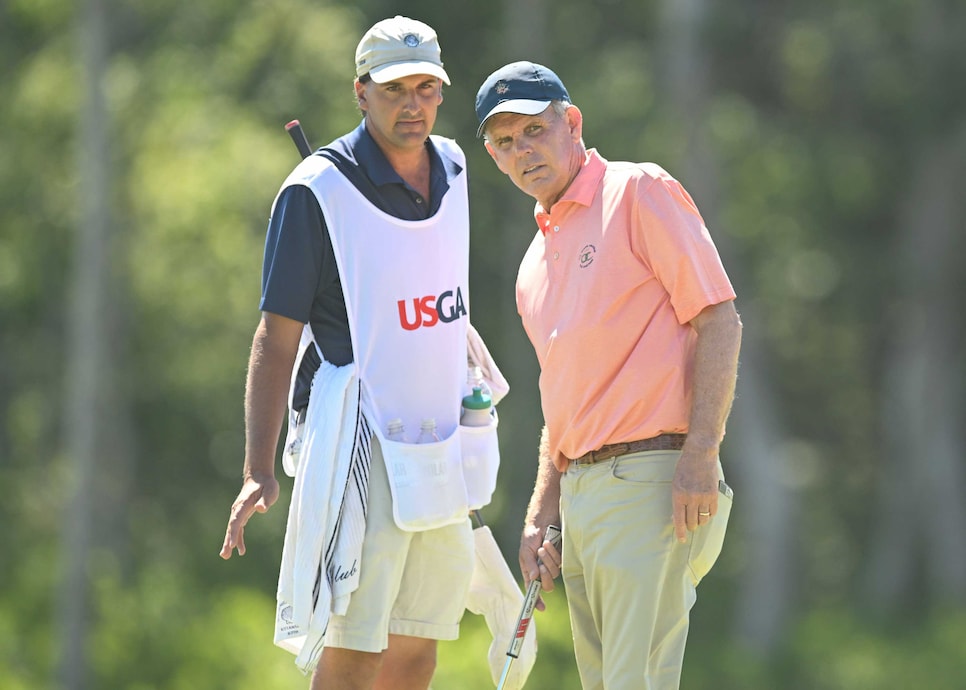 Rusty Strawn and his caddie Scott Hernandes discuss their putt on hole 14 during the finals at the 2022 U.S. Senior Amateur.
Kathryn Riley
Rusty Strawn and Doug Hanzel didn't have to spend much time introducing themselves on the first tee at The Kittansett Club in Marion, Mass., on Thursday. The finalists for the 67th U.S. Senior Amateur were both Georgia residents who have faced each a time or two, a mutual respect formed.
"Rusty is just an incredible competitor," said Hanzel, 65, on the eve of their championship match. "I think he's taken his game to a different level in the last two, three years."
That would have to be the case to top Hanzel, whose résumé includes 40 USGA starts, including 13 in the Senior Amateur, and a victory in the championship coming back in 2013.
A familiarity with Hanzel, no doubt, helped Strawn, 59, overcome any nervousness upon reaching his first final in only his third Senior Am start, a quarterfinal appearance in 2021 his best previous showing. Playing steady golf, Strawn won five of the first six holes with four pars and a birdie en route to a 3-and-2 victory.
"It's amazing," said Strawn after knocking off a third former Senior Amateur winner to claim the Fredrick L. Dold trophy for himself. "I mean, I never thought that I'd have this opportunity [or] if I could actually pull it off. I felt like that I had the game in the right conditions and the right course setup, because I have that determination. But it's just amazing."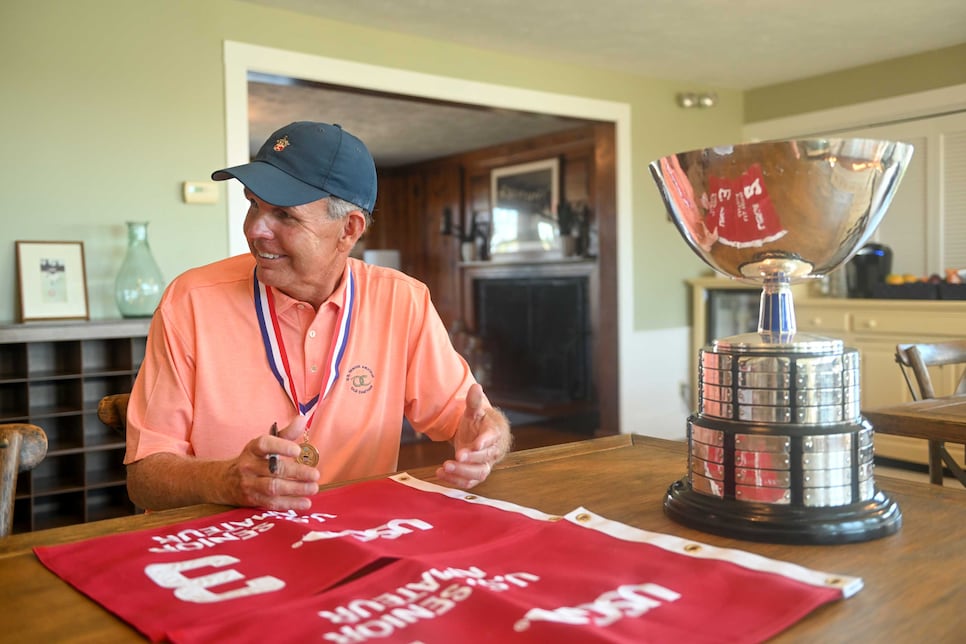 Rusty Strawn signs a flag after winning the 2022 U.S. Senior Amateur.
Kathryn Riley
Strawn, a college golfer at Georgia Southern who was teammates with U.S. Senior Open winner Gene Sauers, was 575th in the World Amateur Golf Ranking entering the week. He earned the eighth seed with a stroke-play qualifying score of two-over 142. His closest match came with a 19-hole win over two-time Senior Am champ Paul Simson in the third round. He then cruised through the quarterfinals (5 and 3 over Miles McConnell) and semifinals (6 and 5 over another Georgian, 2019 Senior Am winner Bob Royak).
In the championship match, Strawn made just one birdie (on the sixth hole to go 5 up), but also only one bogey. "I got off to a good start," Strawn said. "I just wanted to make pars. I wanted to hit fairways, I wanted to hit greens … and then of course that birdie at 6 … kind of settled me down a little bit."
"Yeah, I gave him some simple holes," said Hanzel, who in 2012 became the first and still only golfer to win a match in the U.S. Amateur, U.S. Mid-Amateur and U.S. Senior Amateur in the same year. "I didn't hit really horrible shots, not good shots, and didn't make a 5- or 6-footer that you need to get some momentum, and Rusty is just so steady. Doesn't hit it very far, hits it very straight, really good around the greens, and on this golf course you're going to win a lot of holes making pars."
Strawn wasn't above playing off some superstitions if he would help him claim the title. In the championship match he wore a polo shirt from the 2019 Senior Amateur at Old Chatham Golf Club and a hat from Sea Island where he registered his "first big win" in the 1993 Georgia Mid-Amateur.
Strawn's victory capped an impressive 2022 for the owner a life-insurance company back in McDonough, Ga. Earlier this year, Strawn won the Trans-Mississippi Senior Championship and the Florida Senior Azalea Amateur. He also finished runner-up at the North & South Senior.
With the win he earned an exemption into the 2023 U.S. Senior Open at SentryWorld in Stevens Point, Wis. It's a championship he's tried to qualify for on a few occasions but never been able to play his way into.