Takeaways
Early wake up calls for 2 Texans, a continued comeback, and an all-around good day for Golf Twitter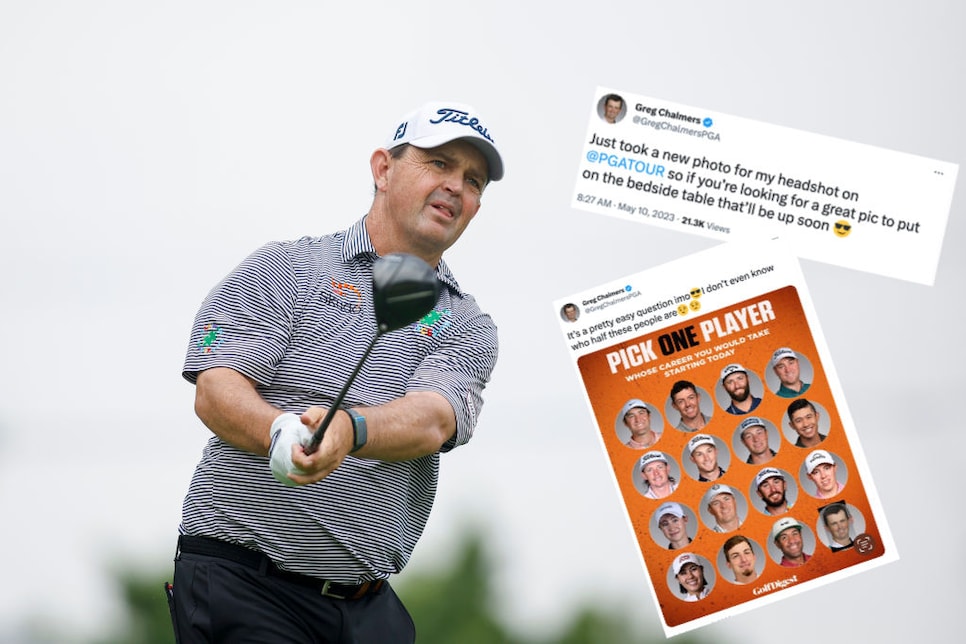 Another day, another tournament Scottie Scheffler may end up winning.
Scheffler followed his seven-under 64 in the first round of the AT&T Byron Nelson with another 64 in his second to vault into the 36-hole lead. Both Scheffler and Jon Rahm, unlike any players we've seen for a good while, have an air of inevitability these days. If they're playing—not even playing their best—then they're likely in contention.
Asked by a reporter how he's able to do it, Scheffler said it comes back to an "awareness" of where the club is at any given point during his swing. And when he can do that, he can manipulate it any way he wants.
"I can just kind of feel where the club is in my hands," he says. "When I have a really good awareness of where the club head is, then I'm able to see and create a lot of different shots. That's how I've always played my best."
Here are more takeaways from the second round at TPC Craig Ranch in Texas:
Palmer, whose rounds of 64-65 leave him tied with Mackenzie Hughes (65-64) one back, has had a front row seat to Scheffler's development over the years. After his round on Friday, he recalled being impressed with a young Scheffler hitting balls on the range as a junior, then pegging him for stardom after returning from his first season at the University of Texas, and now calling him one of the "best" golfers he's ever seen. He's seen him get better and better over the years.
"But the best thing about Scottie is he's the same person," Palmer said. "He hasn't changed one bit. That's fun to be around and see."
Everything is bigger in Texas, including the commutes.
The AT&T Byron Nelson this week is in McKinney, Texas, about an hour north of Dallas. The upside for the players who live in Dallas—like both Scheffler and Palmer—is that it's close enough for them to stay at home during tournament week. The tradeoff was some really early wake up calls before the pair's morning round tee times on Friday.
"It was 3:50 a.m. this morning," Palmer, who lives in a suburb west of Dallas, said. "I've never woken up before 4 on tour in 20 years. It was an early one."
Scheffler lives a little closer, and got an extra 30 minutes of sleep because of it.
"I woke up ready to go. Usually if I was waking up at 4:20 I definitely wouldn't be in a good mood, but when you're waking up to come play a golf tournament, it's a little bit of a different feeling."
Day's ball striking comeback
Jason Day's comeback continues to roll on, a storyline that's easy to root for anyone who remembers him at his world-beating best. His game looks a little different now, though. When Day was World No. 1, he was an elite putter who made it work from tee-to-green. These days, it's the opposite. He recently returned to the same TaylorMade Spider putter he used during his peak, albeit with different results—through two rounds, he's 89th in strokes gained/putting. Instead it was his ball striking that carried him during his second round 69—he ranks fourth in the field so far this week, gaining more than five-and-a-half strokes with his irons over his peers.
A big week for the next best
The AT&T Byron Nelson may not have the kind of stacked field that makes it a must-win for the top players in golf, but it can nevertheless have some big season-long implications for those hoping to break into the game's elite. Hughes and Si Woo Kim are two names that jump to mind in this regard. Thirtieth and 18th in the current FedEx Cup standings, respectively, both come into the weekend inside the top five. The prestige events grab the headlines for the biggest names, but it's weeks like this where a big portion of the game's players make their money.
Friday was a good day for the pair of Golf Twitter darlings in the Byron Nelson field. Will Knauthz, the 24 year-old who earned his spot in the field courtesy of winning the 2022 Byron Nelson Award, birdied two of his final four holes to shoot even par on the day, an eight shot improvement from his Thursday 79. Meanwhile, Greg Chalmers fired a bogey-free 65 to follow his opening round 69, which leaves him inside the top 12 heading into the weekend.