ANWA
ANWA favorites Zhang, Heck rally late to advance to final round at Augusta National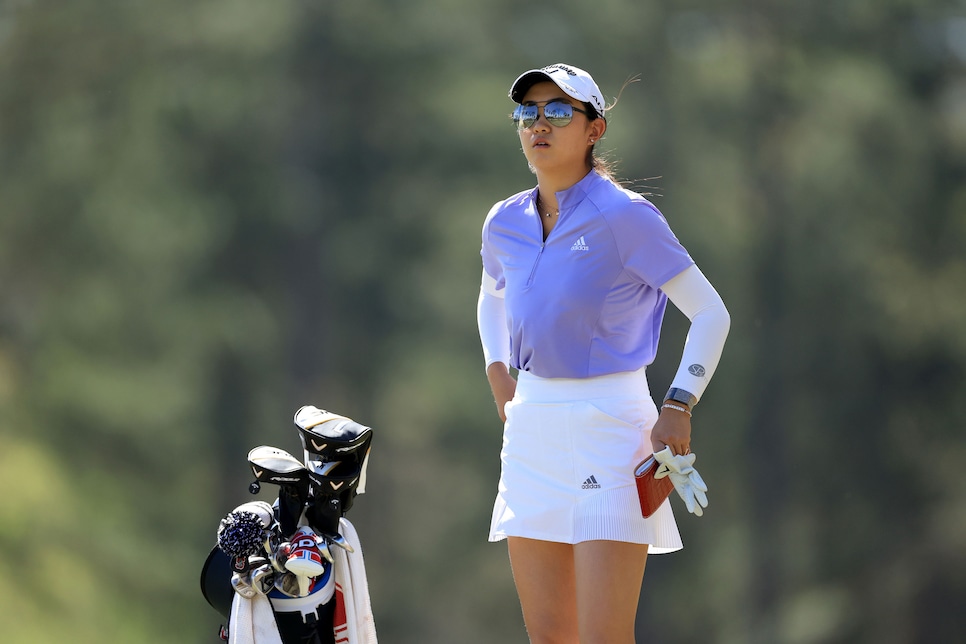 Rose Zhang plays her second shot on the par 4, 10th hole during the second round of the 2022 Augusta National Women's Amateur.
David Cannon
AUGUSTA, Ga. — It's still anyone's guess who will win the Augusta National Women's Amateur come Saturday—collegians Beatrice Wallin and Latanna Stone share the 36-hole lead at even-par 144 with 13 players within three shots. But you can't win if you aren't among the 30 who qualified for the final round, and a few top-ranked amateurs had some serious work to do on Friday morning to be in that position.
Rose Zhang and Rachel Heck, teammates at Stanford and the Nos. 1 and 3 ranked female amateurs in the world, were each hovering around the projected 36-hole cutline of between four and six over when their weather-delayed second round at Champions Retreat was called for darkness on Thursday evening.
Zhang, who has been nursing a sore left foot she first injured in December when somebody accidentally dropped a 15-pound dumbbell on it during a workout, was one over on her second round through 14 holes, but five over total after a frustrating opening-round 76 on Wednesday. Upon returning at 7:30 a.m. Friday, she proceeded to bogey her first hole, but then closed with three straight birdies to finish her second round with a one-under 71 and creep up to tie for ninth, three off the lead.
Zhang, who finished T-3 at the 2021 ANWA, said the initial Friday bogey on her 15th hole actually freed her up. The 18-year-old from Irvine, Calif., proceeded to make a 12-footer for birdie on the next hole, a 20 footer on the next and then hit an approach from 165 yards to three feet to set up another birdie on her last hole.
"I knew I was around that cut and knew I had to go for it and take a chance," said Zhang, who noted that she hadn't played any golf in the six days leading up to the ANWA in hopes of getting the injury to fully heal.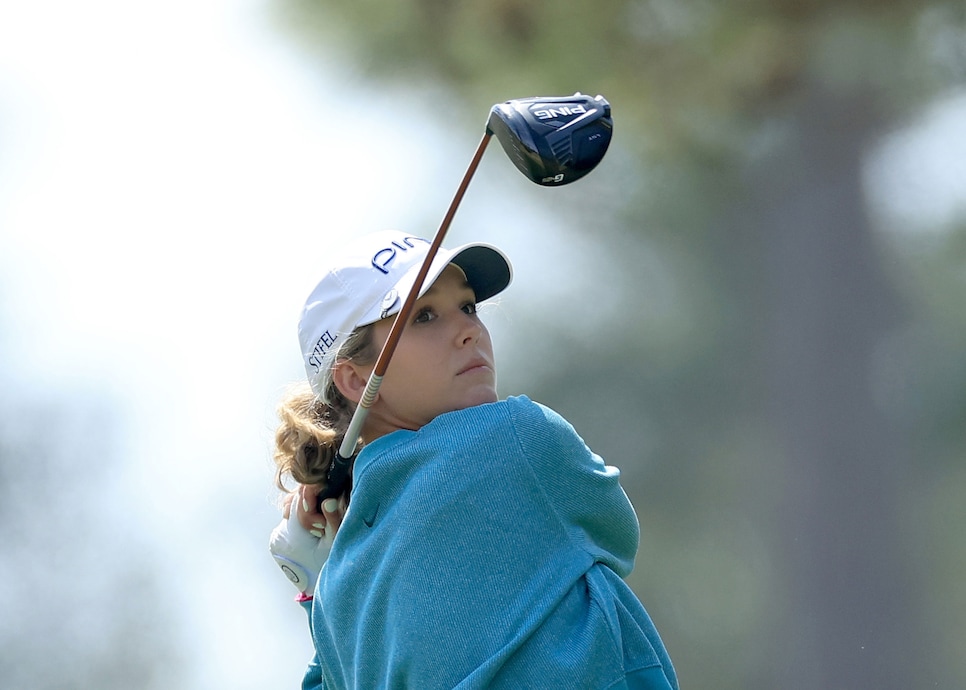 Rachel Heck plays her tee shot on the par-4 12th hole during the first round of the 2022 Augusta National Women's Amateur.
David Cannon
Heck had even more ground to make up. The reigning NCAA champion was six over total, five over on her second round with eight holes left, when play stopped. A bogey on her 14th hole of the round Friday morning meant she had to birdie two of her last four holes to get inside the cut line and avoid a playoff, which she proceeded to do to finish with a second-round 76.
"I was pretty nervous going into today and I couldn't pretend I wasn't," Heck said. "There is a lot of emotions out there. My heart is still beating really fast."
While the birdies were clutch, so was the six-footer for par on her last hole that helped her avoid having to compete in a playoff to advance to Saturday. "There are a small group of the most nerve-wracking putts and that's 100 percent in there," Heck, 20, said. "I'm just grateful to be there … I'm just going to have fun tomorrow."
Yet another standout barely scrapped into the final round as Wake Forest's Rachel Kuehn, World No. 10, had to birdie her last two holes on Friday morning to also get to five over total and avoid the playoff.
With the cut at six-over 148, four players were competing for the 30th spot and the chance to play on Saturday at Augusta National. Paula Schulz-Hanssen secured it with a par on the fourth playoff hole.
Whether the last one in, or tied for the lead, Saturday's final round has a host of players who could pull out the victory. "There are 30 of the best players in the world within five of the lead," Heck said. "I think anybody is still in this tournament."