Amateurs
Rose Zhang named top women's amateur for third straight year, joins Heck and Kuehn on U.S. Women's World Amateur team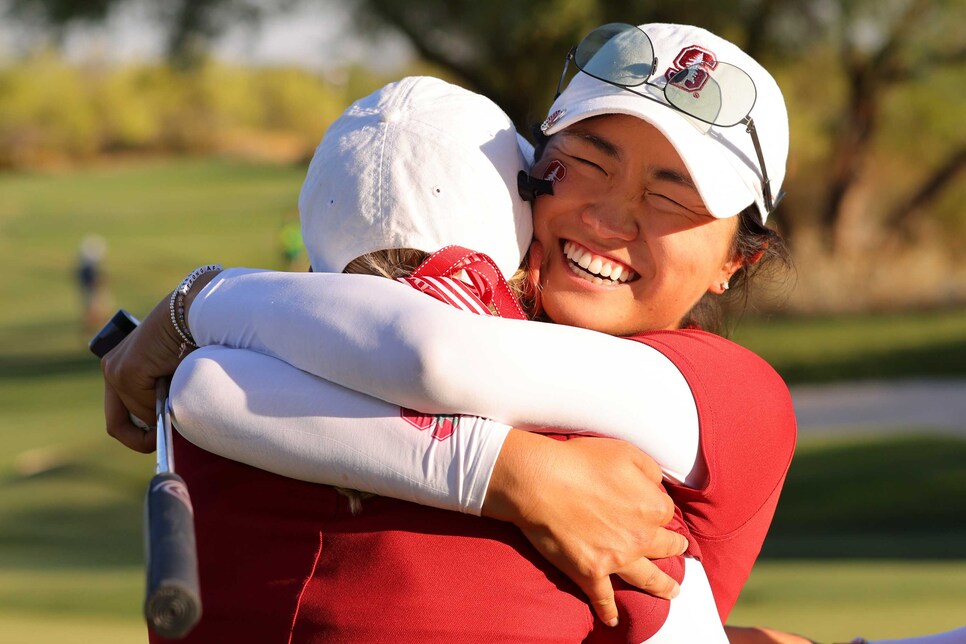 Rose Zhang celebrates with teammates after Stanford claimed the NCAA team title in May.
C. Morgan Engel
To become the No. 1-ranked women's amateur golfer in the world, as Rose Zhang first did in September 2020, is a notable accomplishment. To hold the honor for 101 straight weeks reveals a different level of dominance.
As Zhang pursues the all-time mark of 135 weeks at No. 1 set by Leona Maguire from 2015-2018, the 19-year-old rising sophomore at Stanford was honored on Wednesday as the recipient Mark H. McCormack Medal. The award is given to the leading women's player in the WAGR rankings at the end of the summer competitive season.
This is the third straight year Zhang has won the McCormack Medal, joining Maguire and Lydia Ko as the only others to win it back-to-back-to-back years.
"My amateur career continues to be incredibly rewarding and humbling," Zhang said in a release. "This caps an incredible year and motivates me even further for the season ahead."
Zhang also played for the victorious American Curtis Cup team that defeated Great Britain & Ireland 15½-4½ at Merion Golf Club in June. Zhang will get to represent the U.S. again later this month as she was also named on Wednesday one of three players who will compete for Team USA at the Women's World Amateur Team Championship. The four-day event will be at Le Golf National outside Paris (site of the 2018 Ryder Cup), Aug. 24-27.
Joining Zhang on the U.S. team will be her Rachel Heck, 20 a teammate of Zhang's at Stanford, and Rachel Kuehn, 21, a rising senior at Wake Forest who played with Zhang and Heck on the 2021 and 2022 Curtis Cup teams.
The WWATC will be captained by Pam Murray. Alternates for the team are Amari Avery and Bailey Shoemaker.
The Women's World Amateur Team Championship was last played in 2018, the U.S. winning the Espirito Santo Trophy by 10 strokes over Japan. It was the first time the Americans had won since 1998. The event was cancelled in 2020 due to COVID.
While there's been much speculation on when Zhang might turn pro, she said this summer that she intends to at least play out her sophomore year at Stanford. "It's all up in the air right now. I feel like I have so many options that I can go either way," Zhang said at the AIG Women's Open. "I think for now I'm going to go back for my sophomore year and just enjoy another great year with my teammates."