WGC-Workday Championship
How can players stay focused after news of Tiger's accident? By taking a lesson from Woods, of course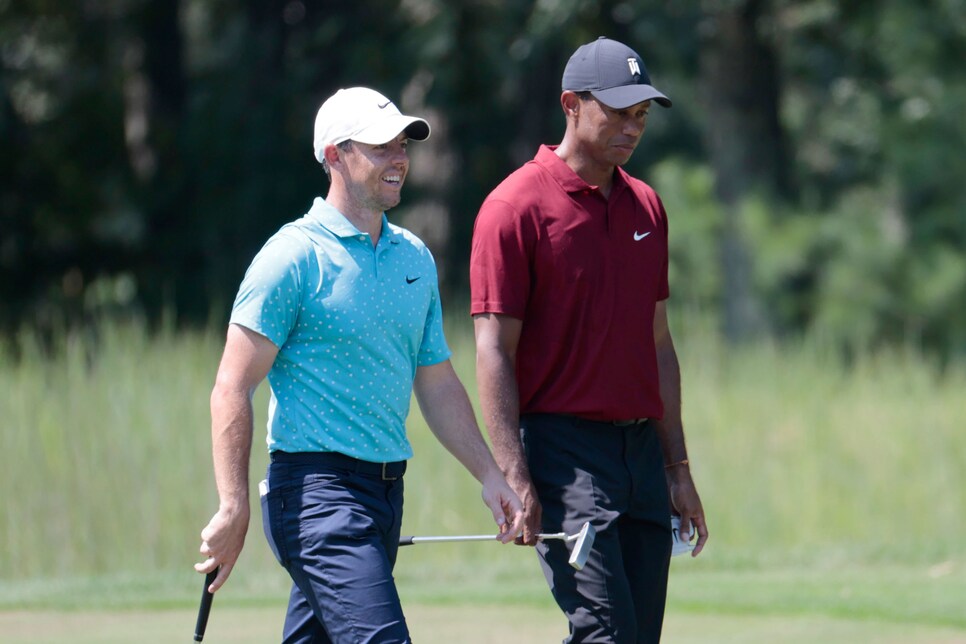 Rory McIlroy and Tiger Woods chat on the 15th fairway during the final round of the 2020 Northern Trust.
Icon Sportswire
BRADENTON, Fla. — To nobody's surprise, Tiger Woods' car crash and subsequent emergency surgery continued to be the biggest story at The Concession Golf Club, site of this week's WGC-Workday Championship. Justin Thomas appeared before the media on Tuesday moments after the news became public and appeared to be fighting off tears when asked about his friend. Across the sports world, athletes of all stripes reacted to the accident on social media.
On Wednesday, players scheduled to meet with the press largely fielded questions about Woods, their emotions, and the place Tiger holds in the game.

Rory McIlroy praised Tiger effusively, but appeared to resist what felt, at times, like a funereal atmosphere.
"You say 'pay tribute to him,' " McIlroy said, responding to one reporter. "He's not gone. … He's been in a very bad accident. We're very lucky that he's still here. I feel like we should pay tribute to him every day for being on the PGA Tour and what he's done for golf."
Nor would McIlroy buy into the idea that it might be difficult for him—or any other player—to compartmentalize the news and play competitive golf this week.
"I don't think so," he said. "I mean, he's here, he's fine. He's got some pretty bad injuries, but he's going to be OK. … I was looking at some of the coverage yesterday and they were talking as if he was gone. It's like, 'he was in a car crash.' It was really bad, he's very fortunate to be here, which is great, but I mean, that's the extent of it. So no … it's obviously going to take a bunch of attention away from this golf tournament, but that's nothing to do with us, that doesn't fall on us, and we don't really feel that when we're playing anyway."
McIlroy went on to say that Tiger's return to win the Masters in 2019 was the most impressive comeback he'd ever seen in sports, more so because as someone who had grown closer to him, he knew the full extent of how low he'd been in 2017. But when it comes to another comeback, he appeared doubtful.
"He's not Superman," McIlroy said. "He's a human being at the end of the day, and he's already been through so much."
On Tuesday afternoon, Bryson DeChambeau struck an opposite note, saying, "from everything that I know about Tiger, I'm sure he'll recover and he'll do everything in his power to come back, I'm sure he will. He's an amazing human being that has done incredible things. I mean, you look back to Ben Hogan … and what he was able do after that. I have no doubt in my mind he'll be back. Take him a little longer, I'm sure, but from my perspective he's one of the most impressive human beings I've ever met."
Xander Schauffele spoke with Tiger last weekend at the Genesis Invitational, where Woods served as tournament host, and remembers him in good spirits. He spoke optimistically about his next MRI, which had been scheduled for this week, and the future. The memory of that conversation made the news hit harder for Schauffele, who, unlike McIlroy, anticipated a difficult week for the players on the course.
"Yesterday was a really weird day," he said. "I think the mood was very somber on the putting green … everyone's head was down. It was a very gloomy day for us golfers, and I think everyone kind of felt the same way."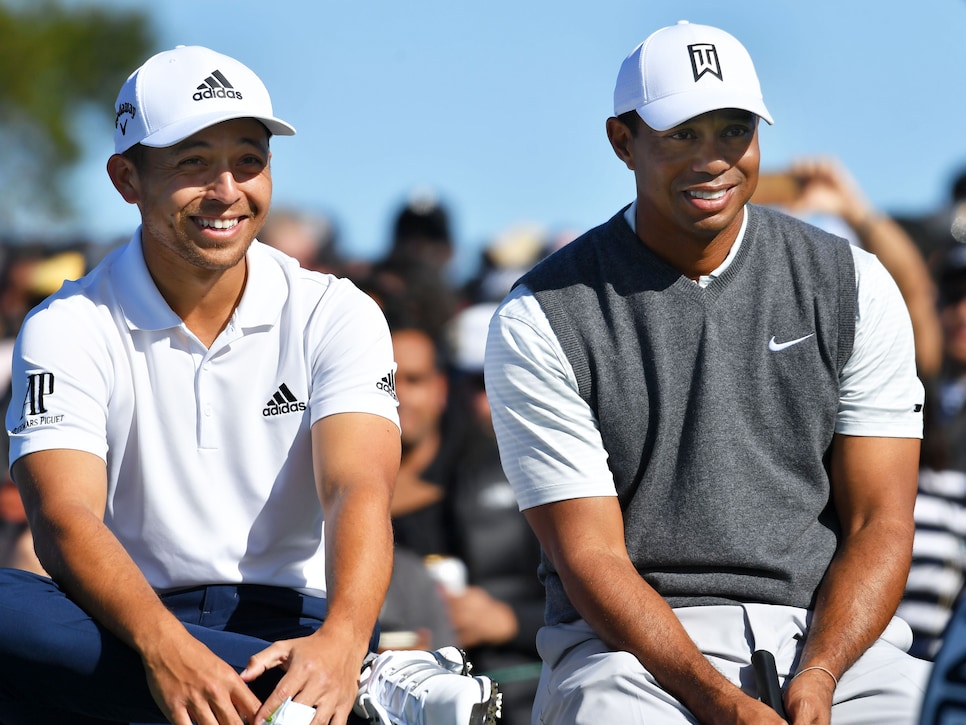 Schauffele said Tuesday at The Concession Golf Club after hearing the news on Tiger "was a very gloomy day for us golfers, and I think everyone kind of felt the same way."
Donald Miralle
As far as putting the feelings aside, he pointed to the best example of all—Tiger himself.
"If you want to talk about compartmentalizing," he said, "I think he was the best at it. We all kind of learned from him. He played some of the best golf with so much crazy stuff going on in his life, injuries and all kinds of crazy stuff. … It's kind of strange to share the same idol as everyone else out here, but we all do for a good reason. He is the reason a lot of us are playing golf and the reason a lot of us do what we do."
Will Zalatoris, still just 24, said that the news made him feel "numb," and made him think of the "tremendous gratitude" he and other young players felt toward him. He's only met Tiger once, in a group setting, but can still recount the experience in great detail.
"I was actually playing a college event up in Oregon," he said, "and Notah Begay was one of the speakers doing a roundtable, and Notah called him on the phone and they were trying to get ahold of him and Tiger said, 'What do you want?' Notah said, 'Just want to say hi, sitting here doing this little Q and A.' Next thing you know Tiger walks up from the back of the room mic'd up and he says, 'Well, I'm right here, ask me anything you want.' Of course everyone's absolutely insane."
"He's such a big part of the PGA Tour and what it's become today," Johnson said. "Once he's not playing anymore, definitely the game will miss him, but I feel like he'll always somehow be around and involved with the game."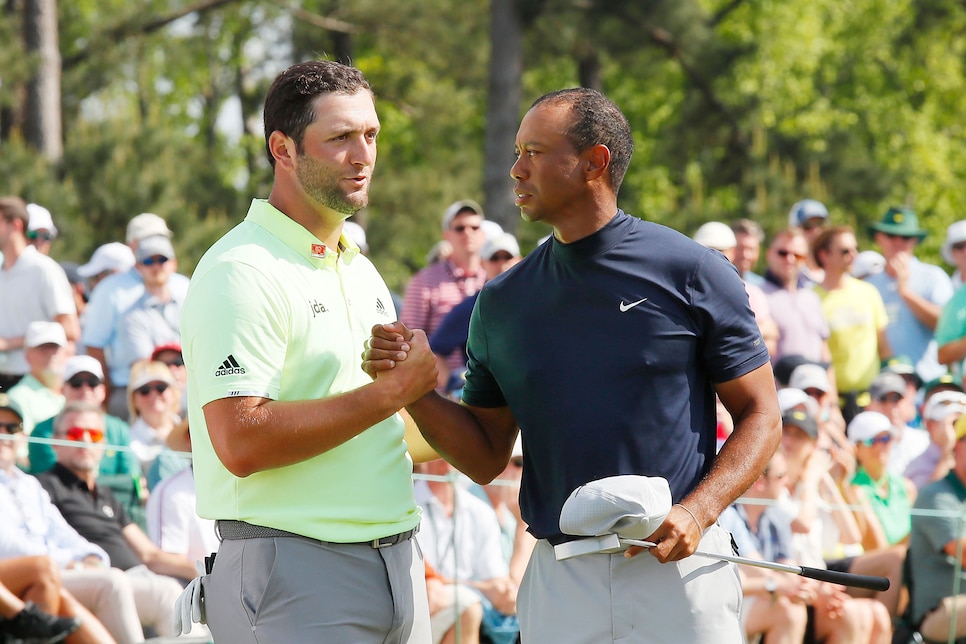 Rahm said all tour pros should be grateful for what Woods has done for the game during his career, regardless of whether or not he might play again.
Kevin C. Cox
Like many on social media, Jon Rahm's mind went straight to Kobe Bryant when he heard the news, and he echoed his fellow players as he expressed gratitude that despite the severe injuries, Tiger was still alive.
"Hopefully his body's still good," Rahm said. "I don't necessarily need to see him on a golf course again. I would love to, but I just hope he can live a normal life from here on. He's given everything to this game, he's done so much for us, and every day that we're all out here is going to be a memory of Tiger Woods.