Rory's bad back
Rory McIlroy 'over the moon' only being 3 back at Tour Championship despite lower back injury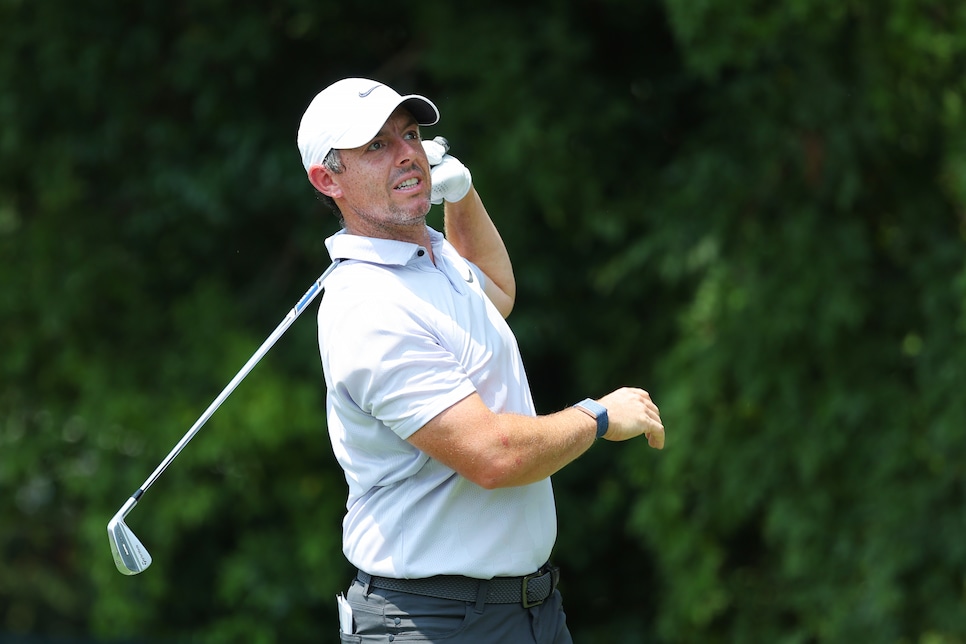 ATLANTA — It is not unusual for Rory McIlroy to hold off hitting golf balls at East Lake until Wednesday of Tour Championship week. After all, he has won the FedEx Cup title three times—including a year ago—and is more than familiar with the Atlanta layout. But when the four-time major winner wasn't seen swinging a club on Wednesday, it was obvious something was up.
And indeed there was. McIlroy suffered a muscular injury in his lower back while at home earlier this week.
"On Tuesday morning I felt a little tight, and I went into my gym at home, and I just sort of foam-rolled and stretched. I went to grab something and my whole right side just completely seized up [with a spasm]," McIlroy said.
"Wednesday morning [in Atlanta], my right side was feeling better, and then went into the gym just to do some movements and stuff. I was at the bottom of a body-weight squat, and my whole lower back spasmed, seized up. I couldn't move. I honestly couldn't address the ball this time [Wednesday afternoon]. To get to where I am today is good."
Impressively, the Northern Irishman carded an even-par 70 to remain at seven under par and three shots behind co-leaders Collin Morikawa (61), Keegan Bradley (63) and Viktor Hovland (68). Scottie Scheffler plummeted from a five-shot lead at one point to a one-over 71 to fall to nine under.
McIlroy even birdied the 16th at East Lake to climb to eight under, but a bogey at the par-5 18th brought him back to his original, adjusted score. Still, he is in the hunt for a fourth FedEx Cup title.
"The fact that I'm only going to be three off the lead, I'm over the moon about it," he said.
Particularly, too, given how choatic his Thursday morning was to just be ready to step on the first tee. "I got here really early this morning, like 7:45, so like six hours before my tee time, did cold tub, did everything. I hit 20 wedges by 10 a.m. which is the first balls I've hit since Chicago," McIlroy said. "I felt OK, so then just thought I would give it a go. I was always going to tee off. It was just a matter of how I felt on the course. It got progressively a little tighter as I went, but it will hopefully get loosened up here and just another 20—or 18 hours of recovery and go again tomorrow."
McIlroy is playing his 18th event of the year, 17 on the PGA Tour including the co-sanctioned Scottish Open, and the DP World Tour's Dubai Desert Classic in January, which he won.
After the Tour Championship, McIlroy is scheduled to travel to the U.K. for the Irish Open in two weeks and the DP World Tour's flagship BMW PGA Championship at Wentworth. After a week off, he'll spearhead the European team at the Ryder Cup in Rome late in September.
"I think when I play a lot of golf, especially the end of the season, I always have to manage my right side," he said. "It gets pretty tight, my rib cage, intercostals, lats, all the way down [to my] right hip."
If at any point during the tournament the injury forces McIlroy to withdraw from the event, he would drop to 30th in the FedEx Cup standings. That would still earn him $500,000 from the FedEx Cup bonus fund but would be a far cry from the $18 million the winner will claim.
But the 34-year-old sounded like he intended to press on for three more rounds at East Lake.
"I was always going to tee off [Thursday]," he said. "It was just a matter of how I felt on the course. And it got progressively a little tighter as I went, but it will hopefully get loosened up here and just another 18 hours of recovery and go again tomorrow."