Tiger's all in
Tiger Woods' presence on tour's policy board 'has been felt already,' according to Rory McIlroy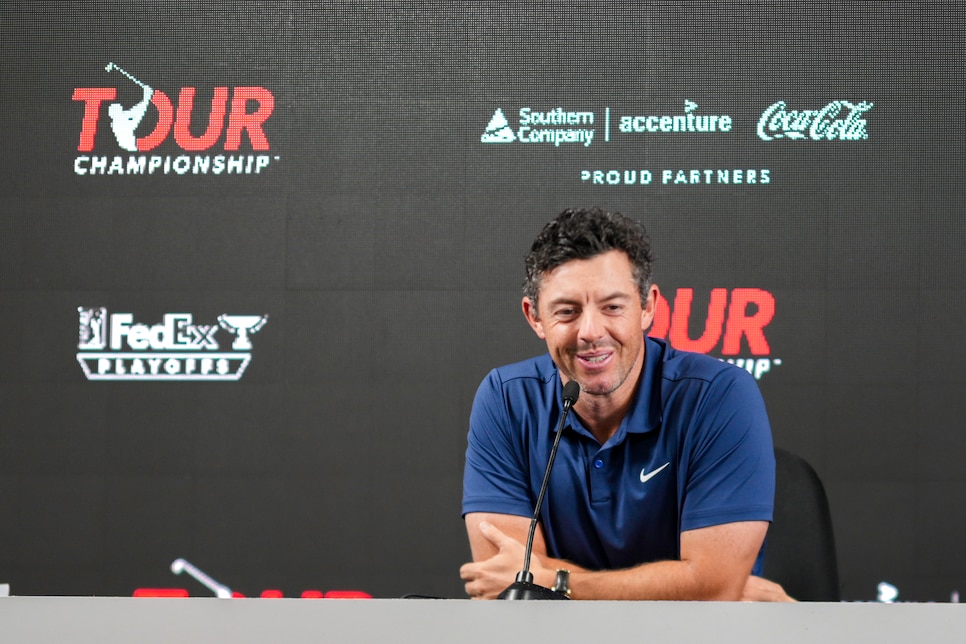 ATLANTA — In 130 days, the landscape of professional golf's two major tours could look drastically different. That's if a framework agreement between the PGA Tour, DP World Tour and Saudi Arabia's Public Investment Fund goes through on Dec. 31, which commissioner Jay Monahan is confident it will. But those changes will at least have been approved by Tiger Woods, according to fellow policy board member Rory McIlroy.
On June 6, the PGA Tour entered into a framework deal with the Saudi sovereign fund, which finances LIV Golf, to immediately drop litigation between the two parties and create a new for-profit company, called PGA Tour Enterprises, in which the PIF will be a minority investor. The deal's Dec. 31 deadline can be extended.
On Wednesday at the Tour Championship, McIlroy was asked what Woods' involvement had been in the three weeks since he was appointed a player director on the policy board for the first time in his 27 years on the PGA Tour.
The Northern Irishman's answer was crystal clear: 82-time PGA Tour winner Woods will be central to all discussions.
"Tiger being on the board, I think it's meaningful that he's on it, that he's engaged," McIlroy said. "He's certainly been spending more time on it than I have. He's been talking to some people. He's been talking to a lot of people. He's really engaged in just trying to get the best outcome for the players on the PGA Tour. I think his difference has been felt already. His presence on there will only continue to grow as we head towards that December 31st deadline."
That presence is seen as striking a balance between the tour potentially accepting enormous invest from the PIF—which has invested over $2 billion into LIV as well as other sports such as its purchase of English soccer team Newcastle F.C.—and maintaining the integrity of a U.S. circuit Woods helped build. Before Woods was appointed, 41 tour players, including McIlroy, Scottie Scheffler and Jon Rahm, sent a letter to commissioner Jay endorsing Woods as a sixth player representative on the board.
Woods has been a staunch opponent to LIV Golf, and its 48-player roster that includes recent major winners like Brooks Koepka, Cameron Smith and Dustin Johnson. The league also features 54-hole tournaments and shotgun starts.
"What these players are doing for guaranteed money, what is the incentive to practice?" Woods asked at the 150th Open at St. Andrews last year. "What is the incentive to go out there and earn it in the dirt? You're just getting paid a lot of money up front and playing a few events and playing 54 holes."
Woods joining the policy board also takes enormous strain off McIlroy, who last year was the PGA Tour's unofficial spokesperson in its feud with LIV. He was publicly outspoken against LIV in interviews, while attending countless meetings behind closed doors. All the while, he managed to win three PGA Tour events, including the Tour Championship and FedEx Cup, as well as finish in the top eight in all four majors.
This year, McIlroy is more relaxed. Ranked No. 3 in the FedEx Cup, he'll begin Thursday's first round at seven under par and three shots back of FedEx leader Scottie Scheffler per the staggered scoring system.
"I remember this time last year being on a board call at 7.30 a.m. in the morning on the Tuesday trying to get all that stuff ratified," McIlroy, who has won the FedEx Cup a record three times, said Wednesday. "I've been able to focus a little bit more just on golf and my game. [I was] even able to take two days at home [in Florida] between Chicago and here, getting to spend some time with [my] girls. That's been really nice. I would say everything's just a little more balanced and a little more calm this year."