News
It was Chunk City for Rory McIlroy with awful dunk into water at East Lake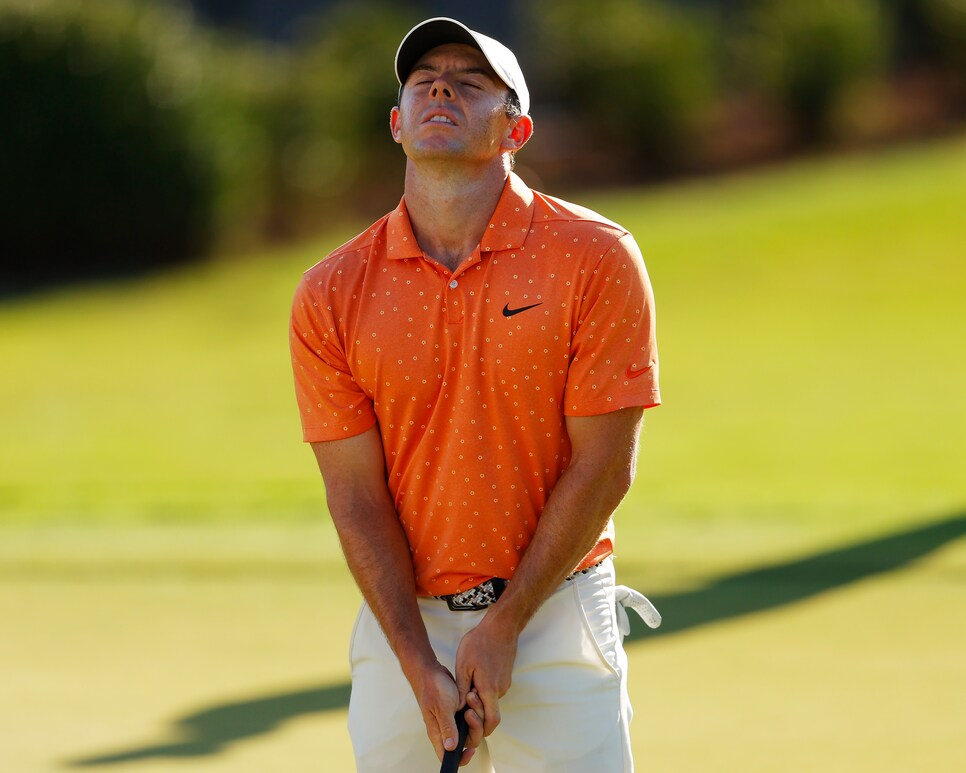 Rory McIlroy eacts to a missed putt on the 18th green during the second round of the Tour Championship.
Kevin C. Cox
ATLANTA — We've all been there. Ball in the rough, water to carry to reach the green. No problem. Then, splash. Of course.
Take solace. It turns out even Rory McIlroy isn't immune.
During Saturday's second round of the Tour Championship, the Northern Irishman found himself 209 yards from the flag on East Lake's 18th hole. He'd uncorked a 371-yard drive on the downhill par 5 that rolled through the fairway into the thick stuff. The lie wasn't great, but he is a four-time major winner.
Officially, according to Shotlink, the shot traveled 85 feet, 8 inches, settling in the lake directly in front of him.
"My biggest concern was trying to carry the first bunker on the right," he said. "I knew I needed to hit it really hard and I swung hard at it. I got it like right in the middle of the ball—I felt like if I tried to sweep it, it would be better, and I just sort of came up on it a little bit.
"Probably in hindsight trying to take on a little bit too much. So yeah, and then it would have been nice to get away with a par. It wasn't to be."
McIlroy went on to make bogey, his third of the day, to close out a disappointing one-over 71 on an afternoon in which he struggled with his accuracy off the tee and with his irons.
If there was a silver lining it was that it didn't cost him too much. McIlroy, who won at East Lake last year, started the week seven strokes back of leader Dustin Johnson in the staggered-start format. He closed that gap to four following a sizzling 64 on Friday. Now, he trails Johnson by five with two rounds to play.