News
Leader Dustin Johnson goes on a different kind of clock, and other takeaways from Day 2 of Tour Championship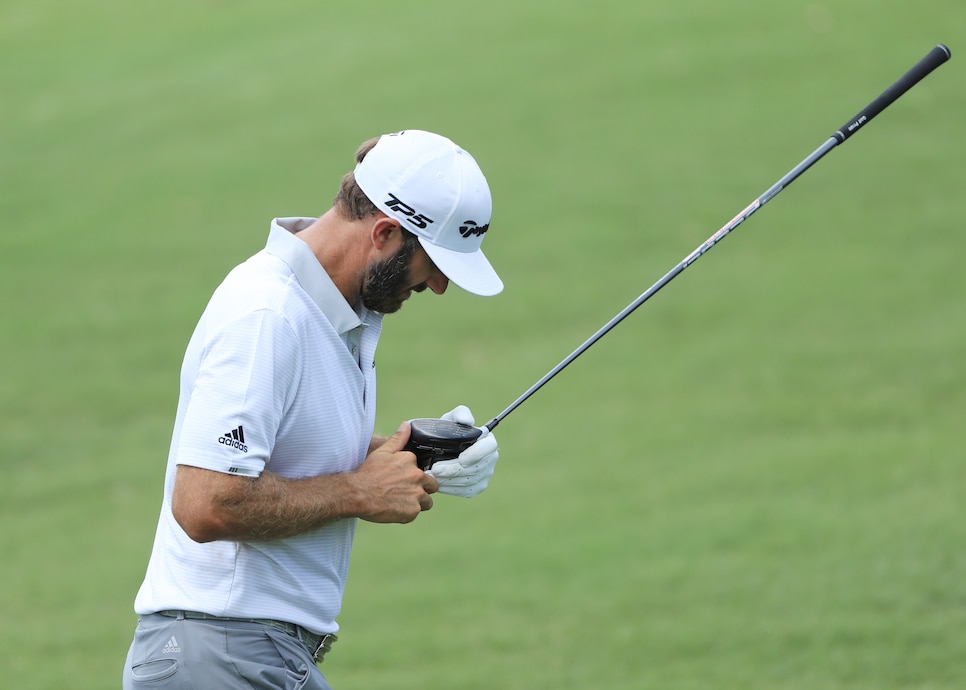 Dustin Johnson nspects the face of his driver during the second round of the Tour Championship at East Lake Golf Club.
Sam Greenwood
With two days of the Tour Championship the books, we're halfway to the money. While Friday saw the pre-tournament leaders mostly hold their spots atop the leaderboard, a number of players elbowed their way into contention during Saturday's second round. There are nine players within five shots of the lead, which means there are eight players with an awesome chance to add $15 million to their bank account come Monday evening.
Here are five takeaways on Saturday's action from East Lake.
Dustin's driver goes ice cold
During both his 30-under romp at the Northern Trust and his runner-up finish at the BMW Championship, Dustin Johnson drove the ball like an absolute stallion. He said recently that he has his power cut back, which is his preferred shot off the tee, and he has made it look quasi automatic in recent weeks.
Saturday was a different story entirely. After a stress-free start of one under through five, DJ missed his next 10 fairways in a row—five to the right and five to the left—as he played his final 13 holes in one over par. At one point, the Golf Channel broadcast flashed a graphic showing it had been more than two hours since Johnson found the short grass.
This East Lake layout doesn't have the bite of Olympia Fields last week, but the ball has a knack for finding gnarly lies in the Bermuda rough, and Johnson's patchy stretch allowed Sungjae Im to catch him atop the leaderboard at 12 under before Johnson bounced back with a closing birdie to secure the lead heading into the final two days. If Johnson is to right the ship and win the $15 million, he's going to have to re-discover the cut.
Rory McIlroy became a father this week, as you're certainly well aware. He gave a bunch of super relatable quotes in his pre-tournament press conference—or at least, that's what I gather from my peers with children, as I cannot speak from experience.
Anyway, he did something else super-relatable on Saturday—tried to do way too much with a bad lie, and hit the ball about 20 yards straight into water.
McIlroy's tee shot on the par-5 18th ran 370 yards through the fairway, into a patch of rough just short of the water hazard. The ball sank so deep it was not visible on the broadcast as McIlroy took a long iron and attempted to get it to the green, instead of playing it safe and laying up to a wedge yardage. He did not make solid contact at all and the ball tumbled directly into the water. Yikes.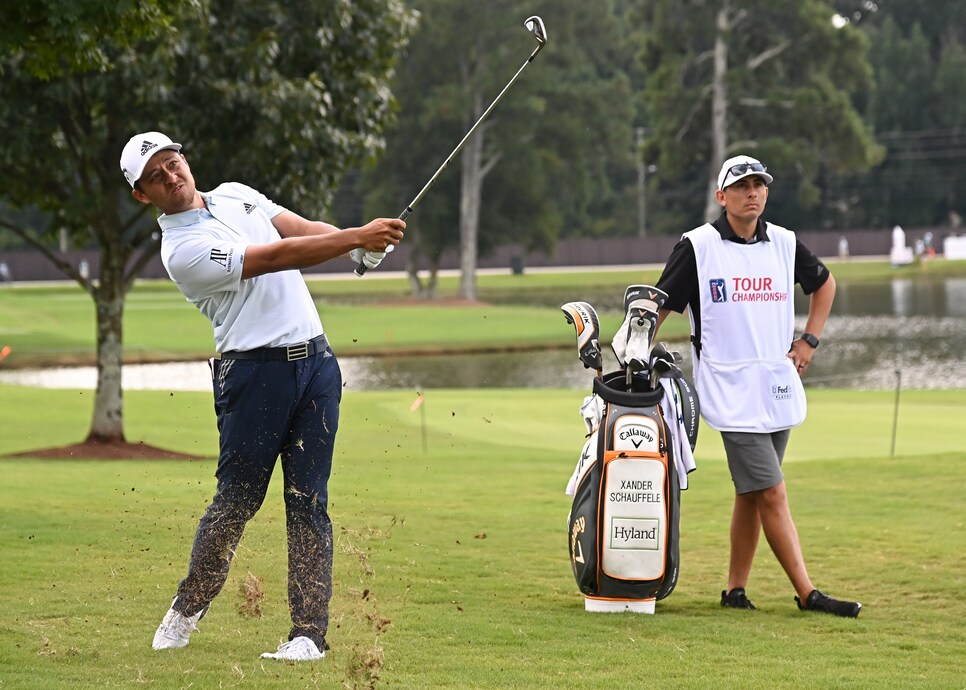 Xander Schauffele hits a shot on the eighth hole during the second round of the Tour Championship.
Ben Jared
McIlroy wound up making bogey for a one-over 71 and will enter Sunday five back.
Xander Schauffele lives under the radar
It's been a quiet year for Xander Schauffele, who seems to specialize in staying under the radar. He has two runner-up finishes on the wraparound season and six top-10s, but a player of his caliber will be expecting at least one victory per season, even in a shortened one like this.
Schauffele has a chance to completely shift the narrative with a victory this week and put himself in great position to do so with a five-under 65 on Saturday, which paired nicely with his 67 on Friday. At eight under gross through the first two days, he and Im have shot the lowest raw score through 36 holes. He's won this tournament before, as a rookie in 2017, and will love his chances to cap off a so-so year with a $15 million bang.
After Friday's opening round, Jon Rahm seemed a great bet to win the Tour Championship. If we look past his bonehead penalty from Saturday at the BMW, he played his final 36 holes at a brutal Olympia Fields setup in 11 under. He then rode an unconsciously hot putter to a 65 on Friday and immediately erased Johnson's two-shot head start. We looked destined for a Rahm-DJ showdown for the second straight week.
Saturday was a struggle. Particularly the back nine. Rahm made the turn in even par but made bogey at 11, double at 15 after a rinsed tee shot and another bogey at 16. He needed a nifty up-and-down on the par-5 18th to salvage a back-nine 39 and a four-over 74. He's certainly not out of it, but the likelihood of Rahm vs. DJ Part II took a massive hit.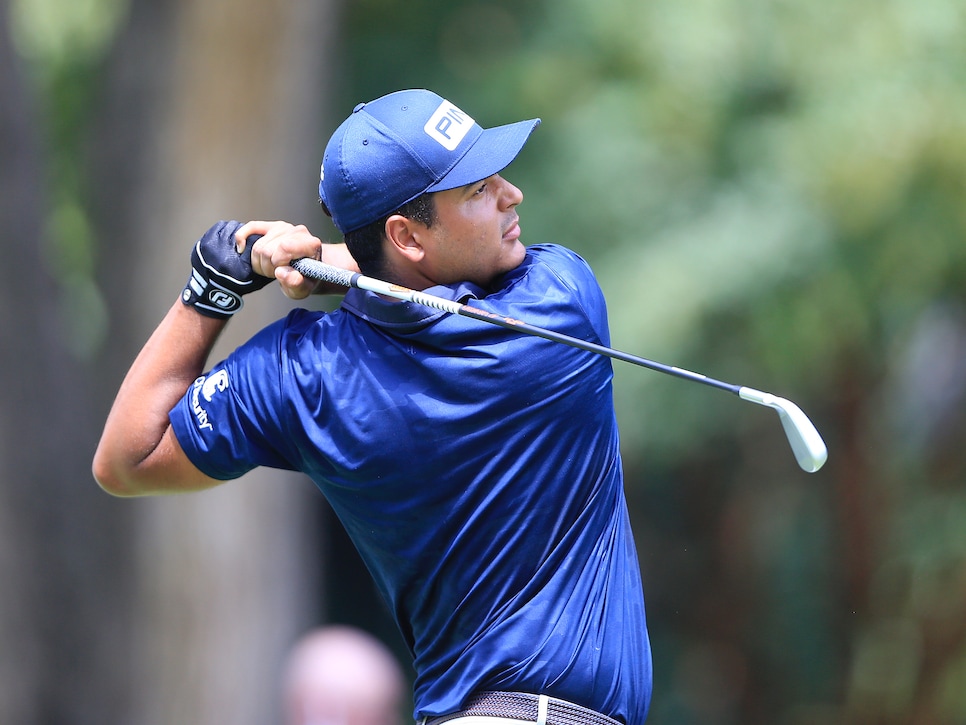 Sebastian Munoz tees off during the first round of the Tour Championship.
David J. Griffin/Icon Sportswire
Shoutout to Sebastian Munoz
Sebastian Munoz, a 27-year-old from Colombia, might be the least-recognizable player in the Tour Championship. In his first season on the PGA Tour, 2016-'17, he missed more cuts than he made and headed back to the Web.com Tour. He then worked his way back and finished 117th in the FedEx Cup standings last season—nothing particularly exciting but enough to keep full status for this year.
It's paid off. Munoz won the Sanderson Farms Classic in the fall and posted two other top 10s in the beginning of the season, which he has to thanks for a large portion of his FedEx Cup points. But when he posted four missed cuts, a T-48 and a T-74 in his last six events before the playoffs, his season looked destined to end before Atlanta. Not so. Munoz finished T-18 at the Northern Trust and shot 67-69 over the weekend at the BMW to book his spot in the Tour Championship, where he's now solo 10th after a Saturday 65. He's already into all the majors and all the big events next year; now he has a great chance to seriously pad the bank account. What a life-changing season this has been for the University of North Texas grad.