News
Rory McIlroy says he's giving his putter "one more week"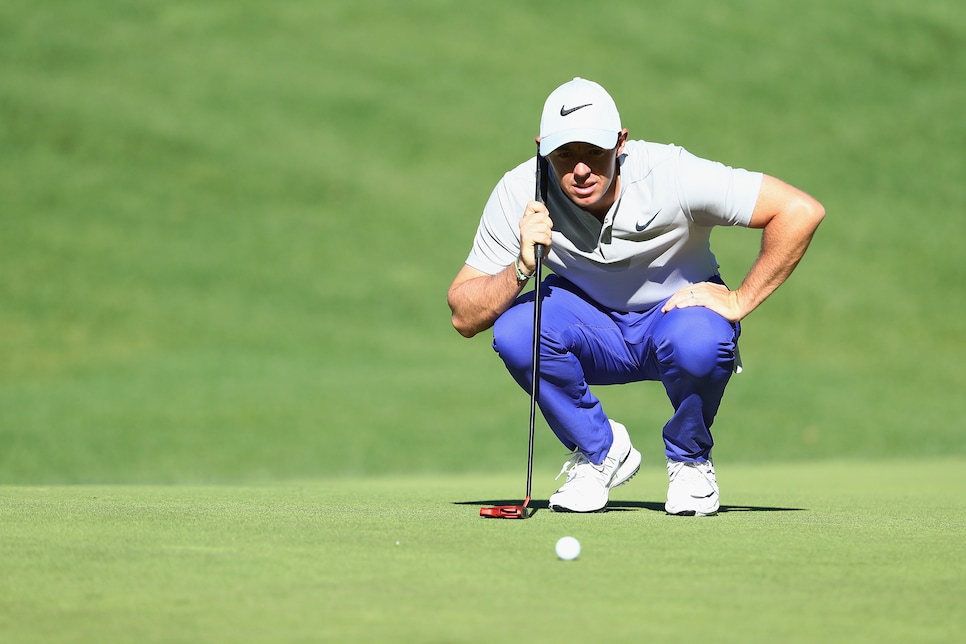 CROMWELL, Conn. -- Rory McIlroy's flashy new putter has been put on notice: Start working or go to equipment heaven. Or be turned into a fire poker. Or be melted into scrap metal. The flat stick's fate is still to be determined, but the club is running out of time to impress its owner.
"I come off the golf course a little disappointed with a 67, because I gave myself so many chances," McIlroy said following a three-under round to open the Travelers Championship.
"Tee to green game is where it needs to be," McIlroy added moments later. "It's just a matter of converting the chances I'm giving myself."
McIlroy missed five birdie putts from 10 feet or less, and on one of those attempts on No 18, he missed the ensuing tap-in. The four-time major champ did make several 13-15 footers, though, including one for par on No. 8, his second-to-last hole of the day.
McIlroy put the red TaylorMade Spider in his bag -- if we're being honest, it also clashed badly with his purple pants on Thursday -- ahead of last week's U.S. Open where he shot rounds of 78 and 71 at Erin Hills to miss the cut. It might wind up being a quick stint.
"I made a decision this week, I'd give it one more week and see how it performed," McIlroy said of the putter that's also used by Jason Day, Sergio Garcia and Jon Rahm (Dustin Johnson uses a black version). "But it's nothing to do with the putter, it's mostly what I'm doing with it."
McIlroy said he doesn't have two putters with him this week, but that TaylorMade dropped off a putter for his dad. "So I might have a look. . . " McIlroy said with a smile.