Olympics
Rory McIlroy says he's 'happy to be proven wrong' about the Olympics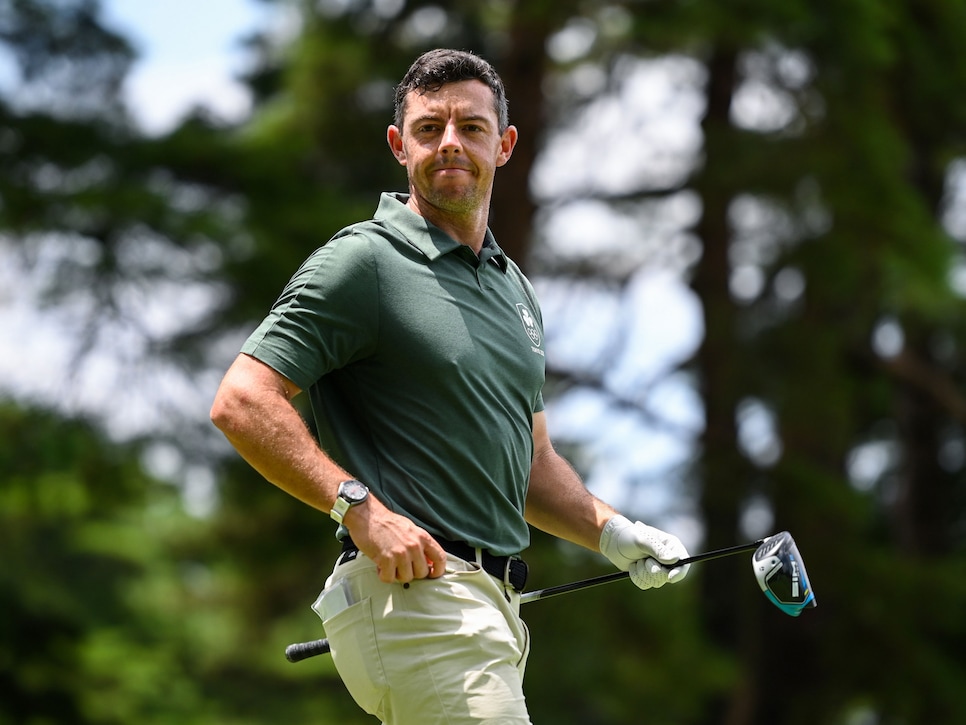 Rory McIlroy has had a change of heart about golf in the Olympics.
Ramsey Cardy
Rory McIlroy was firmly in the chase for an Olympic medal entering the final round at Kasumigaseki Country Club, a Saturday 67 leaving him just three shots back of Xander Schauffele in a tie for third place. No doubt that has something to do with change of heart he's displayed this week toward golf in the Olympics.
Even so, the newfound respect for competing in the Games has felt genuine, McIlroy acknowledging he had spoken too soon when in 2016 he memorably noted after announcing that he was not going to play in golf's return to the Summer Games in Rio, "I'll probably watch the Olympics, but I'm not sure golf will be one of the events I watch." And what would he watch? "Probably the events like track and field, swimming, diving … the stuff that matters."
On Friday, McIlroy sounded like golf also mattered, too.
"I never obviously competed in an Olympic Games, I watched them from a far, but being a part of something that's completely different and bigger than me and even our sport in general, that's a pretty cool thing," he said. "I didn't know if this was going to be my only Olympics that I play or whatever and I'm already looking forward to Paris [host for the 2024 games]."
There was more introspection on Saturday from the four-time major champion.
"I'm thinking about that. I need to give things a chance," McIlroy said. "I was speaking to my wife last night and saying maybe I shouldn't be so skeptical. But I think I need to do a better job of just giving things a chance, experiencing things, not writing them off at first glance."
On Sunday, McIlroy put on a late surge to post another 67, three shots shy of winning gold but getting into a seven-way playoff for the bronze medal at 15 under. He was one of five to make pars on the first two playoff holes, but when he missed a seven-foot birdie putt on the third, his medal chances were dashed. C.T. Pan from Chinese Taipai eventually won the medal on the fourth extra hole.
"It makes me even more determined going to Paris and trying to pick one up," McIlroy said after the playoff. "It's disappointing going away from here without any hardware, I've been saying all day I never tried so hard in my life to finish third.
"But it's been a great experience, today was great day to be up there in contention for a medal, certainly had a different feeling to it than I expected and yeah as I said I'm already looking forward to three years time and trying to go at least one better but hopefully three better.
This isn't the first international event that McIlroy has done an about face on after actually competing in it. You might recall McIlroy initially downplayed the Ryder Cup, calling it merely an "exhibition" before playing for Europe for the first time in 2010. Suffice it to say, he changed his stance quickly once experiencing first-hand the passion surrounding the event.
"That's sort of a trait of mine," McIlroy said, "but like I'm happy to be proven wrong. I was proven wrong at the Ryder Cup, I've been proven wrong this week and I'm happy that, I'm happy to say that."
On Sunday, McIlroy doubled down in acknowledging his mistake in prematurely judging the Olympic experience.
"I made some comments before that were probably uneducated and impulsive, but coming here experiencing it, seeing, feeling everything that goes on, not just Olympic golf but just the Olympics in general, that sort of Olympic spirit's definitely bitten me and I'm excited how this week's turned out and excited for the future."