Bright Ideas
Rory McIlroy came up with a brilliant idea to actually focus on playing golf on Thursday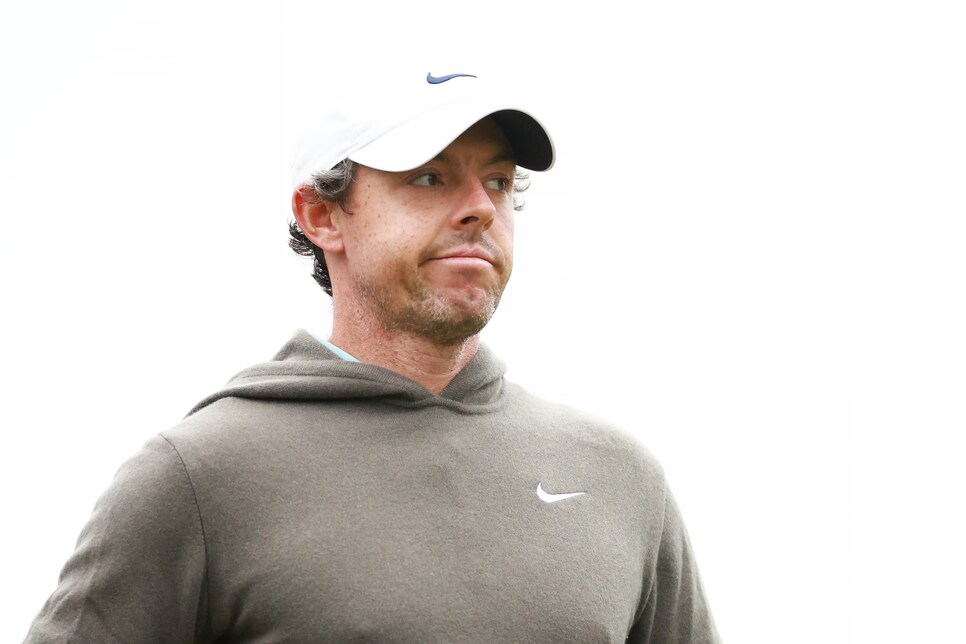 Rory McIlroy has done quite a bit of talking throughout this PGA Tour-LIV mess, perhaps too much talking. That was what made his decision to go silent on all the drama at the PGA Championship so shocking. The man is never afraid to give a nuanced answer, and suddenly he went full Marshawn Lynch, I'm-just-here-so-I-don't-get-fined mode at Oak Hill.
Avoiding the topic became an impossible task for McIlroy on Tuesday, when the shocking news of the PGA Tour-Saudi deal came to light. After going to bat for the tour and for its commissioner, Jay Monahan, McIlroy and the rest of the golf world were blindsided, the four-time major champion going as far to say as he felt like a sacrificial lamb.
Considering how much there is that we still don't know about this "deal," or whether it will actually even happen, there's no escaping the discussion in the near future for the Northern Irishman. He can, however, hide from it when he's actually on the golf course, which is exactly what he did on Thursday at the RBC Canadian Open. Knowing it would still be difficult to restrain himself with fellow European Justin Rose in his group, McIlroy decided to lay down some ground rules before they teed off at 7:33 a.m. ET at Oakdale Country Club.
"Rosie and I said, 'All right, no chatting until lunch so that we can actually concentrate on what we're doing out there.'" McIlroy said. "We started to get in a conversation walking down the 1st and we're like, No, let's stop this. Let's just focus on our golf and we'll say what we want to say when we get inside. So it was nice to play a round of golf and focus on something else for those five hours we were out there."
We don't throw the G-word around lightly, but this was a genius level move from McIlroy. Galaxy-brain stuff, some would call it. Give each other the silent treatment and go out and focus on your actual job: playing golf. It worked wonders for both players, Rose continuing his strong run of form with a three-under 69 and McIlroy salvaging a one-under 71 with a birdie at the last. No word on whether or not they both also ignored Omar Uresti, who replaced late WD Webb Simpson in their threesome.
It helped, too, that McIlroy got some solid shuteye ahead of Round 1.
"I got a good night's sleep last night," he said. "So it was nice to sort of recharge the batteries. I would say my energy levels on Tuesday and Wednesday were diminishing quite quickly. But I slept well last night and honestly felt -- it was an early start this morning. Alarm went at 4:15. But I felt good out there. I'll take a -- I'll do a little bit of practice this afternoon. Then I'll get another good night's sleep tonight and I'll be fine."
McIlroy said his Wednesday press conference was "the most uncomfortable" he's felt in the last 12 months, and that the more he can focus on birdies and bogeys, the happier he'll be. That's something just about everyone in golf can agree on.