The Loop
Rory McIlroy lurks, Jordan Spieth stumbles and the British are ~~coming~~ here: Friday morning Masters roundup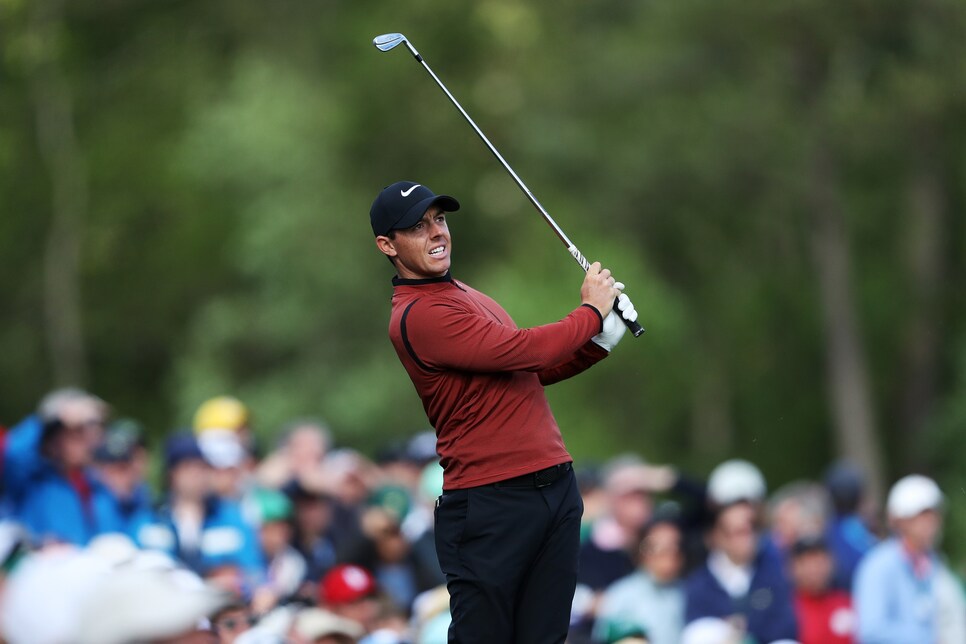 Welcome to the Dew Sweeper, your one-stop shop to catch up on the action from the golf world. From the professional tours, trending news, social media headlines and upcoming events, here's every golf-related thing you need to know for the morning of April 7th.
Make no mistake; history does not remember what happened on Thursday of the Masters unless its conqueror dons the green jacket. Which could be a shame for Charley Hoffman, who submitted one of the best rounds in tournament history. Hoffman's sizzling 65 was almost 10 shots better than the field.
Hoffman has played well this season, highlighted by a T-2 at Bay Hill and another top five at Riviera, and finished T-9 at Augusta National in 2015. In that same vein, Hoffman owns just one top 10 at a major, and recently turned 40. It's a history that makes old-time observers look at the rest of the leader board to prognosticate who will be left standing come Sunday night.
No matter. However the tournament shakes out the following three days, Hoffman -- for one shining moment, at least -- took center stage at golf's most sacred event, and put on the show of a lifetime.
Hoffman is 40. William McGirt, the journeyman who found his way to Augusta via Columbus victory and posted the second-best round on Thursday, turns 38 in June. In third sits 43-year-old Lee Westwood, with Phil Mickelson, age 46, in the group at T-4. Ernie Els, in likely his final Masters at 47, used a late run to propel himself into the tournament conversation.
The top ranks of golf may have transformed into a young man's game. But in turbulent conditions, it was a host of veterans that displayed the patience and creativity to make it through unscathed while the fledgling stars looked lost, confused and irritable.
Hell, I wouldn't be surprised if Gary Player took at Thursday's happenings and decides to give it a go in 2018.
He was close. Oh, was McIlroy close to falling off the map on Thursday. Through 12 holes, the wind confounded the four-time major winner. Forget a run at the Grand Slam. His stubbornness to keep fighting the gusts instead of keeping the ball low foreshadowed another lost opportunity for glory.
Yet McIlroy -- one who has been chided for his inability to grind in past situations -- managed to stop the bleeding, making tough up-and-downs when he needed them most. He stayed afloat long enough to cash in on a back nine birdie run, turning a would-be 78 into a respectable 72. A mettle many believed he lacked.
"My short game really saved me today, especially on 10, 11 and 12, which were huge," McIlroy said. "I know I did my best out there and I gritted it out."
A round that left more than a view onlookers elbowing each other at the end of the day, undoubtedly sharing an unspoken agreement: here comes Rory.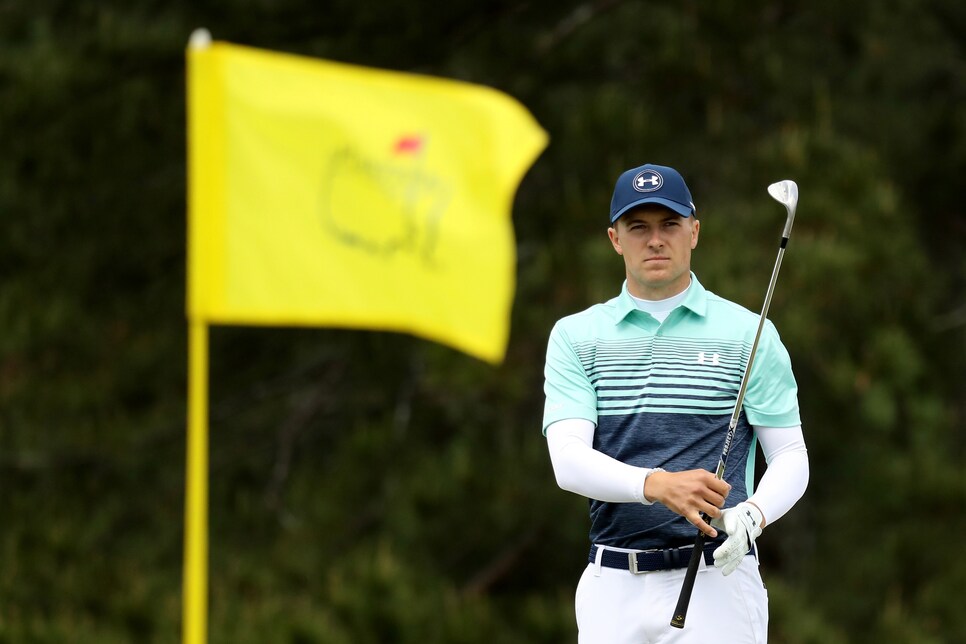 Is Spieth's tournament already sunk?
For the second consecutive round at the Masters, Jordan Spieth recorded a quadruple bogey on the back nine of Augusta National, sending his third shot at the par-5 15th into the water and proceeding to make a mess of things from there. That he managed a 75 with a nine on the card is somewhat miraculous.
"I still thought of it as a birdie hole today, but it really isn't when you lay up," said Spieth of the 530-yard 15th. "So I didn't take my medicine and hit it about 15 feet right with a club that takes the spin off."
While he's not out of the tournament, it was a curious sight. Spieth doesn't have the distance or pizzazz of golf's other stars. What makes Spieth Spieth is bringing a fundamentally-sound "B" game to the proceedings, which sounds like a slight but a sentiment desired by his colleagues. Which makes his last two Masters outings confounding. If he can't punch his ticket in such conditions, what is his platform going forward?
Keep in mind, the kid is still 23, with two victories and six top-4 finishes in majors already on the resume. On the opposite end of the spectrum, Spieth is beginning to set a dangerous trend, one that needs to be curtailed before blooming into something bigger.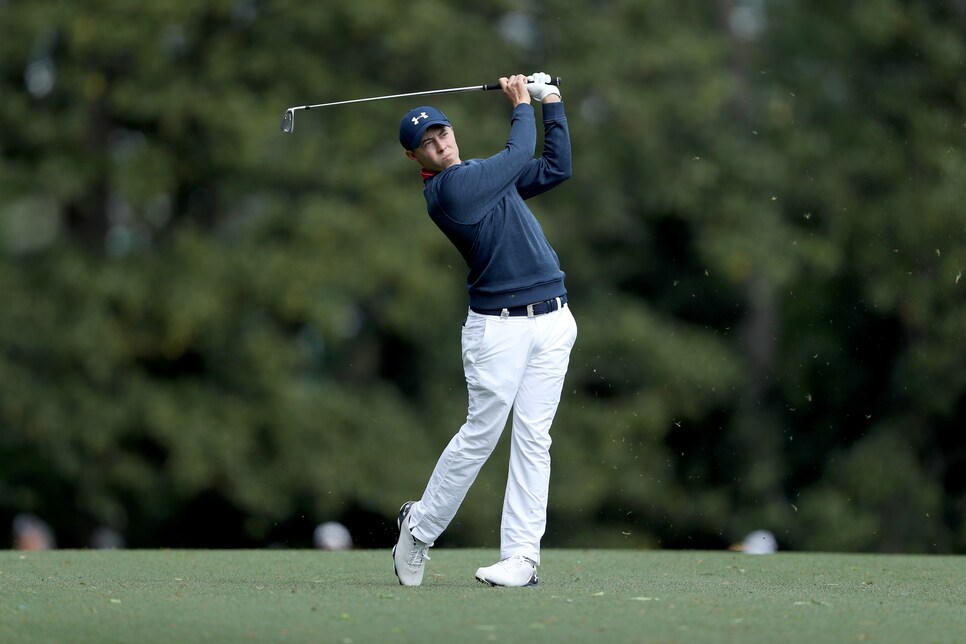 The British are coming here
Eleven players are T-4 or better on the leader board, four of which -- Westwood, Andy Sullivan, Justin Rose and Matthew Fitzpatrick -- carry St George's Cross next to their names. Perhaps we shouldn't be too surprised; Thurday's windy theater reminded one of an Open Championship venue rather than that of the Masters.
But for those chalking it up to a weather oddity, five Brits finished in the top 10 in last spring's tournament, including its winner Danny Willett. Justin Rose has come close at this tournament before, and is at full health for the first time in years. Fitzpatrick, one of the game's rising entities, has a temerity unseen at age 22, while Sullivan and Westwood are brilliant in the wind, which is scheduled to sweep across Friday's forecast as well.
America won its independence in 1776. But Augusta National is turning into a foreign-controlled territory.