Irish Open
Rory McIlroy returns to Mount Juliet and his favorite memory: thinking about snatching Tiger Woods' glove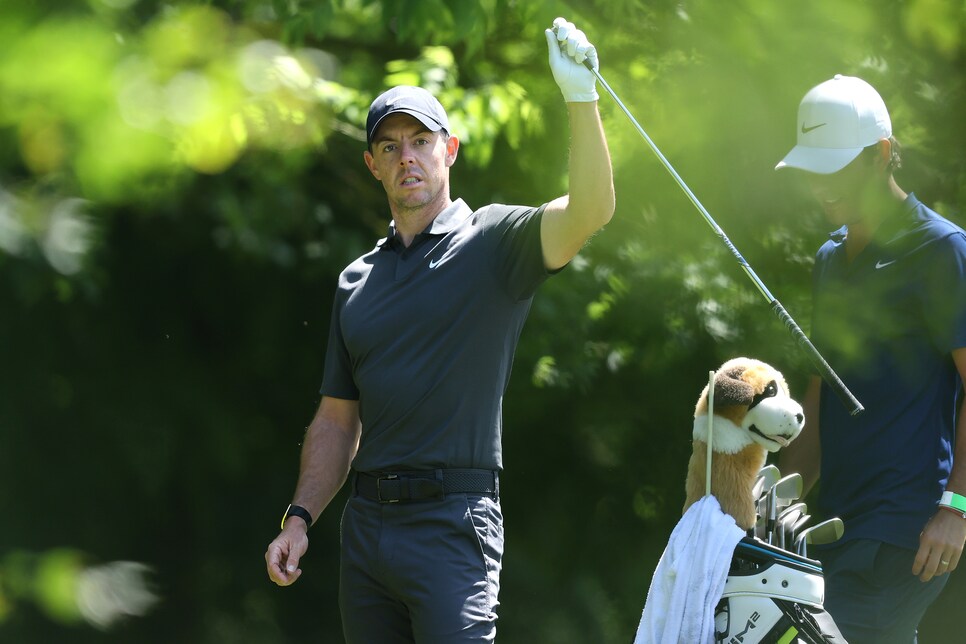 Rory McIlroy plays a practice round ahead of the Irish Open at Mount Juliet Golf Club.
Warren Little
For Rory McIlroy, hope has been replaced by expectation. Buoyed by what was an ultimately disappointing T-7 finish at the recent U.S Open, the World No. 10 is back in his homeland to play in what will be his first Irish Open since 2017. He is also making a long-awaited return to Mount Juliet, a course he has never played but where he took in a pair of World Golf Championships as a youthful spectator back in 2002 and 2004.
The first of those represents a special memory for the four-time major champion. It was during the WGC-American Express Championship that the then-13-year-old Rory first set eyes on his golfing hero, Tiger Woods. He got close to the great man, too, close enough to battle temptation.
"The last time I was on the 18th green here was during the prize ceremony when Tiger won," McIlroy said. "I sneaked under the ropes and got myself a spot right behind Tiger. His glove was still in his back pocket, and I was so close I could have grabbed it and ran off. Which would have been a good story to tell him.
"The first shot I saw him hit was a drive off the fifth tee. He hit a 2-iron into the green. It was so cool. I idolized him growing up, and to see him in the flesh was pretty exciting."
That same level of exhilaration wasn't evident in McIlroy this time round, but ominously for the field this week, he was talking a good game despite the jet lag he was feeling after landing in Dublin Tuesday morning at 5:15 a.m. Any disappointment he felt leaving Torrey Pines earlier this month has clearly been outweighed by the prospect of what lies ahead.
"I was encouraged walking away from the U.S. Open," he claimed. "To have a share of the lead on the final day through a few holes was good. I gave myself a chance. Looking back, the one thing I kick myself for is the three-putt on the 11th green. From there, I was chasing a bit. And that is a hard course to chase on. The double on 12 stemmed from a bad break. But the 11th stopped my momentum. I hit my best shot of the day there into the middle of the green. But the three-putt was sloppy. The whole week was a real positive though. There was more certainty about what I was doing, which led to me being more comfortable.
"I've been saying for most of the year I've got a better understanding of my swing," he continued. "I've got something that is a touch more reliable under pressure, which comes from the work I've done. I've got more control of the clubface. There's more stability through impact. I went out on Sunday at Torrey with a plan and knowing what I needed to do to play well and win the tournament. Over the last few years, it's been more of a wishful/hopeful kind of thing. Now I have a much more comfortable feeling."
There's more to come, of course. After this week, McIlroy will compete alongside the new U.S. Open champion Jon Rahm, as well as the likes of Justin Thomas, Collin Morikawa, Xander Schauffele, Tyrrell Hatton, Scottie Scheffler, Will Zalatoris and Lee Westwood, in next week's Scottish Open, before making his way to Royal St. George's for the Open Championship. The Scottish was a late addition to his schedule. And McIlroy explained why.
"Until last week my family were going to travel over here with me for all three weeks," he said. "My original plan was to play here, take a week off, then go to the Open. But with me being exempt from many of the COVID restrictions as a sportsman, I felt like it wasn't fair to put them through what they would have to do just to be here with me. So the plans changed. I made the decision to travel on my own. And it made sense to play in the Scottish. It will be nice to get an event in on a links before going to Sandwich. So, if anything, this has all worked out for the best."
Then there are the Olympics, the climax to the FedEx Cup, the Ryder Cup and the season-ending Race to Dubai. McIlroy has his eye on all of the above, albeit his targets were couched in conservative language. Oddly, the talk was more about creating opportunities for ultimate success more than actually winning.
"Getting myself into contention at the Open would be great," he said. "Having a chance to win the FedEx Cup and the Race to Dubai are both goals of mine. I want to have a great Ryder Cup. That's very important. There's a lot of golf to play but they are the main goals. I want to give myself a chance in all of those events."
Starting this week. And, as ever, a nation both hopes and expects.