News
Rory McIlroy has a tournament title within his reach for a second straight week. But can he close on Sunday in Dubai?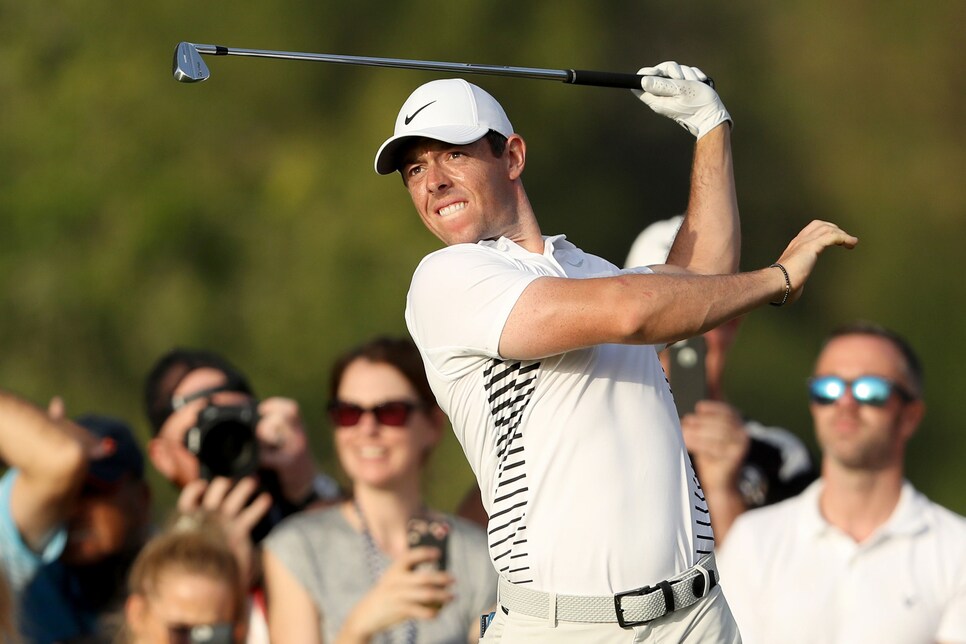 David Cannon/Getty Images
DUBAI — It is supposed to be a wee bit windy for the final round of the Omega Dubai Desert Classic. Which is probably just as well. Over the first three rounds of the oldest tournament on the European Tour's "Middle East Swing," many liberties have been taken with the Majlis course at the iconic Emirates Club.
For one thing, the delayed halfway cut on Saturday morning came at five under par, a record low for the event. And for another, rounds in the 70s have come to be looked upon as scores to be pitied rather than admired. No wonder then that the 54-hole lead held by Li Haotong is 20 under par, a total good enough to give the Chinese player only a one-shot edge over Rory McIlroy.
It was well-earned though. Three strokes behind McIlroy after two rounds, Li played much the better as the field continued to play catch up after the three-hour fog delay on Thursday morning. By round's end, Li would make eight birdies and no bogeys for his 64. In contrast, McIlroy, after playing the last seven holes of his second round in five under par to move atop the leader board, was uncharacteristically sloppy, at least on the front-nine he played in one over par.
An eagle on the par-5 10th turned McIlroy's day. And three more birdies (he could and should have had maybe two more) saw him finish in 68, two clear of the men in third place, Alex Levy and Haydn Porteous. No one else is within five shots of the leader. By the close of play, perhaps heartened by a closing pitch-and-putt birdie after laying-up short of the water, McIlroy was in philosophical mood.
"The front-nine holes just weren't a true reflection of where my game is," he said. "But to come back in five under was very nice. Plus, I'm in the final group tomorrow, which will be a good thing. It's two weeks into the season and already I've got my second chance to win a tournament. So I can't complain too much."
As for Li, he was justifiably all smiles at the end of a round distinguished by two things: the efficiency of his play and the slowness of it. At times, he was positively glacial.
"I just wanted to play by myself and play my game," he said. "I thought if I just stayed patient, I'll play good. So I just stayed patient all day."
Which is all very well. For him. But it was obvious at times how much he was testing the patience of his playing partners, McIlroy and Jamie Donaldson, who subsided to a 75 after his opening-round 62.
"It's always hard for the quicker player because he always has to adapt to what the others are doing," said a diplomatic McIlroy. "Sometimes it's tough for me because I'm usually the longest in the group. I'm up at my ball and then there are two guys still to hit. I can feel like I'm waiting an age to hit. But I've gotten used to it. I've been on tour 10 years and had my fair share of slow play."
There might be more to come in the final round. Li and McIlroy will play together at the tail of the field.