News
Jamie Donaldson threatens shooting the European Tour's first 59, 'settles' for a 62 as low numbers rule in Dubai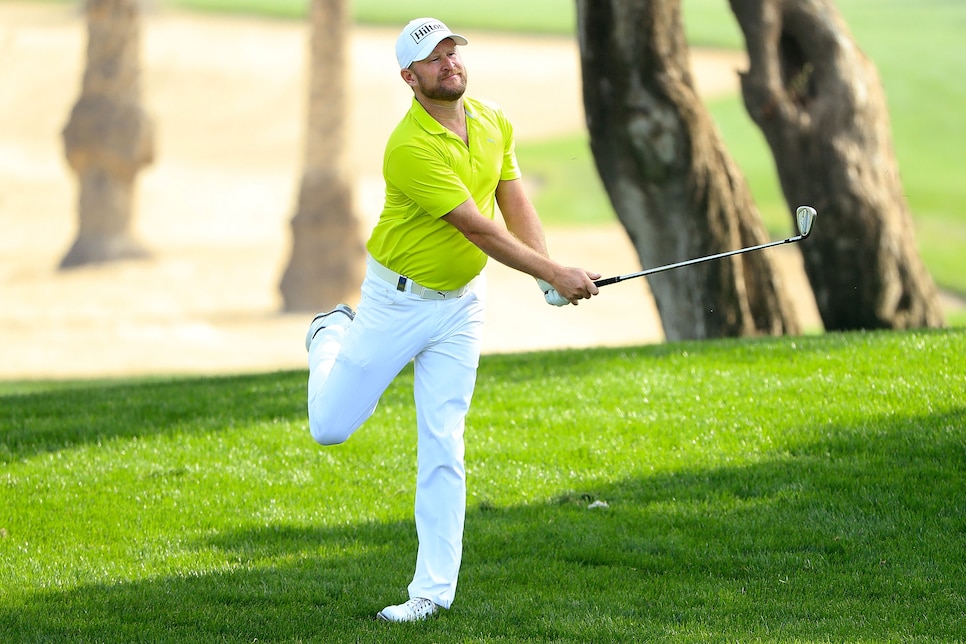 Andrew Redington/Getty Images
DUBAI — Yes, the conditions were close to perfect. No wind, clear blue skies and almost pristine putting surfaces. But hang on a minute. When as many as 25 men shoot 67, five under par, or lower, in the opening round of the Omega Dubai Desert Classic, a long-established European Tour event, it is time to pay tribute. Especially when the course in question is the Majlis course at the Emirates Club. No pushover normally.
But it was today. Welshman Jamie Donaldson leads the way with a 10-under 62 that for long enough had 59 enthusiasts everywhere in a bit of a tizz. Sadly, it wasn't to be. Eleven under with two holes to play, Donaldson—the man who memorably recorded the winning point for Europe in the 2014 Ryder Cup at Gleneagles—finished par-bogey. It was, even for the man himself, a bit of an anti-climax.
"I knew what was on the cards out there," he said. "With five holes to go, I started thinking about 59. I thought, 'Just birdie every hole coming in and you've done it.' I didn't know the course record. I was only thinking of 59. I probably shouldn't really have been thinking that. Should have been concentrating on hitting fairways and hitting greens, giving myself chances. But I'm really happy with the way I played. I drove the ball fantastic and putted really well. And you can never be disappointed with 10 under, can you?"
Maybe, maybe not. You certainly can be a little down after shooting a 65 … if your name is Rory McIlroy that is. Fresh from shooting 18 under par and finishing T-3 last week in Abu Dhabi, the four-time major champion continued in similar vein on a course where he has twice finished first over the course of his decade-long career. But it could and maybe should have been better.
On four occasions, McIlroy missed legitimate birdie putts from relatively short range, although a couple of unlikely 25-footers did fall by way of some compensation.
"Any time I hit the fairway, I'm able to get close to the pin, so my iron play has been pretty good over these last five rounds," McIlroy said. "I was a bit erratic off the tee today, but there are a lot of doglegs on this course. Trying to cut corners makes the fairways play narrower."
Which is not to say McIlroy spent all day in the long grass. More than once his peerless combination of length and accuracy off the tee was enough to make his playing partners, Sergio Garcia and Henrik Stenson, look a little ordinary. On the par-5 18th—his ninth—McIlroy found the back fringe of the green on a hole measuring 564 yards with a drive and a 7-iron. His tee shot, which left his companions 70 yards in his wake, finished only 191 yards from the pin. Yet still he wasn't completely satisfied.
"I don't feel like I particularly hit the ball that well off the tee," he claimed. "I got away with a few tee shots, but I managed my game well. I did everything I needed to do. It was very benign out there, perfect scoring conditions, and I was able to take advantage."
Others to do so included a cluster of Englishmen: Anthony Wall (63), David Horsey (63), Tyrrell Hatton (64) and recently crowned South African Open champ Chris Paisley (65).
All of which was a lot better than the score shot by their compatriot Danny Willett. Two under par with two holes to play, the former Masters champion looked set to end a miserable run of scores stretching back many months.
Hold that thought though. After driving way right off the eighth tee (his 17th) into the desert, Willett made a disastrous triple-bogey 7. Even then, worse was to come. The 2016 Desert Classic champion found the pond fronting the ninth green with his approach, then four-putted from only 12-feet for a quadruple-bogey 8. The end result was a 77, highest score of the day.