News
Rory McIlroy finds the upside after missing the cut at the AT&T Pebble Beach Pro-Am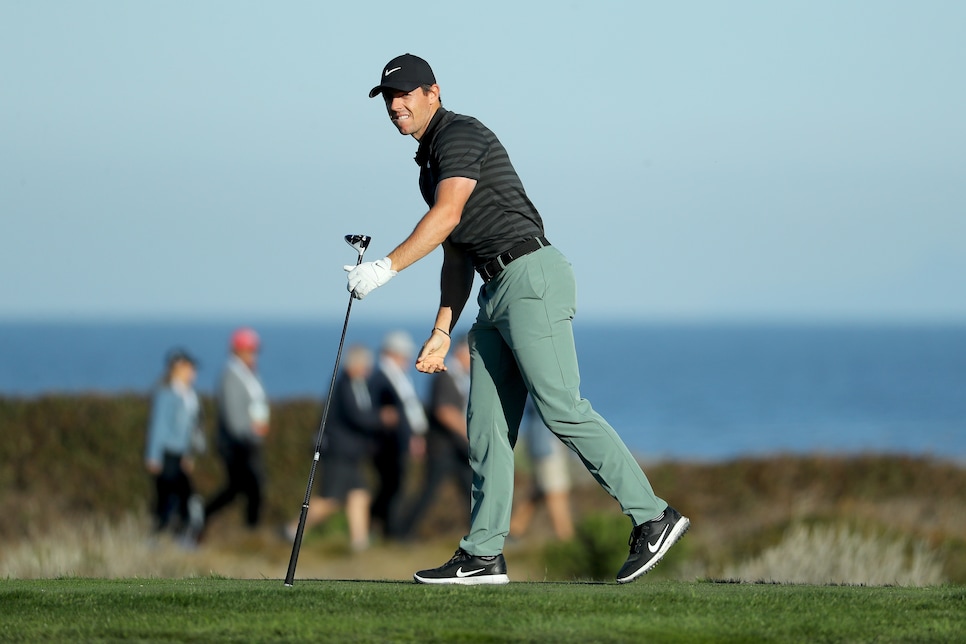 PEBBLE BEACH — His first visit to the AT&T Pebble Beach Pro-Am wasn't a total loss. Rory McIlroy spent some quality time with his father, played three stellar American golf courses and soaked up some of the most gorgeous weather in memory in an event famous for its climatic conniptions.
Forgettable was his golf game, and then mostly just his putting. McIlroy wasted countless scoring opportunities with a raw display of the doldrums, and failed to make the cut. A one-under 214, which included an even-par 72 Saturday at Pebble Beach Golf Links, the four-time major winner was two strokes shy of qualifying for a fourth round.
Among the five top-10 players in the World Ranking in the field (Dustin Johnson, Jon Rahm, Jordan Spieth and Jason Day are the others), McIlroy was the only one dismissed early. He didn't look all that broken up, even as he departed the proximity of breathtaking Stillwater Cove knowing he wasn't going to be back Sunday.
"Honestly, I'm fine, because my ball-striking was really good for the three days," he told Golf World. "I just left too many shots out there. I have to learn to trust my lines, especially on these Poa annua greens. I have a little bit of work to do in that regard, but I'm really looking forward to Riviera [this week]. I love that golf course, and I expect some better results."
McIlroy, who enjoyed a strong start to his year on the European Tour after an injury-plagued 2017, admitted that the greens "got in my head" after Friday's 38 whacks at Monterey Peninsula Country Club highlighted by five unfulfilling strokes at the par-4 fifth, his 14th hole of the day. He had 90 putts in all over three rounds, rather less hideous than it could have been, but frustrating nonetheless when the rest of his game was significantly strong.
"I hit the ball well. I hit the ball well at Spyglass, and I scored well. I missed two greens yesterday, only missed one fairway, and I shot three-over. So that wasn't too good on the greens," said the World No. 8 from Northern Ireland. "Today, I hit some really good shots and, yeah, I just need a few putts to fall, and I think sometimes with these poa annua greens you start to get a little bit tentative with them and it just gets away from you. So I let the greens yesterday get into my head a little bit, and it was hard to get out of that mindset."
More than likely, McIlroy will ruminate less on the putting hiccups and more on his final hole as he prepares for this week's Genesis Open at Riviera Country Club near Los Angeles and then the Honda Classic in West Palm Beach, Fla.
After pulling his tee shot left into the rocks at the par-5 18th, he took a penalty drop and proceeded to laser a 4-iron from 238 yards that found the front of the green, tracked towards the hole and rattled off the flagstick. McIlroy sank the nine-foot birdie putt—something far better to put inside his head.