News & Tours
Rory McIlroy contends overseas players have 'brilliant' chance to become PGA Tour elite, while others strongly disagree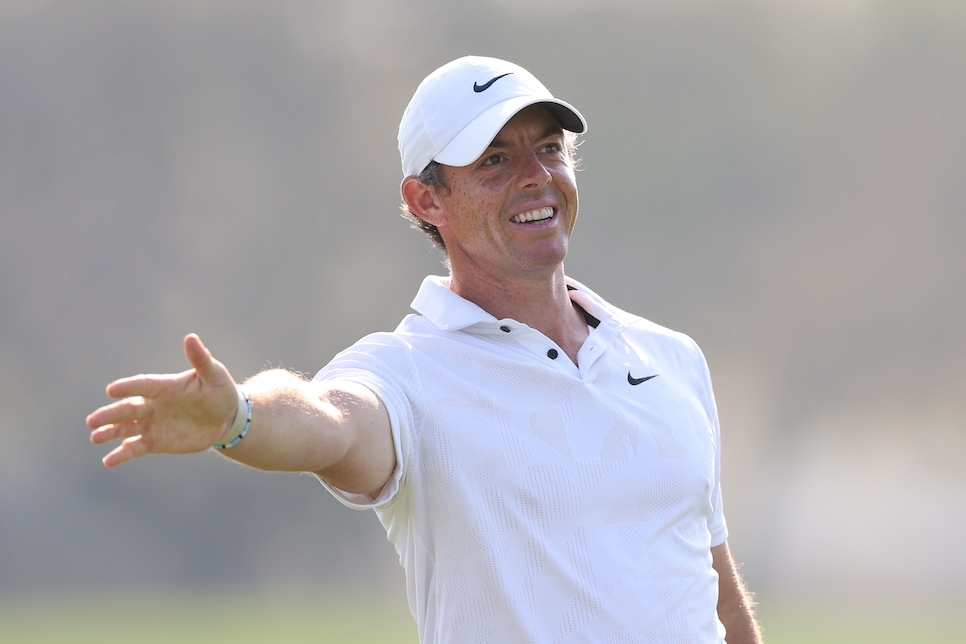 Rory McIlroy reacts to his shot from the 14th tee during the second round of the Arnold Palmer Invitational.
Richard Heathcote
ORLANDO — Rory McIlroy has hit back at claims the strategic alliance between the DP World Tour and PGA Tour has been hurt by significant changes to the U.S. circuit's designated events.
England's Richard Bland was among those who called out the strategic alliance, questioning how changes to the PGA Tour's series of $20 million "designated" events would work alongside a previously announced decision to grant 10 PGA Tour cards to the top finishers (not already exempt) on the DP World Tour's season-ending rankings.
Revealed on Wednesday at the Arnold Palmer Invitational is that in 2024 eight of the PGA Tour's $20 million designated events will feature reduced fields sizes of between 70 and 78 players as well as no 36-hole cut. Those elevated fields are set to be filled by: the top 50 players who qualified for the BMW Championship in the previous season's FedEx Cup Playoffs; the top 10 on the current FedEx Cup standings not already exempt; the five top performers in non-designated events; and some, if not otherwise eligible, from the Official World Golf Ranking.
McIlroy said the pathway was still ideal for Europeans wanting to ply their trade in the U.S.
"I think everyone knows [the PGA Tour] is the place that you want to play golf, right?" McIlroy said Friday after a 69 brought his total back to two under par at Bay Hill. "It is what it is … people complain about these 10 cards going to the European Tour players that get on this tour. But, if I'm a European Tour player, that's brilliant."
McIlroy, who has played fulltime on the PGA Tour in all but one of the last 14 seasons, was asked if he'd come across European players who don't aspire to compete in the States.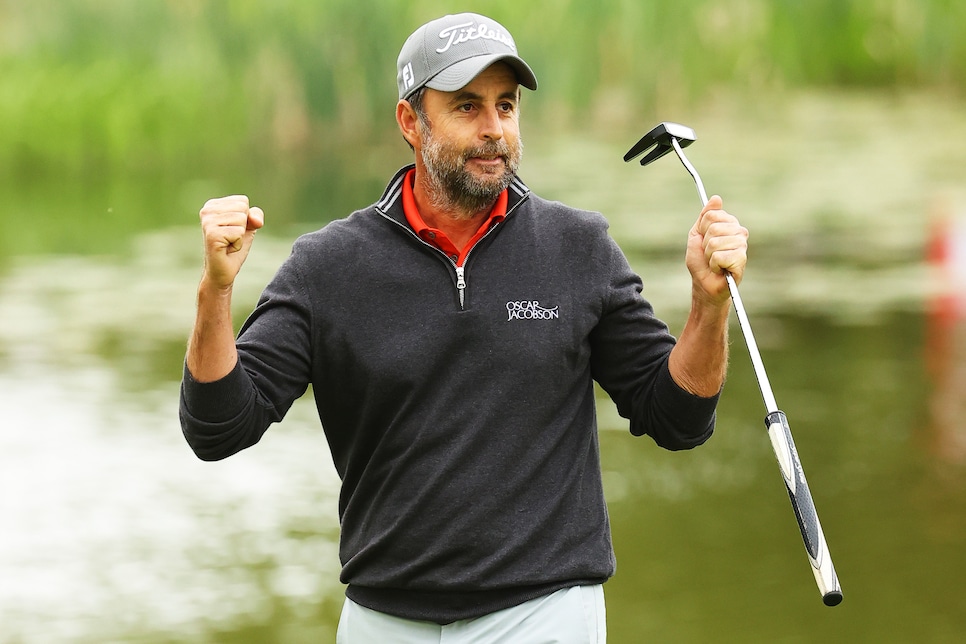 Richard Bland celebates winning the 2021 Betfred British Masters.
Andrew Redington
"I have to be careful about what I say here," he said. "There's a lot of big fish in a small pond in Europe. Then, when they get over here, they find it difficult and they don't like it. And then they go back to what's comfortable."
Bland, 50, is a one-time winner on the DP World Tour. He made three non-major starts on the PGA Tour last year before moving to Saudi Arabia-funded LIV Golf. Although Bland and other LIV recruits were banned from the PGA Tour, a U.K. arbitration court decision temporarily allowed them to continue to play on the DP World circuit until a final ruling is made.
Bland took to social media to claim the European graduates would have "zero chance" of getting into the PGA Tour's designated events. It must be pointed out that seven high-profile PGA Tour players have work to do to qualify for the elevated tournaments, including Will Zalatoris and major winners Adam Scott, Webb Simpson and Hideki Matsuyama.
"How does this help the so called strategic alliance with @dpworldtour?" Bland wrote on Instagram. "The 10 players will have zero chance of getting in these limited field events!! Making their chances of keeping their playing rights VERY difficult!! Just proves that the @pgatour have no interest in this alliance. And of course this is 'growing the game.' $20 million, limited field, no cut … sound familiar."
Former PGA Tour winner Hudson Swafford, who joined LIV golf but is out injured, responded to Bland's post: "It doesn't help the @dpworldtour at all… sad!" DP World Tour stalwart Lee Westwood also replied: "Wait until 2024!"
Four-time major winner McIlroy added that he would prefer some DP World Tour flagship events, such as the Scottish Open, Irish Open and BMW PGA at Wentworth, become designated by the PGA Tour to create "more of a world tour schedule."
"Instead of trying to think about what's good for the tour, think about what's good for the players that are on that tour," McIlroy said of the pathway to the PGA Tour. "I think that's where people need to sort of reframe their mind a little bit. To have the opportunity to be in the top 10 in Europe and then get over where all the opportunity is—and I'm not saying there's no opportunity over there [because] there is—but the one thing I would like to see going forward with this sort of designated events schedule is trying to get some of those tournaments in the mix overseas."
Changes to the designated events were largely welcomed this week from within the PGA Tour and its top players, while some of the lower-ranked pros saw some holes in the concept. Kevin Chappell, a one-time PGA Tour winner in 271 starts who currently ranks 191st in the current FedEx Cup standings, tweeted, "The (carrot) sure has gotten bigger, but it seems to have been moved further away from the majority of those playing professional golf. I believe this could lead to shorter but more lucrative careers like tennis."