The Grind
Rory McIlroy daggers the Shark, Pat Perez's wife offers an "iconic" quote, and the worst LIV Golf contract (and excuse) yet
Welcome to another edition of The Grind, where we long ago backed a rival league to the PGA Tour. Competing on the HGGA Tour for the past two decades meant giving up my dream of playing with the world's best players, but it was too exciting of an opportunity to pass up. We are ruled by an iron-fisted—and sometimes inflated-handicapped—commissioner, but with just one 72-hole tournament all year, we get to spend more time with our families. And we don't have to worry about where the (paltry) prize money comes from because, well, it's from our own pockets. In any event, our big annual event begins in two weeks, but there's a LOT to get to first. Let's do it.
Rory McIlroy: Hey, Rory, is your back sore? You know, from carrying the entire PGA Tour? Seriously, what a week for the four-time major champ, who certainly looked like he was treating the RBC Canadian Open like a major. McIlroy played—and putted–like a man possessed, firing a final-round 62 and providing a big counter-punch to LIV Golf's inaugural event. Oh, and then he provided an actual shot at the Shark, Greg Norman, the CEO of the renegade league:
Ooo baby. Things are getting testy! It's kind of crazy, though, that Rory could win a full-field, 72-hole PGA Tour event that has a lot of history and earn one-third of what Charl Schwartzel made for winning a 48-man, 54-hole exhibition that doesn't even have a proper name. Pro golf is a bit out of whack right now.
Linn Grant: Last week I was gushing about Minjee Lee's swing, but now I have a new swing crush:
So jealous of that action. Oh, and it works. Not only did Grant become the first female winner in DP World Tour history, she did so in blowout fashion. Grant claimed the Scandinavian Mixed event by nine shots over Henrik Stenson and Marc Warren. NINE! And before you say, "Well, she was playing from shorter tees," keep in mind she was the only female to finish in the top 10 and she finished 14 shots ahead of her closest female challenger. The 22-year-old now has six worldwide wins since turning pro last summer.
LIV Golf coverage: First things first, this is not an apples-to-apples comparison seeing how the LIV coverage (for now) was commercial free because they don't care about making money. That being said, they did show a lot of golf shots. And their mid-round highlight packages showed even more golf shots and were well-timed. It was pretty action-packed. And even networks that do air commercials, could learn a thing or two. Case in point:
At the very least, maybe this whole LIV thing causes change that will make PGA Tour broadcasts a better product for fans to watch.
LIV Golf announcing: That being said, it was impossible to listen to this crew of bootlicking salesmen. Saying things like it's a sold-out event when the course is empty and practically everyone there got free tickets, raving about a pedestrian parkland course as if it's the second coming of Augusta National, and then the ultimate:
LOL. I know you're getting paid a lot of money, but c'mon. It really cheapens the product. Which is funny, because the people running the league certainly aren't cheap . . .
Bryson DeChambeau's contract: A reported $100 million for a guy who hasn't made a cut this year? Interesting. Then again, this is a league where they also offered $54 million on the spot to anyone who shoots a 54. Then again, that will literally never happen—at least, in a tournament—so that was a bit overblown. But you get the point. Money is (basically) no object. And kudos to Bryson for playing the family card even though he's single:
Also, these guys do realize that with lost endorsements they won't be making as much as they think, right? Not that future Bryson Jr. will ever have to worry about money.
The PGA Tour's response: First of all, waiting until the LIV Golf players officially teed off to send out that letter didn't seem necessary. What, were they not going to play in the event once they participated in the draft party and the practice rounds and the press conferences?
Second, the letter didn't seem as harsh as it could have been, particularly offering no timeframe for the suspensions. Maybe that was for legal reasons, but still, not as strong as we were led to believe, especially considering it's unclear how the four major championships will ultimately act. And that's the key to all of this. And finally, how was Jay Monahan not more visible until finally doing an interview with CBS on Sunday? Your league is in trouble! Get out there and fight! Guys like Rory and JT can't do it all.
Oh, boy. You know what time it is. Cue the music!
That's right, it's U.S. Open week, folks. And in addition to usual drama provided by the USGA setup, we're going to have PGA Tour pros and PGA Tour defectors mingling at The Country Club this week. Could be a real Jets-Shark(s) situation. Of course, everyone could also unite over their disdain for the USGA. Should be interesting!
Random tournament fact: All three previous U.S. Opens held at The Country Club resulted in a playoff. Which means there's a great chance we get to see that new two-hole playoff format this year!
RANDOM PROP BETS OF THE WEEK
—Rory will shoot a Sunday 62 to win the U.S. Open: 1,000-to-1 odds
—Rory will shoot a Sunday 62 to finish in the top 5 at the U.S. Open: 10-to-1 odds
—Rory will try to stuff a LIV Golf player into a locker this week: 2-to-1 odds
I wasn't kidding about someone possibly getting stuffed into a locker at The Country Club. Those things are roomy!
Wild times, man. Of course, Alan probably didn't mind too much considering his Phil book just came out. Norman just helped him sell a few more copies.
VIRAL VIDEO OF THE WEEK (GOLFER DIVISION)
This is great from Tony Finau while on the way to playing in the final group on Sunday. You can't be any looser.
Of course, all I hear is, "Tony Finau! Where he be now?!"
VIRAL VIDEO OF THE WEEK (CELEBRITY GOLFER DIVISION)
Jayson Tatum is WAY up in my book. Even if his FG percentage in the NBA Finals is way down.
THIS WEEK IN PUBLIC DISPLAYS OF AFFECTION (GOLFERS DIVISION)
Love this from Thongchai Jaidee after he claimed his first PGA Tour Champions title:
He's way up in my book as well.
THIS WEEK IN PUBLIC DISPLAYS OF AFFECTION (WAGS DIVISION)
Pat Perez's wife, Ashley, put out quite the video attacking Instagram haterz and praising her husband's ($10 million) decision to ditch the PGA Tour for LIV Golf:
That's an instant classic right there. Also, it's bad enough the PGA Tour is losing some of its top players, but now it's losing some of its most entertaining WAGs as well? Brutal.
"It's growing the global GDP of the game."—Bryson DeChambeau with a new twist on an old favorite! Always an innovator!
Congrats to Brooke Henderson for winning her 11th career LPGA title at the ShopRite Classic thanks to a walk-off eagle on the first playoff hole.
Oh, Canada! . . . Congrats to the U.S. for winning the Curtis Cup by a score of 15.5 to 4.5. I heard the Curtis Cup media day scramble was more competitive. . . . Justin Rose became the first PGA Tour player to shoot 60 while making bogey on the final hole. I'm guessing he would have felt better shooting 61. . . . Please read this Max Adler piece on Casey Martin. Why? Because it's really good. . . . And, speaking of good, these cookies are also really good: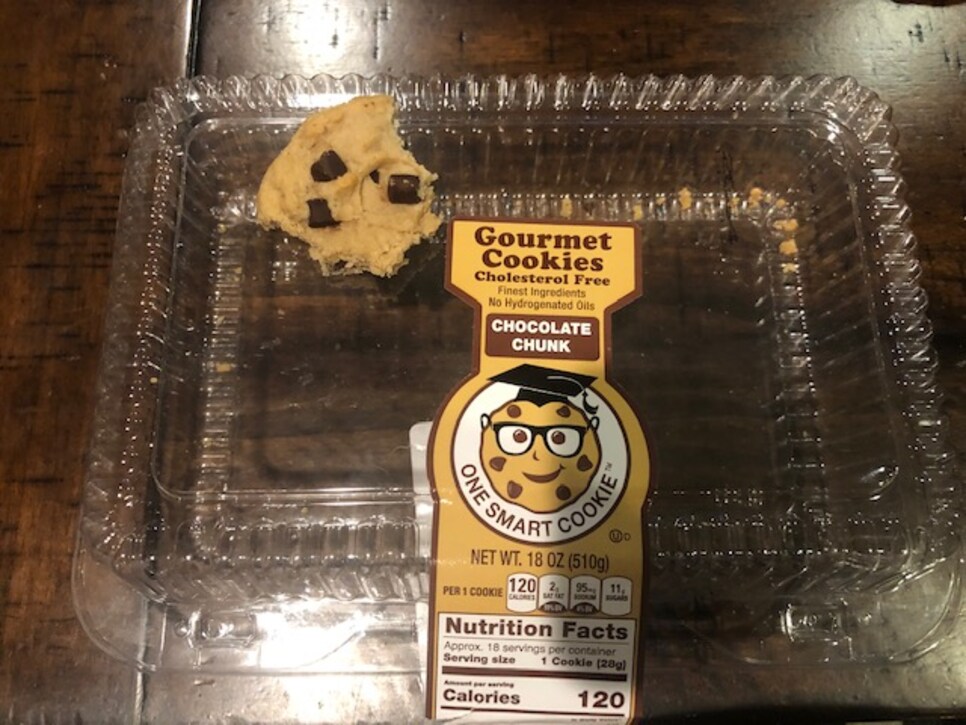 Good enough to give my beloved Costco cookies a run for their money. That good.
RANDOM QUESTIONS TO PONDER
Do I have a chocolate chip cookie problem?
Who will be the next PGA Tour defector?
Is YouTube interested in broadcasting the 2022 HGGA Championship?