FIRE PIT COLLECTIVE
Rachel Kuehn's point-clinching win in the Curtis Cup solidified her position in women's golf
Editor's Note: This article first appeared in Fire Pit Collective, a Golf Digest content partner.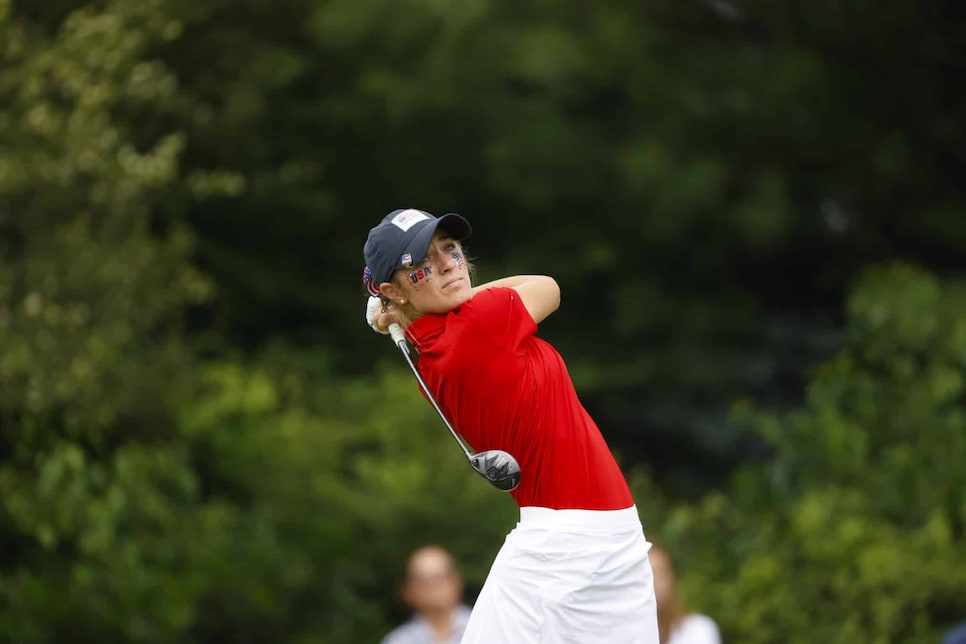 ARDMORE, Pa. – "Let's go, Rach!"
Windmill arms followed the chirp from Merion's par-4 10th tee box as Rachel Kuehn cheered on her fellow Rachel, Heck. And though she would quickly revert her focus to her own Curtis Cup match, she'd follow her excitement and concoct a birdie with a marvelous tee shot that landed in the center of the fairway, an easy wedge and a gorgeous 10-footer.
You wouldn't know it looking at Kuehn, but the dangerous, focused look she displays when she aligns her putter and employs her claw grip makes every earned point that much more lethal.
It's what Team USA needed in the Sunday singles matches, which were scheduled for an earlier start until thunderstorms rolled in, leading to a near four-hour delay. The red, white, and blue was up 8.5-3.5 entering the day and only needed 1.5 points to retain the cup.
Kuehn was slotted as the second player to head out for Team USA, a sensible choice given her track record throughout the week and high level of competitiveness.
After Kuehn took a 2-up lead through 5, her opponent, Caley McGinty, made gains to tie the match as they neared the turn. Kuehn would need four more holes to overcome her opponent after capitalizing on a costly bogey on No. 12.
When Kuehn's tough-as-nails demeanor transforms into a smiling young woman who makes sure she greets every kid in her line of sight (gifting any signed extra ball, pin or trading card she has in her bag), it's easy to speculate if they're two people.
"Do you play golf?" she asks a young girl in Merion's teaching center. It's almost instinctual, never for the camera. The young girl shyly hides behind her mother's legs with a smile. Her mother responds for her, saying her daughter wants to play like Kuehn someday. With a humble smile, Kuehn responds, "Hopefully, better than me!"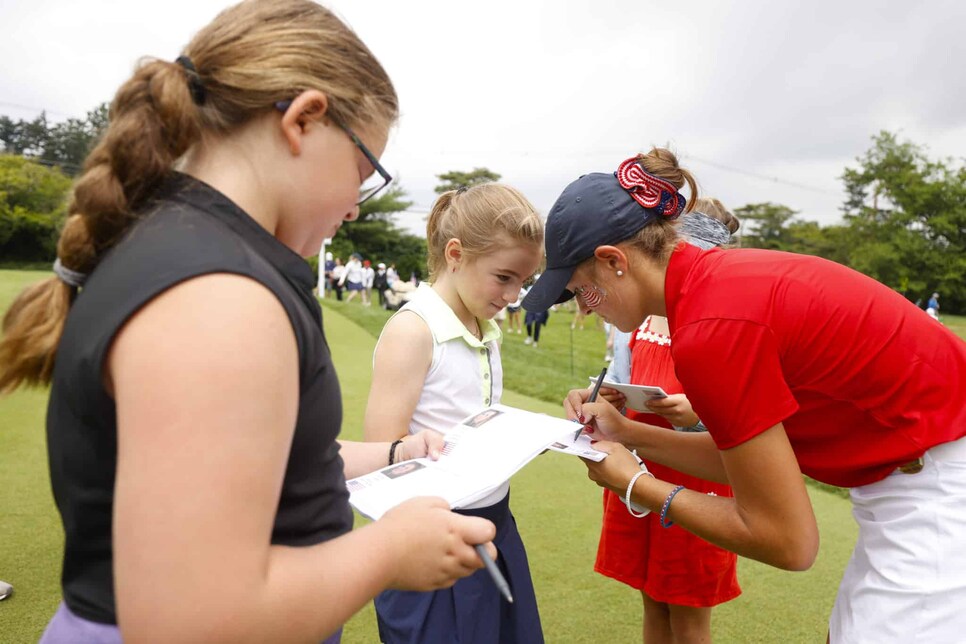 Kuehn signed her autograph for fans on Sunday at the Curtis Cup. (Chris Keane/USGA)
When asked about how frequently she goes out of her way to acknowledge young fans, Kuehn offered a profound response.
"That's the next generation of golfers," Kuehn said. Her usual prompt is name, age and if they play golf. Most reply that they're just starting. But she tries to ensure they walk away agreeing they'll get serious about the game.
There's a lingering narrative that reminds Kuehn that she's someone's daughter too. The lore that has attached Rachel to her mother, Brenda Corrie Kuehn, has been around for a while, but it intensified once their careers paralleled each other (North & South Amateur finalists, Curtis Cuppers who clinched the winning point). It dominated 2021's victory at Wales when Kuehn did it for the first time. This year, though, Kuehn has made quite the separation, a ways before her amateur career will end. (Kuehn is electing to take her COVID fifth year at Wake Forest.)
Brenda has no qualms acknowledging her daughter has surpassed her. After Rachel sank a par putt and bettered McGinty's bogey, Brenda was the first person to notify Rachel on No. 16 that she had clinched the half point needed for the 10 to retain the cup — and to respond with a warm hug for her poker-faced daughter.
"I don't want half a point. I've still got a match to play, Mom," Rachel said. She sealed the deal a few minutes later, 2 and 1.
Her teammate and No. 1-ranked amateur, Rose Zhang, watched from a Team USA cart alongside captain Sarah Ingram. Zhang had made quick work of her match, winning 7 and 5.
"We kind of called it," Zhang said. "We immediately went and grabbed a flag for her." She never let it go until the red blazers were necessary. Team USA would win seven of the eight matches on Sunday en route to a 15.5-4.5 win.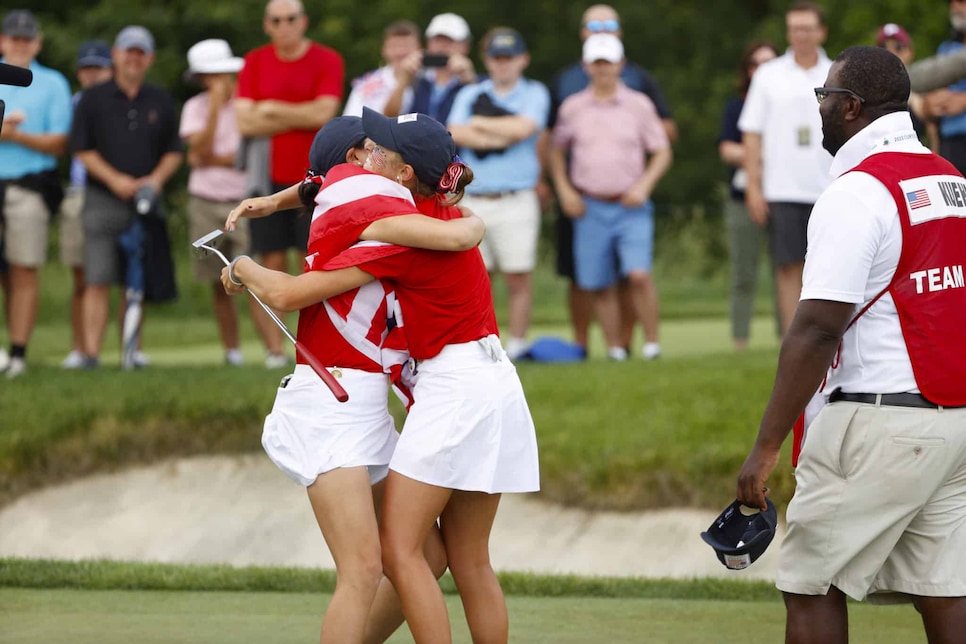 Zhang (left) and Kuehn embraced after the U.S. clinched the Curtis Cup. (Chris Keane/USGA)
Ingram admitted she was "a little nervous" watching GB&I gain momentum on Saturday, but Kuehn's prowess around Merion's greens affirmed her decision to put Kuehn in the match that most likely would clinch the Curtis Cup. The two-time team member didn't disappoint, going 4-1 for the week.
"She is definitely a dream to captain," Ingram said of Kuehn. "She's one that I've seen a lot of girls look up to, especially this last year."
Ingram is talking about Kuehn's teammates. But after this week, those admirers whom Kuehn interacted with on the course to the young eyes glued to the TV will only grow. She fortified her legacy in the Curtis Cup and helped women's golf grow — and this time, known as Rachel Kuehn.