voices
Rory McIlroy is worn down, and it's not a crime for him to admit that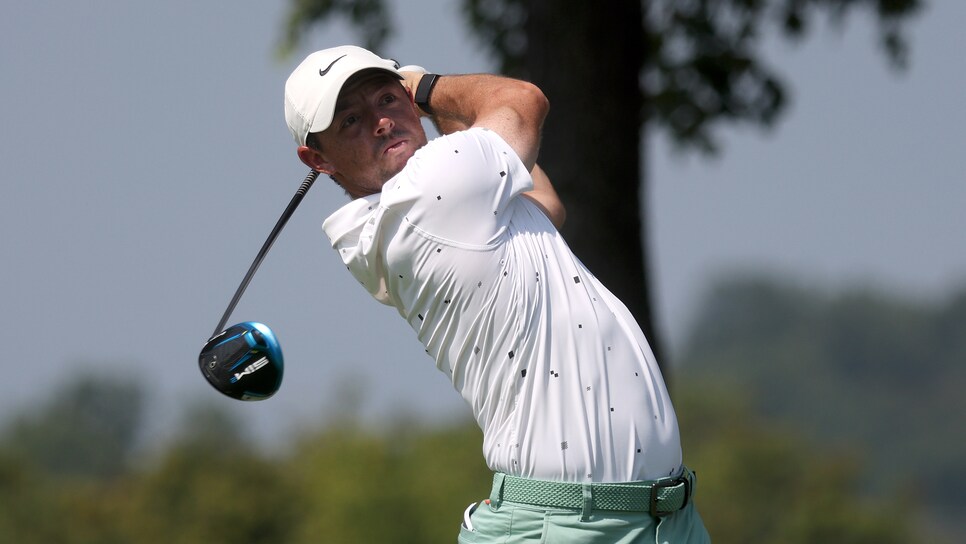 Rory McIlroy tees off during pro-am ahead of the BMW Championship at Caves Valley.
Rob Carr
The question was simple enough, a version of the "how are you feeling heading into the week?" that PGA Tour pros hear 20-odd times a year. There's an easy and unoffensive reply. It goes something like this: Yeah, game's feeling good. The scores maybe haven't been showing it, but I feel like I'm close. Looking forward to the week. The course is in great shape, my prep's been good and I can't wait to get started.
Rory McIlroy sees little value in such banalities. It's one of the reasons he's perhaps the most universally liked golfer on planet earth. He is, simply put, honest. Perhaps even too much so at times. So on Wednesday at sweltering Caves Valley, where the BMW Championship kicks off on Thursday, McIlroy responded to that innocuous question with a somewhat eye-opening admission.
"I think I feel like a lot of the guys right now—a little jaded, a little tired," McIlroy, 32, said. "End of the season there's been a lot of golf. Yeah, so a lot of travel.
"I'm just sort of getting through it, to be honest. I'm going day by day and just trying to get through it as best I can and try to make it to next week. After that, two weeks off before the Ryder Cup. Yeah, just taking it day by day. The game feels pretty good, OK. Energy levels are somewhat sort of trying to dig deep at this point. Try and keep going and put in a good finish this week to make sure I'm in Atlanta next week."
Following a T-43 at last week's Northern Trust, McIlroy enters the penultimate FedEx Cup Playoffs event in 26th place in the points race—meaning he needs a somewhat strong showing in Baltimore to get to the Tour Championship for the seventh time in the past eight seasons. He'll have four rounds to keep himself in the top 30, as there will be not cut for the 70-man field this week. One could shoot four 85s and leave with roughly $20,000 for their trouble.
The temptation here is to slam McIlroy, and those holding tickets on him to win this week probably aren't loving their decision right about now. This—being tired at the end of a golf season, where you flew around the world privately and made nearly $4 million in on-course earnings, to go along with millions and millions more in endorsements—is perhaps the ultimate first-world problem. The guy working two jobs and stressing about rent won't have much sympathy for McIlroy, who has made it abundantly clear throughout the years that he is not so singularly focused on golfing greatness as, say, Tiger Woods.
There is no rule, it should be noted, that every professional golfer must milk every single ounce of achievement out of his physical gifts. McIlroy is a man who enjoys the riches golf has brought him, who treasures his time with his wife and young daughter Poppy. Is enjoying what you've earned the worst thing in the world? On Monday, he dropped out of the top 15 in the world for the first time since 2009, and you get the sense he won't be too bothered by it. He was asked at last month's Open Championship if his seven-plus-year major championship drought might be a product of actually trying too hard. "Not at all," he said. "I've got four of them. Geez, look, I'm the luckiest guy in the world. I get to do what I love for a living. I have a beautiful family. My life is absolutely perfect at the minute. I want for nothing, so it's not a case of trying too hard for sure."
The problem with the "he's rich and famous and plays golf for a living, I don't feel bad for him," viewpoint is it's based on a false pretense: that being rich and famous and playing golf for a living somehow insulates you from sadness, or homesickness, or even depression. Matthew Wolff's bank statement doesn't talk as loudly as McIlroy's, but the 22-year-old has it pretty damn good, and his rut became so profound that he had to step away from the game for a two months.
"Some of the feelings that I had were getting up in the morning knowing I had to get out of bed and just like not being able to," Wolff said at The Northern Trust. "Being like, I don't want to get out of bed. I just want to stay in my bed and not be in front of everyone and not screw up in front of everyone."
Granted, there are objectively many more dire situations than Wolff's or McIlroy's. Check the news for evidence. But just because Person B's problems are worse on paper does not delegitimize Person A's feelings. By that logic, any financially secure and/or healthy person should never be upset. We want our athletes to be honest, to provide insights into how they're truly feeling instead of playing press conference Mad Libs. Would you trade lives with McIlroy? Sure. Does that exempt him from feeling run down? Of course not.