BMW Championship
Michael Phelps became 'closer and closer' with Jordan Spieth in serving as mental coach and support system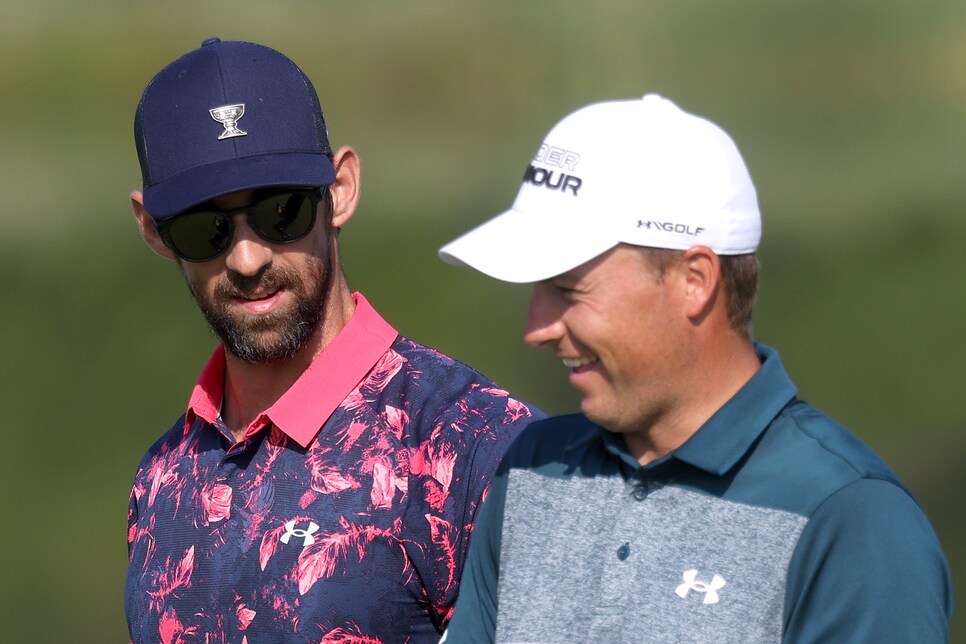 Jordan Spieth and Michael Phelps talk on the green during the pro-am ahead of the BMW Championship.
Rob Carr
OWINGS MILLS, Md. – Golf and swimming can be lonely, individual sports. There's colleague camaraderie, relays and occasional team atmospheres, but performance and lack thereof usually falls on the singular athlete's shoulders. So it was unsurprising to hear Michael Phelps and Jordan Spieth both separately talk about the supportive role that the retired Olympian has tried to serve for the three-time major winner.
Spieth's struggles are well-documented at this point—he started this year as low as 92nd in the Official World Golf Ranking and went almost four years without a win before his victory in April's Valero Texas Open. So much of that fallow period focused on the physical, the swing mechanics, the failures, changes, adjustments, short-term remedies, and improvements the critical masses wanted to see become actual results. Phelps could not serve as counsel on that, but what he did do was make himself available to discuss the mental struggle and strength of an athlete both during Spieth's low run and now that he's one of the best players in the world again.
"We've become closer and closer," Phelps said of the relationship on Wednesday at Caves Valley Golf Club, site of this week's BMW Championship just outside Baltimore. "Every now and then I would text him. With some of the guys in the pros that I have become close with, I try to give them as much space as I can but also give them the info that I'm here to help in any way."
The two played together here in the pro-am alongside Under Armour founder Kevin Plank, whose company the two have endorsed for years. It was the typical casual loop provided by these pro-ams before the shots start to count in the tournament. But it also felt like a reunion of sorts, for two native Marylanders and one adopted one in Spieth, who has visited town and played this course numerous times thanks to the association with his apparel sponsor headquartered here.
"It's just being able to stay here and be a part of it and waking up to feel like he's not in a foreign place, but in a place that's definitely home," Plank said of hosting Spieth again in Charm City. The two go back to 2012, when the business arrangement began to take shape. Like Phelps, they're now friends with dozens of rounds together under their belt.
With Phelps, that relationship may have been initiated by commerce with the two brought together as endorsers, but it appears to have gone deeper now, one elite athlete to another.
"I pick his brain on the mental side of things now," Spieth said of Phelps. "He's getting very involved in mental health, and it's been something that I've actually worked on a lot in the last few years, and that's been a space that probably should be talked about more within athletes, their experiences across different sports, too. I've been really fortunate that he's lent an ear and also bounced ideas off me."
Standing some 30 yards away and unable to hear those comments from Spieth was Phelps, who nearly echoed him. "What we've really dove in to and talked about—whether it's the mental approach, even some of the things that he's trying now away from the course -- just trying to mentally prepare yourself. We spend so much time physically preparing ourselves, so I think it's cool to be able to watch him take that time to mentally prepare. Just give himself more of a chance, you know, like figure out what more you can control."
The considerations of mental health in addition to the physical preparation of athletes have certainly underpinned many of the conversations in sports in recent years, even touching the typically buttoned-up world of professional golf. In Phelps, Spieth seems to have found a sounding board of how to mentally endure and prepare at the highest levels in sports.
"Without getting into details that are competitive advantages, I think he's been a fantastic kind of friend, and we've been able to spend time down in Mexico separate from the brand, too, and get to know his family," Spieth said of the swimming legend. "Again, to have a golf lover be the most decorated Olympian of all time, it's really good for our sport, and it's even better that I'm able to access it, as well."
Phelps cannot help Spieth hit the shots he needs to win or tip him on the swing adjustments to extricate himself from a muli-year slump played out under a microscope few in the game have to answer to and manage. That's not his forte, but he does know the struggle. And even a 23-time gold medalist-turned-friend has been impressed to see Spieth come out on the other side of the darker years.
"His determination is something that's incredible to watch," Phelps added. "To be able to struggle like that for multiple years on the golf course, it's hard. I know what that is and I am not even a pro. To be able to do that on the biggest stage, and still be able come through it and make so many improvements. Not many people can do that. You don't see many people who start diving and ever come back to be able to compete with the best of the best."