News
Rory McIlroy has a 'personal hunch' the 2020 Ryder Cup gets postponed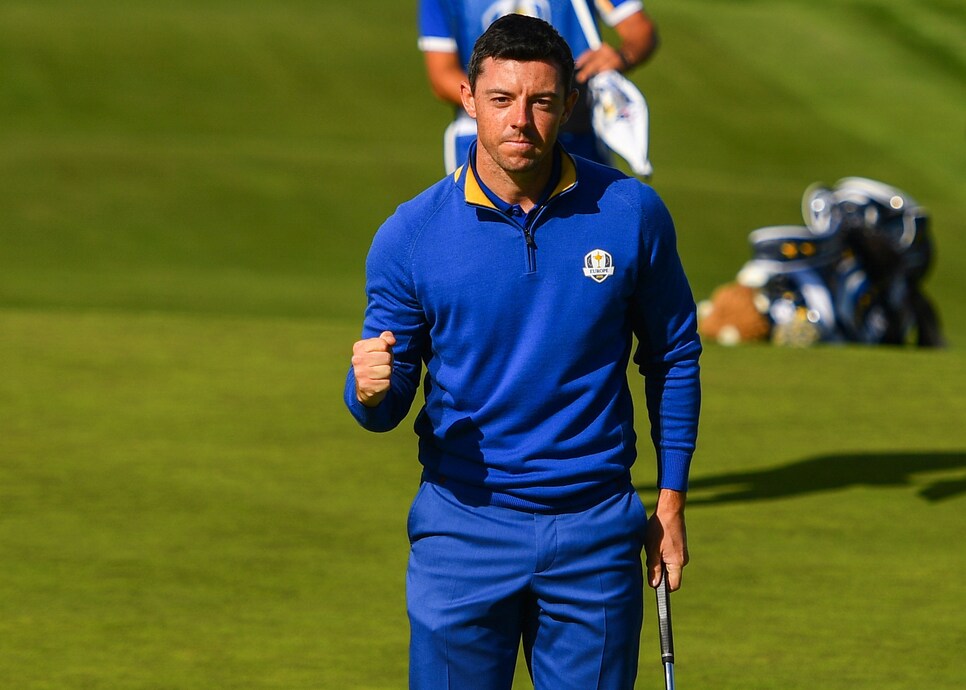 Europe's Rory McIlroy reacts after a putt on the 17th green during his Sunday singles match against Justin Thomas of USA at the 2018 Ryder Cup.
Ramsey Cardy
Will this year's Ryder Cup still be played, even if fans aren't allowed to attend? A little more than a month ago one of Europe's leading stars, Rory McIlroy, came out against the idea and in the past few days he doubled down on his stance.
"My personal hunch is that I don't see how it is going to happen, so I do not think that it will happen," the world's top-ranked golfer told BBC Sport Northern Ireland on Tuesday. "I think the majority of players would like to see it pushed back until 2021 so that they can play in front of crowds and have the atmosphere that makes the Ryder Cup so special."
This year's matches at Whistling Straits in Wisconsin have not moved from their original dates of Sept. 25-27. But the COVID-19 pandemic has wreaked havoc on golf's schedule, and upended its stakeholders' plans for holding events.
Major tours around the world have been suspended since mid-March, three men's majors have been re-scheduled to later dates and one—the Open Championship—canceled. The PGA Tour plans to resume its season June 11 at the Charles Schwab Challenge at Colonial Country Club in Fort Worth, but that event and each of the next three, at least, will take place without fans. Organizers of other events, including the PGA Championship, U.S. Open and Ryder Cup, are also evaluating whether they'll allow spectators or not.
Holding a Ryder Cup without spectators, however, would eliminate one of the central elements of the biennial competition, a fact that isn't lost on organizers.
"It goes without saying, really, that we're hopeful that we can do it with fans, but that remains to be seen," PGA of America Seth Waugh told Golf Digest earlier this month. "If we can't have fans, I think we have to kind of go back to the drawing board and talk about it at length. The Ryder Cup is unique. I mean, every event needs fans and every major needs fans. But certainly our event or the Masters would not be the same. The Ryder Cup is all about the fans."
A decision about the event's status won't be made for at least a month, according to Waugh. However, McIlroy believes it won't take place this year if spectators aren't allowed.
"The players are the ones that make the Ryder Cup," said McIlroy, a veteran of five Ryder Cup teams. "If they are not on board with it and don't want to play then there is no Ryder Cup.
"I see it being pushed back until 2021 and, honestly, I think that will be the right call."